The Details
Release Date
30th August 1985 (US Theatrical) 6th July 2018 (UK Blu-Ray premiere)
Synopsis
In medieval Europe, a young girl from a noble family is obsessed with her captors-commoners.
Starring
Rutger Hauer, Jennifer Jason Leigh, Tom Burlinson
Before finding fame with ultra-violent futures in his films Robocop  and Total Recall, Dutch director Paul Verhoeven cut his teeth in Hollywood by going backwards to a Medieval setting with Flesh + Blood. Now for the first time in the UK, the film receives a fully uncut Blu-Ray release thanks to Eureka! Classics series.
In Western Europe, 1501, a small army of mercenaries led by charismatic and mercurial Martin (Rutger Hauer; Blade Runner, The Hitcher) reclaim a heavily fortified castle for its owner Arnolfini, who then betrays the band and ejects them from the city by force. Swearing revenge, Martin leads a violent assault on the noblemen and ends up accidentally kidnapping the beautiful Agnes (Jennifer Jason Leigh; Annihilation, Single White Female), the fiancee of Arnolfini's son Steven (Tom Burlinson), who in turn pledges to wipe out the mercenary group once and for all.
Heavily censored upon its release, Flesh + Blood contains excessive amounts of both. Far from being the usually romanticised vision of that particular time period, Verhoeven's unapologetic vision of the Middle Ages is one bursting with barbaric debauchery and an undeniable streak of pessimism which frequently makes it a truly tough watch.
The presence of the equally menacing yet charismatic Rutger Hauer temporarily alleviates the grim mood and Jennifer Jason Leigh is sublime casting as the innocent-looking but devilishly scheming love interest Agnes who plays the men against each other simply for the sake of her own survival. The love triangle that Agnes, Martin and Steven find themselves in further the utterly unconventional nature of the film as a whole by seemingly exhibiting no genuine affection at all from Agnes; she switches up her male preference depending entirely on who is around at the time. By doing so, I found her to be a thoroughly unlikable character and the most untrustworthy of the bunch.
But then, there's no real protagonist to root for in all of Flesh + Blood. Steven is supposedly the knight in shining armour, yet comes across as a spoiled nobleman who sees Agnes as a trophy rather than a legitimate interest and, quite frankly, he's a bit of a wet flannel when it comes to chivalry. As atrocious as Martin's actions are, he still seems like the better, more authentic option for Agnes. Not that she cares – as long as she's getting attention, she'll take whatever's (or whoever's) going.
If the gratuitous, unflinching rape scenes and savage murders weren't enough, Verhoeven plays upon the fears of ancient biological warfare by hanging the threat of Bubonic Plague above everyone's heads. As I said, there's no light at the end of the tunnel here, only rotting flesh and insatiably randy rapscallions. With audiences so accustomed to happy endings and damsels in distress being rescued by Robin Hood type heroes, it's no wonder the film was a catastrophic financial disaster in 1985, taking in a paltry $100,000 on a budget of $6.5 million.
It's a point that's still a little sore with director Verhoeven and he goes into great detail about the troubled production in Paul Verhoeven in the Flesh, an insightful interview which can be found in the special features of Eureka!'s release. The interview sheds a whole new light on the film and he talks about how the final product was nothing like his original idea as well as the unhappy atmosphere felt by the majority of the cast during production. It's refreshing to hear a director speak in such an honest and frank manner about their work, but Verhoeven has never been one to mince his words.
Unfortunately, we didn't get to see his initial vision for Flesh + Blood, but with its gloriously over-the-top violence, it is still a decidedly Verhoeven vehicle and a vastly misunderstood historically-set piece which was ahead of its time. The persistent pessimism and depictions of pestilence certainly aren't for everyone but for those with the stomach for uncompromising madness from the Middle Ages will find plenty to feast on here.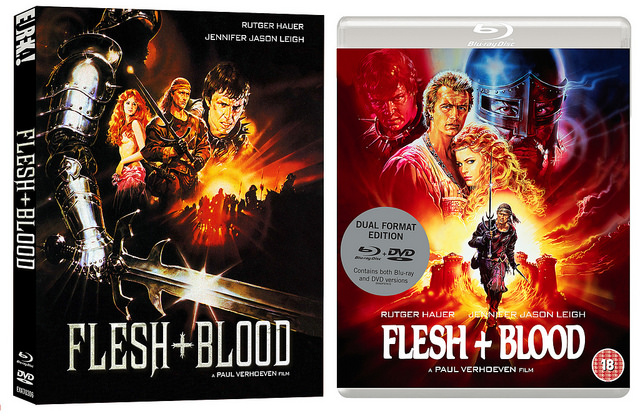 We Liked
Uncompromising vision of Medieval Europe
Fantastic performances from the lead trio
We Didn't Like
Constant negative tone not for everyone
No real protagonist to root for
Some minor characters are irritating