The Details
Release Date
14th October 2019 (UK Blu-Ray Debut), 20th May 1994 (UK Theatrical)
Synopsis
A writer's fictional alter ego wants to take over his life...at any price.
Starring
Timothy Hutton, Amy Madigan, Michael Rooker
If you're a fan of Stephen King, you'll more than likely know that his birth name isn't the only one he published books under. His most famous pseudonym is undoubtedly Richard Bachman, in which he released The Long Walk, Thinner (which was adapted into a movie in 1997) and The Running Man, arguably the most famous of his works. King stated in the introduction to a collection of stories written as Bachman that he did it to see if his success was due to "talent or luck". Unfortunately, King never did find out the answer due to being outed as Bachman prematurely.
Apparently, he was intending to release the best selling novel Misery under that name but a persistent book store worker had other ideas, and didn't stop until he finally got King to admit that they were one and the same. An interesting figure is that the novel Thinner sold 28,000 copies when first released, but when it was revealed who Bachman really was, sales for the book increased dramatically.
Whilst all this may seem just a bit of interesting trivia (or a total bore of a read, depending on what you think of King), it all links in with the existence of The Dark Half; King wrote it in 1989, in response to his 'unmasking'. I've not read the book, so the views expressed here are solely related to the film, now available for the first time in the UK on Blu-Ray through Eureka Releasing.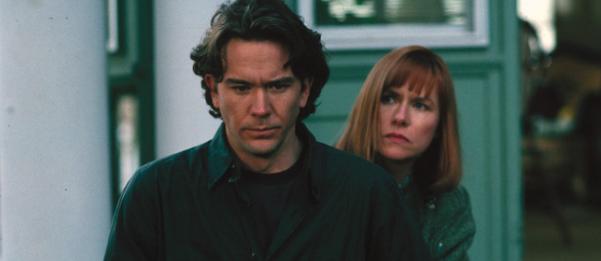 Thad Beaumont (Oscar winner Timothy Hutton; Ordinary People) is a writer living in Ludlow (fun fact #2: Ludlow is also the setting for Pet Sematary, another King book/film) whose work is not particularly well known. That is, until he writes about a violent killer named Alexis Machine using the pen name of George Stark. When it becomes known by the public that Beaumont and Stark are the same person, the author decides to "kill off" Stark by staging a funeral, metaphorically burying is alter ego. Stark has no plans to die though and becomes a physical being who's hellbent on killing everyone involved in the planning of his demise.
From Beaumont's agent to the photographer who snapped the image of his grave, Stark shows no mercy. As the murders become more frequent, the local Sheriff Alan Pagborn (Michael Rooker; Slither, Guardians of the Galaxy) has no choice but to make Beaumont a suspect as the fingerprints at the scene are a perfect match. As more details surface, the true horror of the crimes emerge and Beaumont must face the very same murderer that he created or become his next victim.
Directed and adapted by the legendary George A. Romero (Dawn of the Dead, Night of the Living Dead), The Dark Half wastes no time in shocking the audience. Within the first 5 minutes we see the insides of Beaumont's brain. Literally. The pace stays speedy for a good portion of the first act with a hefty number of Beaumont's associates getting slaughtered. The problem is, by the end of the opening third everyone who helped in killing off Stark is dead themselves, and there's still nearly 90 minutes of film left.
Romero's screenplay valiantly attempts to maintain suspense and intrigue through tried and tested methods (not showing the antagonists face for a very long period of time, leading the audience on to believe that it may actually be Thad who is committing the crimes), but admittedly my interest waned with over half an hour to go, ultimately resulting in the final showdown being anti-climatic.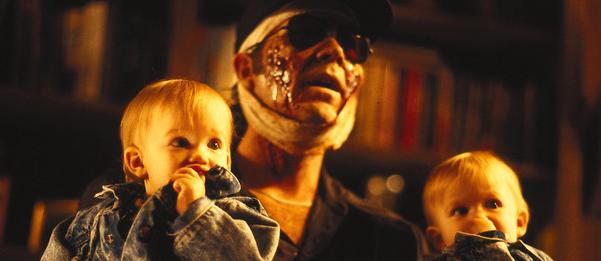 That being said, Timothy Hutton is phenomenal as the lead characters. He stays calm and collected (for the most part) as Beaumont but is utterly mesmerising as Stark, a character who is as far from from Thad's persona as humanly possible. Apart from the sheriff and Beaumont's wife, this is very much a one man show, and what a show it is. His performance is undeniably powerful, and overshadows everyone else, who do still put in good efforts. Amy Madigan convinces as Thad's wife who sticks by her husband even with the evidence stacked against him, and Michael Rooker is easy to sympathise with as the sheriff who's torn between helping his friend or trying to solve the murders with an unbiased approach.
The most disappointing aspect of The Dark Half is that it starts so well and shows signs of being a brilliant, fast paced thriller. But after the killings stop, so does the 'fun', and it's nearly 90 minutes of dragged out investigative work. If I was to write the adaptation, which I have no intention of doing so don't get your hopes up, I'd interweave the killings with the evidence discoveries rather than bunch all the scenes worth watching right at the beginning.
It's not unwatchable – far from it – and Hutton's performance is one to be admired, but I can't help but think this should have been a classic – especially with horror royalty in Romero penning the script.
The Dark Half will be available on Blu-Ray for the first time in the UK from 14th October 2019 and can be purchased from

Amazon

&

Eureka's Online Store.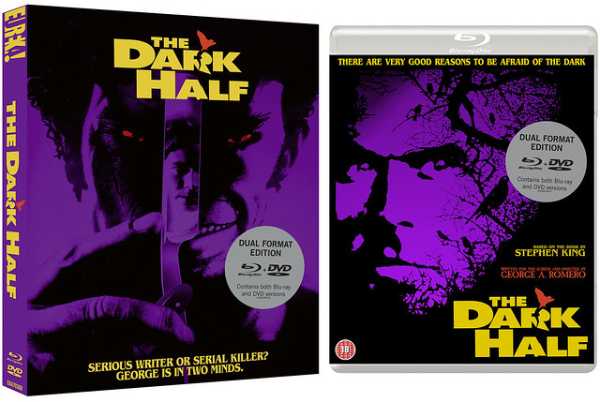 DUAL FORMAT SPECIAL FEATURES
1080p presentation of the film on Blu-ray (with a progressive encode on the DVD)

LPCM audio (uncompressed on the Blu-ray) and 5.1 DTS-HD MA audio options

Optional English SDH subtitles

Audio commentary with Writer/Director George A. Romero

George A. Romero episode of Son of the Incredibly Strange Film Show [38 mins] – documentary on the director originally aired on UK television in 1989
The Sparrows Are Flying Again! The Making of 'The 

Dark Half

' [36mins] – Retrospective with George A. Romero, special make-up effects creators Everett Burrell and John Vulich, visual effects supervisor Kevin Kutchaver, actor Robert Joy, editor Pasquale Buba and more!

Deleted Scenes

A selection of Behind-the-scenes and archival video material

Original Storyboards

TV spot

Original Theatrical Trailer

Reversible sleeve

Limited Edition O-Card Slipcase
Limited Edition Collector's booklet featuring new writing on the film by Simon Ward
We Liked
Hutton's double shift as both leads
Grisly finale
We Didn't Like
Bolts out of the gate but limps to the finish line
Hard to get on board with the main idea