The Details
Item Reviewed
Annihilation
June 4, 2018
Release Date
23rd February 2018 (US Theatrical), 12th March 2018 (UK Netflix premiere)
Synopsis
When college professor Lena's husband Kane suddenly appears 12 months after going missing, she is drawn into a secret and unexplained phenomena that threatens to destroy the planet.
Starring
Natalie Portman, Oscar Isaac, Jennifer Jason Leigh
We begin with Lena (Natalie Portman) being debriefed in quarantine. Some people from her team are dead. Other's she can't account for. She can't remember the specifics and that isn't making the big wigs in the Pentagon very happy. Her interrogator, a rad-suit wearing Lomax (Benedict Wong), wants the truth, as much as she can tell, from the beginning. We flash back to before the "mission".
Lena is a professor of biology, current teaching a new breed of keen students. But she lives in a sort of bubble, working all the time and socializing little. She's still in mourning for her lost husband, Kane (Oscar Isaac), a high level military operator, who went missing 12 months ago.
You might say she's a little blown away when one day he walks in the room and confronts her like nothing happened. But something is off. He doesn't seem to be the Kane that fell in love with her. He's distant. Removed. Unfamiliar – and coughing up blood.
When the ambulance carrying him to hospital is waylaid by black ops jeeps, we realize that something is definitely fishy. Lena is tranquilized by some masked troops and awakens in Area X, a secret military compound on the fringe of a national park. It overlooks the "shimmer"; a giant and unexplained anomaly that hangs over the park like a massive dome. And it's growing.
No signals or electronics can penetrate the shimmer, and nothing that goes in has ever come out. Until now. Until Kane reemerged last night. He's now confined to a bed, dying of some unknown cancer and massive organ failure.
Seemingly in charge, Dr. Ventress (Jennifer Jason Leigh) admits to hiring her husband to be part of a military expedition who entered the shimmer to find out what the hell is going on inside. That was twelve months ago. They don't know how Kane got out and neither does Lena.
As she's now been exposed to the secret she can't go back to her regular life. Instead she opts to join the next squad that go in. This time it isn't going to be military. It's going to be scientists and medical personnel, and an all women team no less. Brains over brawn. Reason over testosterone.
Gun-ho former paramedic Anya (Gina Rodriguez) suspects one of two things happened to everything that went in to the shimmer. Something either killed them or they all went mental and killed each other. Lena makes a point of not revealing her relationship to Kane and it's a secret Ventress keeps.
Along with scientists Josie Radeck (Tessa Thompson) and Cass Sheppard (Tuva Novotny), the group head into the shimmer to find out what the hell is going on. Things immediately start to go weird.
First, they wake up without realizing they even went to sleep. Two weeks of supplies are missing too, like they've just blanked out a fortnight. Plus, the shimmer seems to be making DNA go haywire, with plants flowing in all sorts of weird ways, and animals exhibiting traits from other species. A crocodile with shark's teeth for example, that sort of thing. So what the hell could be causing this, and most importantly, what happened to everyone they sent in here previously?
The team choose to camp at an outpost that was previously used by Kane's boys as a base. They find a video tape that shows that the guys themselves were not immune to the effects of the shimmer. A body is located, mutated and twisted out of all human recognition, and we start to realize that it's likely the same horrific end will likely befall Lena and her buddies.
As tensions mounts suspicious grow. Do they go on, or make a break for it while they still can? Plus there is something in the darkness that is hunting them. Nothing is what it seems…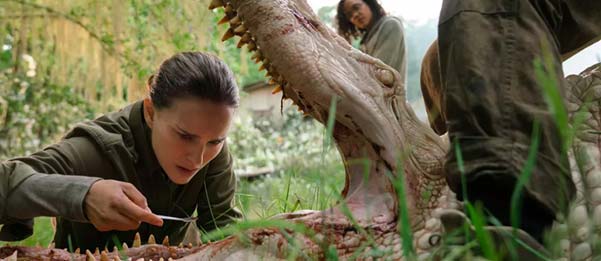 Annihilation is director Alex Garland's second stint in the driving seat, following on from 2015's absolutely dynamite Ex Machina. Predominantly a writer, he penned the screenplays for a lot of Danny Boyle's early 2000 work, namely The Beach (which I hated), 28 Days Later (which made me shit my pants), and Sunshine (which left me disappointed). I'd lose seriously man points for failing to mention his screenplay for the wonderfully badass Dredd movie too.
Primarily a genre writer, Annihilation sits well in his area of comfort. And he draws on lots of different elements here too, including some hard sci-fi, a dash of horror, lashings of mystery, and a side order of craziness.
Casting-wise, we've got strong all-round performances from the always reliable Portman and Isaac. Jennifer Jason Leigh really delivers as the slightly under-enthused and emotionless Ventress. You really get the sense she knows far more about what is going on here.
The female-heavy cast is certainly interesting, and the concept of sending them in after the typical military dudes fail is clearly a twist on the normal trappings of similar films. That they suffer the same problems as the all-male team is also significant, and nicely balances the unusual choice.
Despite some really cool effects, you can tell it was made on a budget. You seldom get a sense of scale in any of the wider shots, save for some on the beach (you'll have to watch to find out). Some of the physical effects are really strong though, specifically the twisted genetic abnormalities that they come across. The concept is interesting to say the least, and I certainly got a flavor of HR Giger's alien ship in the "final chamber" towards the climax. Oh, and that climax – it's certainly eye-opening.
Portman's love for her husband is a strong driving force and one we can all get behind, as is the central concept and mystery of this weird dead zone that no one comes out of. But there is no great "Aha" moment, no instance where everything clicks and it all suddenly makes sense, or a climax that leaves you utterly shocked or fulfilled. There's no crushing realization like the end of Memento, or realizing that Tyler Durden and Edward Norton are on in the same.
Instead the ending (and I mean the final scene here) relies on a hackneyed, old school eyebrow-raiser that I thought Garland would be better than.
I can dig some ambiguity in movies, but I also want to see the closure of the story (even if it opens up a new story). Ex Machina ended perfectly,  for example, with an overall complete narrative and made us wonder about what would happen next. Garland doesn't hold our hand in quite the same way in Annihilation; he doesn't answer the questions we're asking.
Released on Netflix to great fanfare, Garland was disappointed with the lack of cinema release for his second baby. I personally think Netflix was the perfect place for it, as I'm unsure if such a movie would have succeeded at the box office. At least here a whole bunch of people might get to see it without the film having to compete in such a fierce superhero-driven cinema market.
As a thoughtful sci-fi film, it just doesn't answer or ask enough questions to compete with some of the modern greats. It's not up there with District 9, or Moon, or Arrival or indeed his previous work, Ex Machina. Despite that criticism, Annhilation still makes interesting watching, with good performances by a predominantly all female cast. If you've got Netflix (and at this point why don't you have Netflix) there is really no reason not to give this a shot. It might surprise you.
We Liked
Thoughtful story
Strong Cast
Unapologetically science fiction
We Didn't Like
Too much ambiguity with the ending
The low budget is evident
Some of the editing messes with the pacing of the film