The Details
Release Date
19th October 2018 (London Film Festival), 23rd November 2018 (UK Theatrical)
Synopsis
After a malicious data hack exposes the secrets of the perpetually American town of Salem, chaos decends and four girls must fight to survive, while coping with the hack themselves.
Starring
Odessa Young, Hari Nef, Suki Waterhouse, Bill Skarsgård, Bella Thorne
Taking all the fears and anxieties that have come to the forefront in a post-Trump America, Assassination Nation tackles these head on at an unrelenting pace. Presenting us with a wildly unrealistic prospect that an entire town would want to kill four girls, it all sounds like the plot for the next entry in The Purge franchise. However, as the utter chaos unfold, it's scary how we do start to believe in what's unfolding and don't even blink at some of the atrocities being performed.
The online leaks that cause havoc on the town of Salem shines the spotlight on how society perceives privacy. Everyone wants it, but when someone loses it they jump on it and judge even innocent things, slowly but surely ruining lives. Soon mob mentality takes over and everyone feels like they're judge, jury and executioner. People then begin to feel better than others and want to assert their false sense of power in increasingly violent and sadistic ways, just because they can. In America, hate crimes are on the rise since the Presidential election and by tackling this in a fictionalised but accurate way, Assassination Nation hits a lot closer to home than you'd expect.
The trigger warning used at the beginning is a stroke of genius. Because of the montage of brutal images we see, the violence and other taboo subjects don't shock us and soon become normalised. Correlating with the issues raised, as the chaos increases so does the tolerance towards it. No one except the four girls step up to sort it out, either hiding or taking part in the madness themselves. By holding up a mirror to the audience, we feel slightly complicit as many of the issues have become more frequent in today's society and perhaps we aren't doing enough to stop it.
The astoundingly accurate representation of what is wrong with societies attitudes towards women is on show throughout. As Lily (Odessa Young) says, "Nobody wants the real you…they pick and choose aspects they like". The only difference is this time when the girls are told to sit down and be quiet, they fight back – literally. While the lingering male gaze shots slightly undo the strong feminist message, Assassination Nation's gender politics carry the film's message with a strong middle finger to anyone who isn't on board.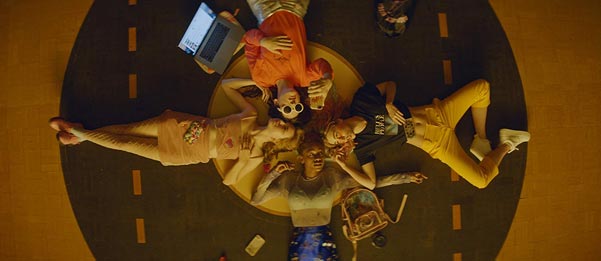 Odessa Young leads the project with the same confidence Lily gains to take on a whole town. She effortlessly captures how frustrating it must be to be constantly not treated as an equal by not only random people, but also her own family due to her gender. Fellow cast members Abra and Suki Waterhouse add to the authentic nature of the groups friendship with a sense of unity and belief in one another, something missing from most of the townspeople. It's Hari Nef's Bex who has the most interesting storyline though, one that involves a fling that she's told to keep secret due to her being transgender. (It really shouldn't come as a shock that Assassination Nation tackles the issue of transphobia on top of everything else). Apart from Lily, Bex's story is the only one explored whilst everything turns sour, adding an interesting angle to everything.
Sam Levinson has directed one of the best looking films of the year. There are countless moments that highlight his talents. The unnatural camera angle towards Reagan's (Bella Thorne) dance and tracking shots that fully showcases character's change of emotions depending on their surroundings stand out. However, none are as stunning as one of the best constructed long takes seen on screen for a long time, resulting in nail-biting tension that's perfectly choreographed and totally original. Whatever Levinson's next project is, this is only a sign we have plenty to look forward to.
Blending in perfectly with the superb direction is a techno/rock based mash up score, adding an undeniable amount of tension and heart pounding adrenaline to each scene it's featured in. Rage is the stand out track, perfectly capitulating a high school party as well as an ultra violent shoot out. There's something special about a film's score when you come out of the screen and immediately want to listen to it on its own.
Assassination Nation is dividing critics and audiences alike. It had the most varied reaction from a press screening so far at London Film Festival. It's a bold film that really pulls no punches and grabs your eyes, refusing to let you look away. Challenging almost every issue that plagues our society is a tall order, but due to its unapologetic theme, it succeeds almost perfectly. There are a few issues within the final third, but even they can't detour from the overall genius of it all. How often does a film come along nowadays that really makes you go, "That's something new."? Almost never.
One of the finest films to not only come out of the festival, but to be released all year.
We Liked
Sam Levinson's direction
Odessa Young and Hari Nerf's performances
The unapologetic tone
Effortlessly tackles many social issues in a genius way
We Didn't Like
The unnecessary male gaze shots
Final moments fall a bit flat