The Details
Item Reviewed
John Wick: Chapter 3 - Parabellum
May 19, 2019
Synopsis
Super-assassin John Wick is on the run after killing a member of the international assassin's guild, and with a $14 million price tag on his head - he is the target of hit men and women everywhere.
Starring
Keanu Reeves, Halle Berry, Ian McShane
In terms of American cinema, Keanu Reeves has held the action filmstar crown since 2014s surprise hit John Wick: a simple and precise gut punch of action cinema that successfully blended world building and narrative with a bullet ballet. 2017s follow up John Wick: Chapter 2 raised the stakes with bigger action and more elaborate set pieces but sacrificed slightly with its story. Now it's time for John's greatest challenge in John Wick: Chapter 3 – Parabellum, which promises to be the most intense chapter yet, whilst delivering on the conclusion of the previous film. But is it an accurate headshot, or a botched bullet wound for the series?
Chapter 3 of John Wick picks up directly after the events of the second film, with Mr. Wick running for his life after an open contract of $14 million is placed on his head. He has been excommunicated from the shadowy assassins guild and is unable to use their services. With no other choice, John must call upon people from his past to help him survive whilst he searches to get reinstated into the organisation he turned his back on.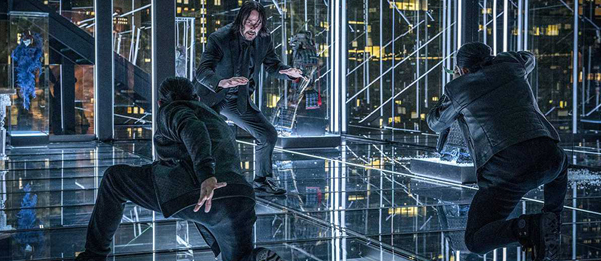 The problem with Parabellum isn't its craft. If judged by the technical artistry of its action you would say its sensational. There are at least 5 truly fantastic set pieces that demonstrate the amazing talents of Keanu Reeves (Siberia, Bram Stoker's Dracula) director Chad Stahelski and his stunt team, and editor Evan Schiff. You can see them putting their all into this movie. Yet it all starts to feel so superficial without any relatable stakes or emotional subtlety. John Wick: Chapter 3 shifts into a gruff and savage mentality of bloodthirst and never budges until the closing credits, and at over 2 hours it's incredibly difficult to actually care.
One of my favourite things about the character of John Wick was how he subverted action hero tropes. He was never a Stallone or Schwarzenegger style unstoppable force that cuts through two dozen henchmen without suffering a scratch themselves. John got hurt, made mistakes, but his sheer will and determination saw him through. All of that seems to have gone up in smoke, however, because Chapter 3 really stretches the believability of what John's capable of to the absolute limit: Keanu takes an absurd amount of punishment without any consequence to his fighting skills or stamina, practically turning him to a superhero.
Despite these disappointments, the moments of excellence temporarily cause you to overlook the nosediving story. Especially with the help of some entertaining supporting cast, something that is now a stable in the John Wick series. Asia Kate Dillon delivers the cold enforcement of the High Table as their adjudicator, Anjelica Huston provides a stern motherly figure for John and Jerome Flynn plays an arrogant assassin with vital information. Halle Berry (The Call, Movie 43) as Sofia, an ex-associate to John that owes him big is the best new addition to the cast. Her no-nonsense but headstrong attitude is undercut with some vulnerability, giving her more to do than the title character rather bizarrely. She also happens to share the films finest action scene with John and her two attack dogs: Berry certainly steps up to the plate pulling off some insanely complicated fight choreography effortlessly.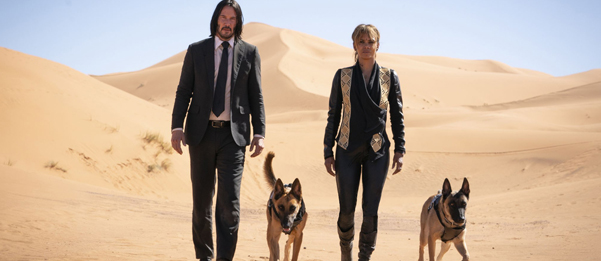 The same can't be said for the chief villain Zero (Mark Dacascos) who flips from menacing to comic relief like a light switch, something that's very jarring and unfortunately undermines his character along with some scenes. His showdown with John Wick also feels a little underwhelming compared with the cacophony of action that comes before because the film runs out of steam.
John Wick: Chapter 3 – Parabellum may be the most impressive of the series if looking at the technicality of individual action scenes (with exception to the near perfect club scene from the first film). It's a gorgeous looking and expertly executed flurry of kicks, punches, and headshots. However, it's easily the weakest of the series so far in terms of plot and story, degrading itself into satisfying surface level entertainment.
We Liked
Action better than ever
Gorgeous cinematography & production design
Halle Berry is a great new addition
We Didn't Like
Convoluted plot
Stretched believability
Too long