The Details
Item Reviewed
Indiana Jones and the Kingdom of the Crystal Skull
May 13, 2019
Synopsis
In 1957, archaeologist and adventurer Dr. Henry "Indiana" Jones, Jr. (Harrison Ford) is called back into action and becomes entangled in a Soviet plot to uncover the secret behind mysterious artifacts known as the Crystal Skulls.
Director
Steven Spielberg
Starring
Harrison Ford, Cate Blanchett, Shia LaBeouf, Karen Allen, John Hurt, Ray Winstone
Tuesday, May 7th, 2019. The day that Disney announced it's scheduled release date for everything in production until 2027. This included 3 new Star Wars films, delayed Avatar sequels, more Marvel releases, all of the planned live-action remakes and everything coming out of the newly acquired 20th Century Fox. But tucked away among the dizzying number of blockbusters was Indiana Jones 5, which has now been given a July 9th, 2021 projected release. It had been previously suspected to surface in 2020 but due to the radio silence from Spielberg & Ford, the delay isn't exactly a surprise.
It's interesting that whilst the worlds media headlined with Star Wars and Avatar, the update on Indy 5 barely made a splash. Why? Indiana Jones has always been the little brother to Star Wars in terms of revenue and popularity, but Indy is still a much adored, billion-dollar-plus franchise in its own right. It made me think back to the last time we saw Dr. Jones swinging on the big screen and the critical fan onslaught that followed. Kingdom of the Crystal Skull certainly damaged the franchise and I believe that it's affected peoples excitement about a fifth film. But it can't be the only reason. The ever-increasing popularity of superheroes, cinematic universes and the revival of nostalgic properties have spawned a film industry where there is a new $150 million+ blockbuster in cinemas every week. The sheer amount of quick & easy entertainment on offer makes for a fast-food-like industry. Something to be quickly consumed, enjoyed and then ultimately forgotten. The prospect of a new Indiana Jones or a new Star Wars simply isn't exciting anymore.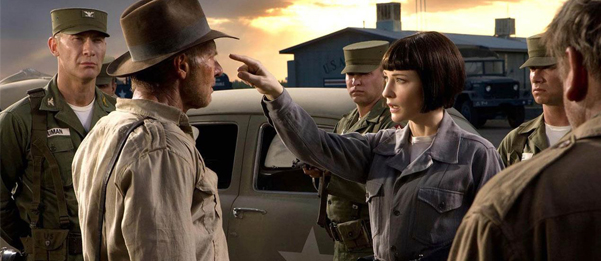 But regardless of the current circumstance of the industry, I thought it would be intriguing to take a look back and re-evaluate 2008's Kingdom of the Crystal Skull, the place it all went wrong according to fans of the franchise. Is the majority right in its absolute dismissal? Or is there something worthwhile to be found? I'm going to attempt to argue somewhere in the middle as that's where my own feelings lie. So without further delay, let's look back at Indiana Jones and the Kingdom of the Crystal Skull.
Watching the opening of Crystal Skull is surprisingly delightful. Despite this being "known" as the worst Indy film, the prologue shows no signs of such a thing. The opening credits set the scene brilliantly as a group of teenagers speed across a Nevada highway in their souped-up Hot Rod, racing a convey of US army trucks and accompanied by the iconic Hound Dog by Elvis Presley. The photography is beautiful here, and Spielberg is on blistering form in terms of shot composition. It very quickly places the audience into the 1950s thanks to its vigorous use of 50s iconography. Which resultingly feels very Indiana Jones because if one thing is certain, these films have never been subtle. Stereo and archetypes are in full force throughout the series. If a character is evil or is a damsel in distress, you sure as hell will be told about it, so the fact that a megaphone is used to show you its time period is fitting. 
Once the credits are over we are shown that the US soldiers are actually Soviet agents, and have captured Indy and his partner Mac (Ray Winstone). The reveal of our hero being thrown from the trunk of a car after a 19-year hiatus is so carefully and precisely choreographed it's practically masterful. 3 shots: a shot of the famous hat being thrown onto the dusty floor, followed by a bird's eye view of goons dragging a man from the trunk. Then finally a close up of the hat again as it gets picked up and put on, pulling in close to the silhouette being projected onto the car door. The door opens and a Russian soldier marches out, breaking the silhouette. The camera turns and we get a glorious close up of Harrison Ford as Indiana Jones, almost as if no time has passed despite Ford's obvious advance in age. My point in listing this scene in such detail is to display how superbly the film starts. Those 3 shots have such finesse without being overly flashy and exhibit such a strong grip of visual storytelling from Spielberg it feels like the start of a new classic.
The remaining opening segment is typical action-adventure fun we expect from Indiana Jones, with well-placed gags, impressive stunt-work, and a lightness that's irresistible. It also feels fresh due to it being directly tied to the main plot, rather than previous Indy features that use the opening prologue as a separate mini-adventure. It's following the formula but using different ingredients, which is what all sequels, reboots, and remakes should probably try to achieve.
However, there is an elephant in the room. A moment that became the flagpole in the Crystal Skull hate-train. The now infamous 'nuking the fridge' scene, which serves as the close of the prologue. A large portion of the fan base absolutely hate this moment so if you don't know what it is, then I'll explain. After successfully escaping from his captors, Indy finds himself wondering the desert and comes across an idyllic looking town. But it's deserted and only populated by creepy manikins. Suddenly, alarms start blaring and Indy realises he's in the middle of a nuclear test site, and the bomb is about to drop. Having no chance of escape Indy climbs into a lead-lined fridge as a last resort. The bomb is set off, and the entire fake-town is obliterated. The fridge is tossed some miles through the air and crashes down into the desert, with Indy relatively unharmed. This caused great controversy in many a fans mind, crossing the line of believability too far and punching straight on through to stupid. Which is interesting in a series where it's fine to free fall out of an Airplane in an inflatable dinghy. I wouldn't argue against it being one of the most far-fetched moments in any of the films, but I undoubtedly feel that it was blown way out of proportion (excuse the pun). Indiana Jones certainly isn't concerned with realism, and this segment doesn't impact the narrative in any way. Its controversy demonstrates internet film criticism at its worst, and the fan reaction was even parodied in the South Park episode "The China Probrem".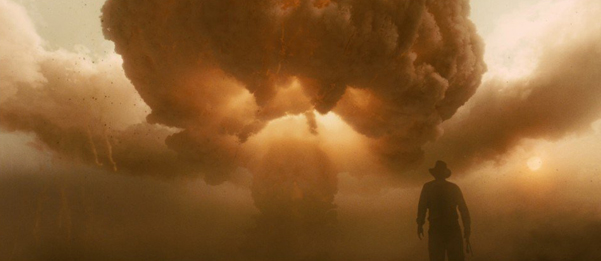 After the films explosive opening, Crystal Skull has some downtime to introduce new characters and establish many aspects of the plot. It chugs along nicely enough with a fun car/bike chase thrown in to give the film a kick. But from that point, the film begins a slow and steady spiral downwards. Mutt Williams (Shia LaBeouf) is introduced as a hot-headed greaser with vital information about Indy's colleague Harold Oxley (John Hurt) which leads them on a wild treasure hunt involving the legend of the crystal skulls. The issue here is the lack of chemistry between Jones & Mutt. It's evident that the actors are attempting to create a dynamic, and what they do is by no means awful. But unfortunately, it plainly isn't very compelling to watch either, especially when compared with previous Sidekicks of Jones'. The same can be said for Crystal Skull's villain Irina Spalko (Cate Blanchett) who again tries hard but ultimately fades into the background. 
There is a slow degradation throughout the middle of the film that's difficult to explain. It's not boring but it clearly isn't riveting either. I suspect if you asked a serious Indiana Jones fan to outline all the plot beats of this film they'd struggle. Yet they could happily tell you about the Staff of Ra, the map room and the Well of Souls from Raiders of the Lost Ark. One of Crystal Skull's biggest failings is this vacuous presentation of its legend. It's clear from very early on what the Skull is and that it's real. It's not even particularly difficult for Indy to obtain. The mystery is half-baked and borderline boring but the film thankfully keeps you distracted enough for you not to notice outright. It helps that the Production Design by Guy Hendrix Dyas is flawless and John Williams' score is very welcome. This slick presentation and occasional strong moment like Marion's (Karen Allen) return keep Crystal Skull afloat.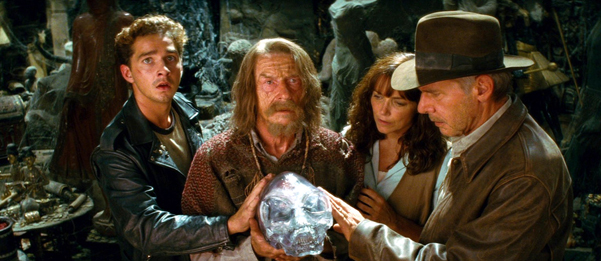 The films final act is unfortunately where it suffers the most. Again, I would argue with conviction that it's lack of quality has been severely exaggerated by self-righteous fans with over-opinionated Twitter accounts, but I do concur with many of the usual complaints. The penultimate action set-piece through the Amazon jungle is a disappointment thanks to an over reliance on wonky CGI effects and over-saturated cinematography. The brilliance of the previous films central action scenes was in seeing it for real before your eyes, like a circus trick or a stunt show. So taking out any sense of location by replacing it with CG matte paintings genuinely takes away from any potential thrill you'd usually find in a scene like this. It falls completely flat in comparison. The unneeded Tarzan tribute and multiple shots of killer ant blood splatting onto the camera during this scene are minor quibbles but don't help things either. 
The climax of the story brings the cast face to face with all of the crystal skulls, and once the final skull is returned, they merge to form a living alien straight out of a 50s B-movie. The villain Spalko wants to acquire all its knowledge in service of Stalin and the Cold War, and the extra-terrestrial being grants this. The knowledge is too much to bear and she is killed, but Indy and his friends manage to escape once the temple is revealed to be a hidden spaceship that quickly jets off from the earth. The alien is the other big complaint from fans, who believe science-fiction doesn't belong in Indiana Jones at all. I'd argue that the problem isn't the alien itself, rather the execution of the creature. When you think about it, aliens fit very well into the campy, serial style entertainment that Indiana Jones is a tribute of. When Indy was set in the 1930s it took inspiration from matinee serials from the 30s like Zorro Rides Again. But now that the time period has shifted, the 50s equivalent to those serials is B-movies about Martians. 
The issue with the alien is how it wraps up the story. The promised treasure and fortune behind the crystal skull legend is revealed to be knowledge. But Indy doesn't obviously learn anything so there is no payoff. Indy & Marion marry afterwards but there isn't a suggestion that the events they just experienced led them to this. Nothing is suggested despite the film specifically giving Indy a psychic connection to the skull. Indy could have learned to be a better father to his new son, or just a better man that isn't so selfish. He could have grown, which makes even more sense for the characters old age. Yet the alien doesn't serve a purpose beyond being another wobbly special effect, leaving the film on an unfortunate bum note.     
11 years later Indiana Jones and the Kingdom of the Crystal Skull still remains the worst Indy flick in the eyes of the majority. I don't disagree; a plot that repeatedly loses steam, too much CGI and an unsatisfying ending all attribute to that. But to write the film off completely is a mistake with it not being close to the atrocity people claim. If you've not seen it since it's release way back in 2008, I'd suggest seeing it again with your expectations lowered. There is fun to be had, action scenes to enjoy, and jokes that absolutely land in what is a (mostly) enjoyable ride. So I for one will certainly give Spielberg another chance to make a great Indiana Jones movie – who knows, we might end up with fortune and glory kid.                
We Liked
Thrilling opening act
Flawless production design and presentation
We Didn't Like
Some wonky special effects
Uninteresting legend
Flat Ending

Too scary to be for all the family but not whimsical enough to be movie magic, The House with a Clock in its Walls does have charms of its own but not the correct combination to cast the spells of past Spielberg-produced releases.

The largely unnecessary gender-swapping of franchises continues with the throwaway Ocean's Eight, a film whose only crime is guilty of is stealing your time while looking good doing so. i

A unique, and totally fictional, telling of Longstride's history, Robin Hood almost hits the target.