The Details
Release Date
29th January 1993 (UK)
Synopsis
The centuries old vampire Count Dracula comes to England to seduce his barrister Jonathan Harker's fiancée Mina Murray and inflict havoc in the foreign land.
Director
Francis Ford Coppola
Starring
Gary Oldman, Winona Ryder, Anthony Hopkins
1400's, Transylvania. Prince Vlad Dracula (Gary Oldman), a loving husband, God-fearing and all-round decent dude, has to go off to war to fight off invading Turks. The odds are totally stacked against him, but he has some really cool, blood red armour so we know he must be some kind of badass. During the battle, he earns a name for himself as Vlad the Impaler because he leaves everyone stuck to the gut with massive spears.
Upon his return he finds that some vengeful Turks have shot an arrow into his castle, reporting falsely on his death. His beloved wife Elisabeta (Winona Ryder), hearing the news, kills herself by throwing herself into the river. Vlad is pissed about this when he returns, blaming the church and God for letting him down.
After the falling out with God, he drinks some blood that oozes from the large crucifix in the castle's chapel and declares that he will rise from the grave to avenge his dead love. All the powers of darkness will be his to command.
Four hundred years later, in London, and young Jonathan Harker (Keanu Reeves) is tasked with visiting an aged Count Dracula in his castle so that he can buy some land. The previous real estate agent, Mr. Renfield (Tom Waits), took a turn for the worst when he went out there and went mad. He was returned to England and put into the care of Dr Jack Seward (Richard E. Grant).
Harker says goodbye to his fiancée, Mina (also played by Ryder), and journeys to the dark corners of Transylvania. There he meets an aged Count Dracula, whom is a bit of a weirdo, to say the least. He's kind of a perve, has hairy palms, a hatred for religion, and an unusual obsession with Harker's picture of Mina. Could it be, his beloved Elisabeta has been reborn?
With the land deal in place, Dracula imprisons Harker, leaving him to the sexy mercy of his three vampire brides. He heads to London in a crate of dirt, whereby he starts terrorizing Mina, and her young socialite friend, Lucy (Sadie Frost).
After biting Lucy, her health slowly fades. Her fiancé, Arthur (Cary Elwes), begs Seward save her. At a loose end, he calls in his old mentor, Professor Abraham Van Helsing (Anthony Hopkins), a wild and darkly knowledgeable witch-hunter. He pronounces Lucy infected with vampirism at the hands of Dracula.
Meanwhile, Dracula has changed appearance and now stalks the London streets by day as a young, elegant prince. Here he engineers a meeting with Mina and catches her eye. The two begin an electrifying affair of sorts.
Dracula, hungry from blood, returns to slay Lucy, despite the protection of Van Helsing and her friends. After the funeral, Van Helsing leads them to her crypt which they find empty. The undead Lucy returns soon after, a crying child in her arms. After returning to her casket, Van Helsing convinces Arthur to stake her through the heart, while he beheads her.
It's around this time Jonathan has managed to escape Dracula's castle and sends for Mina to join him in Transylvania. She stands up her prince and goes to him. Upon their return Harker recounts his tale to Van Helsing, and armed with the knowledge as to where Dracula sleeps (the plots of land Harker sold him), they decide to hunt down the foul creature.
However, with Mina seduced to the dark side, and under Dracula's spell, it becomes a race against time between her becoming a vampire and the others finding old Vlad.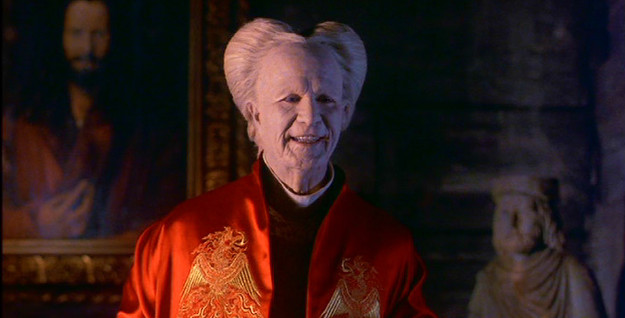 Dracula has proved to be an incredibly popular source of inspiration for filmmakers for nearly a hundred years now. Over two hundred "Dracula" films have been made in that period, an incredible feat for a literary character (second only to Sherlock Holmes), and has, of course, spawned an entire vampire sub-culture. Sadly, the roots of dross like Twilight can be traced back to Bram Stoker's original novel.
However, despite all this good coverage, there has seldom been a big budget, accurate adaptation of the original text. Perhaps the two most famous incarnations, the 1931 Bela Lugosi feature and the Christopher Lee Hammer Horror film in 1958, both take liberties with the story and characters. Bram Stoker's Dracula (perhaps named for this reason) sought to change this theme.
Released in 1992, this was director Francis Ford Coppola's follow-up to the disappointing climax to the Godfather trilogy two years previous. Along with screenwriter James V Hart (whom also adapted Mary Shelley's Frankenstein), Coppola remains fairly true to the source material. The only element that is perhaps a little twisted, is Mina's relationship with Dracula towards the end of the movie, which is far more prominent and sexualised than in the original story.
Back when I was a kid, I had a fascination with gothic literature, and along with Edgar Allan Poe, Robert E Howard, and HP Lovecraft, Dracula was a personal favourite of mine. I even had a books-on-tape version, read with great gusto by Richard E. Grant, so I was very familiar with the story by the time I saw this film.
Besides all the gratuitous sexual stuff, perhaps the greatest liberty that Coppola takes with the source material is by removing Dracula's moustache ("a tall old man, clean shaven save for a long white moustache"). I'll forgive him though, as the production design is absolutely mind-blowing. The costumes, the sets, the makeup, it's amazingly well realized.
There is a lot of contrast in the film. The use of red and black, the ideologies of Christianity, science and dark magic, etc. There's a lot of horrific imagery as well, and while tame by today's standards, it was certainly approaching artistic video nasty levels back in the 90's. The rape scene, whereby Dracula is disguised as a giant semi-werewolf, ravaging the unconscious Lucy, is especially dark.
But it's also a perfect representation of the style of this movie. I think Coppola really aimed to juxtapose beauty and beastliness, and this is a great example; a hulking creature caressing the tiny, semi-naked Frost, sheathed only in vivid red slips of silk. Dracula himself appears in multiple guises, both beautiful and horrific; warrior prince, an ancient count, a young and vibrant modern gent, a werewolf, a bat-creature.
His grotesqueness is contrary to the youthful vibrancy of the cast. That's why I think he hired Keanu Reeves in the first place. Because he was a young, hot actor. Now I like Keanu. I think he's a good dude. But he Bill & Ted's his way through this, no doubt, just with a stupid British accent. Most of the criticism you'll hear about Bram Stoker's Dracula will be levelled at poor Keanu, and it's sadly warranted. However, the rest of the cast is just stellar. Ryder is decent, Frost really pulls it out of the bag, and Hopkins…well this is an Anthony Hopkins KFC family bucket. He plays like four parts, including the narrator, and he goes 150% in each of them.
You can't mention the acting without speaking about Gary Oldman, whose portrayal of Dracula could not be further from the cape-adorned Hammer horror hammy movies of old. If it were any other actor you'd probably call this a career milestone. However, Oldman readily turns in crazed and brilliant performances, and this is merely one such turn. Yet he is a tour-de-force in this movie, no doubt about it.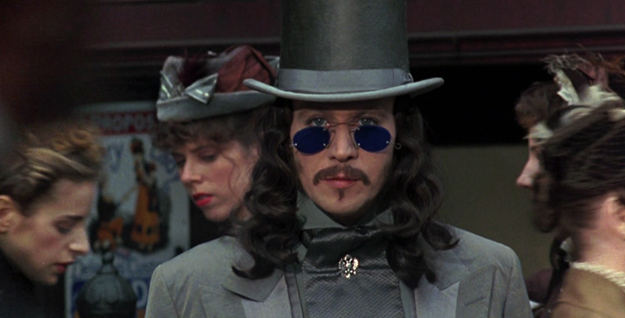 Another interesting facet of the production is the special effects. Coppola, noting that the book's release coincided with the birth of cinema, wanted to realize all of the effects in camera, as if to pay respect to his forbearers. So there is no CGI, which is incredible considering some of the narrative elements at work here. Dracula transforming from a giant bat-creature to a host of rats is a highlight, as are the various interplays between him and Harker in the castle at the beginning. The film readily oozes atmosphere and dread, like few others before or since.
However, the dogged insistence of doing 100% practical effects and rigidly honouring the original story does have its drawbacks. The film, running at over two hours (long for a horror film), still seems choppy. If you've ever read any of the Game of Thrones books, you'll be familiar with the style Bram Stoker used when writing Dracula. Each chapter appears as an entry in the diary of a particular character, and the film follows this to a sense.
This makes the pacing a bit unusual, and with a lot of material to pack in, many of the scenes are reduced down to their barest essentials. Due to this, things are not given their time to build up, resulting in minimal tension or character development. Nor are we afforded the time to linger on the magnificent sets or costumes. It's like we're in a gallery of beautiful artwork, but rushed through by an impetuous guide.
Combined with the grand and foreboding score by composer Wojciech Kilar, this conspires to make the film appear incredibly melodramatic. We skip from one moment of drama to the next without respite. It suffers for this massively and watching it 25 years later, it's very telling. The swinging emotions of Mina especially demonstrate this patchiness, and it's difficult to develop any sort of feelings for any character. You feel sorry for Keanu's Harker (who gets the crappy end of the stick throughout), but he's hardly likable himself.
Regardless, Bram Stoker's Dracula is well worth a watch. While it suffers in parts because of the pacing, it is a visual feast. You'll only find the later works of Del Toro that match the horrific decadence of this movie, and to that end, you could readily call this a flawed work of art. Vampire fans, movie historians, horror lovers; you'll all find something to get your teeth into here.
We Liked
Amazing production design in the costumes, sets and makeup.
A solid and faithful adaptation of the source material.
Incredible performances from Hopkins, Oldman and Frost.
We Didn't Like
Overly melodramatic.
Unlikable characters.
So Basically...
Bram Stoker's Dracula is a big budget imagining of a classic story and recognizable character. It is a blood-soaked, gothic masterwork, let down only by some poor casting and an over-reliance on the source material.
You have rated this
Nick is RA's resident Martial Arts expert with a huge interest in the films of Jackie Chan and Donnie Yen. His insightful and in-depth takes on movies have resulted in some of the sites most popular content. Further writings of Nick can be found at The Movie Bastards, a site dedicated to the cinematic badasses that you love to hate - and he reveals new ones to loathe too.