The Details
Release Date
16th November 2018 (UK VOD Release)
Synopsis
When an American diamond trader's Russian partner goes missing, he journeys to Siberia in search of him, but instead begins a love affair.
Starring
Keanu Reeves, Boris Gulyarin, Ashley St. George, Ana Ularu
It's hard to say what the hell Siberia is trying to accomplish. As a romantic crime drama, it's deeply questionable. As a thriller, it's as fine as a cure for insomnia as you're likely to find. When the only source of tension is an excruciating scene involving oral rape, you know you've got a real mess on your hands.
The film follows a suave diamond merchant called Lucas Hill (Keanu Reeves; John Wick, The Matrix), as he flies to St. Petersburg to broker a deal with a Russian mobster. Upon discovering that his supplier has gone AWOL, Lucas is forced to travel to Siberia to track his man down. Whilst there, he begins an intense romance with a woman called Katya (Ana Ularu; Inferno), that could lead to tragedy for all.
You'd think that a movie called Siberia would actually be interested in exploring Russia's locales and their locals. But apart from some bear hunting, and the copious amounts of 'vodka' that the cast are drinking, this film could be set anywhere. Everyone, from the manic mob boss, all the way down to the blue collar hicks, are straight out of central casting. I suppose that's what you get when you shoot the majority of your Russian crime thriller in Winnipeg, Canada. The only notable exception is Rafael Petardi as mob henchman Pavel, who imbues his character with a cruel, calculated cunning. Alas, he has maybe ten minutes of screen time.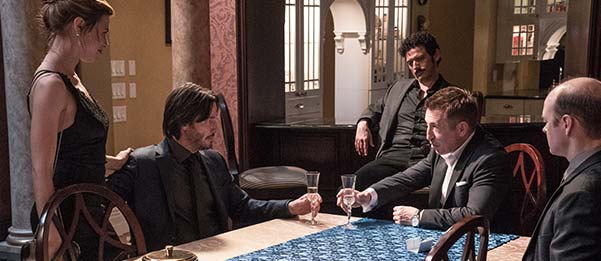 That lack of specificity trickles down to the leads themselves. For the second time in two weeks, I have to commend an actress for doing the best she can with risible material. Ana Ularu is a charismatic foil to Reeves, and her early scenes give her both a wry sense of humour and hints that she has wants and needs beyond getting that sweet, sweet Reeves D (although it must be said, there's something refreshing about female character who's so upfront and transparent about just wanting to get the ride. This is truly a romance for the Tinder generation). Don't worry though Men's Rights Activists, I can assure you that by the end of the film she is nothing more than a damsel in distress who blindly loves her man despite the horrific things he puts her through. Phew!
Reeves himself is a beautiful piece of polished wood, whose blankness can be exceptionally hard for directors to use. His best dramatic performances, like in the wonderfully bizarre animated live-action A Scanner Darkly, use that blankness to convey a hollow, wacked out melancholy. Here though he's a little too inert to sell such a thinly developed character. It's not helped by a script that gives him particularly wordy lines to wrestle with. Reeves is the master of butchering waves of anonymous mobsters with style and verve, but delivering verbose, Mamet-lite dialogue? Not so much.
Ultimately, Siberia's fatal mistake is just how dull it is; it's a film that makes selling diamonds to the mob as exciting as getting a finance agreement for your next car. Most of these scenes consist of mildly heated conversations at a dinner table, and the film regularly grinds to a halt to embellish the relationship between Reeves and Ularu. That the filmmakers believe this is an honest-to-God romance for the ages, as opposed to something much more cynical, and thus potentially interesting, makes it all the more frustrating.
There's some fleeting pleasure to be found in the climatic shoot out, in which Reeves takes on a bunch of heavily armed hoods with nothing more than a bolt action rifle, but it's too little too late; a last-minute concession to an audience whose patience has been stretched beyond repair by the preceding 85 minutes.
Siberia is now available to rent or buy on all major VOD platforms. 
We Liked
Ana Ularu is a likeable, compelling lead
Rafael Petardi's sly, calculating performance
Keanu's salt 'n' pepper beard
We Didn't Like
Lumpy pacing
Problematic romance
A dearth of thrills or action