The Details
Item Reviewed
Star Wars: The Last Jedi
December 19, 2017
Release Date
14 December 2017
Synopsis
Rey develops her newly discovered abilities with the guidance of Luke Skywalker, who is unsettled by the strength of her powers. Meanwhile, the Resistance prepares to do battle with the First Order.
Star Wars is dead. Long live Star Wars.
Rian Johnson's eighth entry into the Star Wars canon is perfectly summed up by the above phrase, feeling both comfortably familiar with the return of beloved characters and settings while simultaneously hurtling the franchise in a whole new direction, making this the most divisive episode of the entire series.
Following directly on from the events that closed 2015s The Force Awakens, The Last Jedi sees a troubled Rey (Daisy Ridley) complete her journey to find Jedi Master Luke Skywalker (Mark Hamill) to help her train and unlock the powers within. A turbulent and unlikely connection between rivals Rey and Kylo Ren (Adam Driver) develops as Rey tries to convince him to give up the Dark Side – which catches the attention of Supreme Leader Snoke (Andy Serkis). Meanwhile, The Rebellion, led by Princess Leia (Carrie Fisher), find trouble when a frightening new advancement in technology means the First Order can now track ships even when they jump to Light Speed. It's up to headstrong pilots Poe (Oscar Isaac) and Finn (John Boyega), along with newcomer mechanic Rose (Kelly Marie Tran) expert lockpicker DJ (Benicio Del Toro) and mischievous droid BB8, to sneak aboard the main Star Destroyer, disable the tracker and ultimately keep hope alive for the Rebellion.
The Last Jedi begins predictably enough with a space set dogfight as the plucky underdog Poe weaves through TIE Fighter fire on a mission to take down an imposing dreadnaught ship. Set to a bombastic and hyperactive John Williams score, the scene is completely interchangeable with any other star set aerial combat sequences in the series and panders to the exact needs and expectations of the fans. But this is where the catering to the target market stops, as from here on out The Last Jedi systematically dissects and discards vital plot points and character arcs from previous movies.
What is most striking about The Last Jedi's new direction is just how throwaway it makes J.J. Abram's The Force Awakens seem. While many complained that it was essentially a modern re-telling of A New Hope, no one can say Johnson's Last Jedi is identical any of the others: it is very much its own entity which takes perverse pleasure in subverting expectations, and doesn't just throw curveballs at audiences but deliberately lets the bat fly at them too.
The internet is (well, was) awash with complex fan theories regarding previously unanswered questions to do with Rey's parents, the history of Supreme Leader Snoke and speculation about a later-life reclusive Luke, but it appears they were all for nought as Johnson addresses them with a blasé and insultingly simplistic approach; as a result, The Last Jedi genuinely feels like an attempted reboot halfway through an already rebooted franchise.
It's hard to ignore the Disney influence here too, as comedy is forced in at every opportunity. Barely 10 minutes in and there's already an awkward and horribly unfunny routine involving a communication call between Poe and General Hux (another notch on a breakthrough year for actor Domhnall Gleeson). Rey doesn't get excluded from the cringe-worthy attempts either as she is asked to describe what 'The Force' means to her – and in the process completely undermines her entire journey for the sake of a cheap laugh which never comes. There are a small number of moments which hit, one being a criminally underused Chewbacca's run-in with the adorable and fluffy Porgs, but these are few and far between and unfortunately end up doing more damage than good.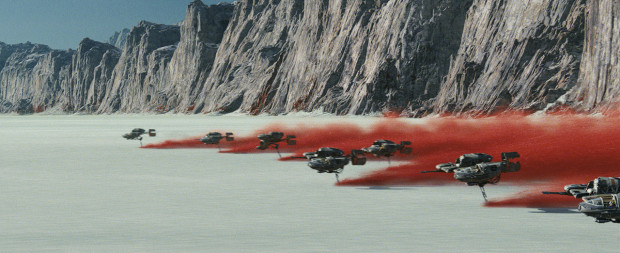 As for the acting, the standout star is undoubtedly the fantastic Adam Driver as Kylo Ren. Driver continues to prove he is far too great for Star Wars, yet honours us with his presence as the tormented son of the Solos as his mind ventures back and forth between the light and dark. Mark Hamill as Luke Skywalker seems to be enjoying reprising the role that made his career, even in his most dejected moments while the late Carrie Fisher's Leia is a bittersweet affair. While it's great to see Fisher on screen for one last time, her character becomes a central figure in one of the most controversial scenes in the film and has split fans more than a lightsaber strike did to Maul.
Surprisingly, Daisy Ridley as Rey is far and away the weakest link in terms of performance. Her lines are delivered unconvincingly, an observation made infinitely clearer by the fact that most of them are spoken to or with the sublime Driver. Oscar Isaacs as Poe is a joy to watch, Marie Kelly Tran as Rose is a welcome, refreshing and more importantly, human addition to the bunch and John Boyega has much less to do this time around but displays exactly why he's one of the most exciting talents in the industry today.
In fact, speaking of not having much to do, not one narrative thread takes precedence over the other. Everyone seems to have an equal amount of screen time and once again the film appears to be more like a set up to the next installment. The Last Jedi also has a disjointed feel, much like a string of TV episodes sewn together to form a mammoth two-and-a-half-hour film – a lengthy runtime that feels twice as long in places. The first hour is a slog which just seems to repeat itself without ever confidently advancing the story, which fortunately does eventually pick up when all the chips are in play. Some scenes could easily have been dropped or shortened (Finn and Rose in the casino springs to mind), but as it stands, it still feels far too long and by the time the final showdown comes around, backsides are number than the emotions felt towards any of the events occurring.
Among all the negativity, there are some definite positives. The climax is beautifully photographed, with the red on white colour scheme of the battleground an ingenious way of getting around the minimal blood guideline for a 12A (PG-13) rating. Another critical moment, in which I won't go into detail due to spoilers but involves Laura Dern's Vice Admiral Holdo heroics, uses silence for deafening and sobering effect, while The Last Jedi also features one of the best lightsaber battles in the series.
For better or worse though, The Last Jedi should be commended for its risk-taking. Like a mint condition Darth Vader with Double-telescoping Lightsaber figure still in its packaging, purists believe Star Wars is a franchise which should not be messed with. What Rian Johnson has done is ripped it from its box and pushed it past its 'Fully Posable' nature.
With the reigns handed back to J.J. Abrams for Episode 9, it will be interesting to see how he handles the change of tone and severe consequences that come from the events of this. Luke warned us that "This isn't going to going to end the way you think" in the first trailer – and a truer word could not have been spoken.
We Liked
A bold direction for a decades-old franchise
Visually stunning on occasion
Adam Driver gives his all for Kylo Ren
We Didn't Like
Some questionable narrative decisions
Complete disregard for continuity in favour of twists and shocks
Feels longer than its already bloated run-time

I highly recommend for parents to stick with Beatrix Potter's enduring books instead of subjecting their young hoppers to this con artist.