The Details
Release Date
23rd April 1986 (US Theatrical), 17 September 2018 (UK Blu-Ray)
Synopsis
An American photojournalist gets caught in a political struggle at El Salvador in 1980.
Starring
James Woods, Jim Belushi, Michael Murphy
For director Oliver Stone, the 1980's was the decade that made him. Riding high on the success of his scripts for the crime kingpin profile Scarface, a scathing look inside big business in Wall Street and the Oscar winning Vietnam drama Platoon, another film of Stone's went largely unnoticed, slipping under the public radar.
But it did not escape the sights of the Academy. The very same year he won Best Director for Platoon, a film which also nabbed the Best Picture, Best Editing and Best Sound awards, his second directorial effort Salvador picked up nominations in the Best Actor category and Best Screenplay. Now, thanks to the Eureka! Masters of Cinema series, Salvador is no longer a little-known gem among Stones' diamonds.
In 1980, young men, women and children are being brutally killed in a bloody civil war in El Salvador. A horrific setting, but a perfect one for Richard Boyle (James Woods; Videodrome), a sleazy journalist whose career needs a jump start. Armed with his camera, Boyle joins the front lines in an attempt to capture atrocious-but-valuable images of pain and horror. But with each picture he takes, he catches a tragic side of humanity that ignites his long-buried compassion.
Sound like grim viewing? It frequently is. But on first watch, the opening 20 minutes will lull you into a false sense of security. It begins like a buddy comedy; Boyle is being kicked out of his apartment with no money, no insurance and no driving license. So of course he gets pulled over on his way to a work meeting and finds himself in jail. His friend/enabler/out of work DJ Dr. Rock, played by a wonderfully clueless Jim Belushi, bails him out but has a problem of his own – the county have taken his beloved dog to the pound and are threatening to put it down.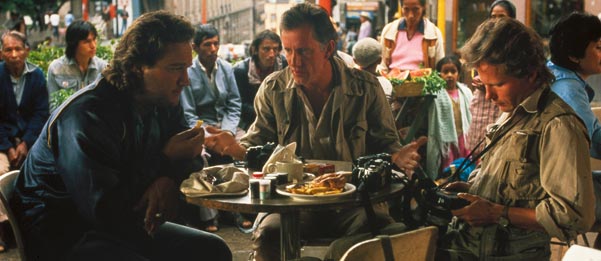 In an effort to take Rock's mind of his downturn of fortunes, or more specifically for his own gain by trying to make a quick buck down there, Boyle drives them both to Salvador with the promise of cheap alcohol and even cheaper women. So far, so Hangover. But it's on this road to Salvador that absolutely everything changes. The pair are ultimately captured for being journalists and transported into the town centre, where they witness an assassination for the most menial of reasons.
From here, Boyle and Rock, along with famed photojournalist John Cassady (John Savage; The Deer Hunter, The Thin Red Line) struggle to survive the lawless land of Salvador as the political tension heats up to critical temperatures.
Salvador is a multi-layered beast and one that I have no shame in admitting I probably still don't completely understand. There's so much happening and so many angles that the film could (and most certainly should) be viewed from that it demands multiple re-watches. Obviously, the politics of El Salvador play a huge part in Stone's story and although they did get a little confusing to an absolute novice on the subject I could still adequately understand what was going on.
Woods' first Oscar nomination is thoroughly deserved here. He's a fast talking, slick and sleazy gonzo photojournalist whose only likeable trait is just how much you dislike him. Boyle is shown as a man who would sell his own mother if it meant he could get away from danger relatively unscathed and Woods' motor mouthed portrayal deserves all the applause it receives. One particular scene in which he confesses to a Priest is a prime example of Woods' talent and he himself believes it was this scene that snagged him the Academy's attention.
Stone approaches the action scenes like a photojournalist themselves would. He's right in the mix, risking life and limb to get the best shot. What this results in is claustrophobic and red raw sequences that accurately reflect the spontaneous and frenzied nature of events in 80s Salvador. The photojournalists themselves dive into the heart of the battles, with their cameras as weapons and spare film as ammunition.
The murky ethics of journalism rear their ugly (or, more specifically, pretty-for-the-camera) head in Salvador. How can you accurately capture the entire picture of a country in one frame or quick news bulletin? And what of the one tasked with reporting it? What is their reasons for doing so? Everyone in Salvador has their reasons for acting the way they do, and it usually boils down to narcissism. Boyle's friend Cassady is always on the hunt for the next great image, but not to show the World what's happening in Salvador – he wants the praise, adoration and awards. Boyle himself, initially at least, pictures it as just another way of making a little money. But herein lies his eventual albeit partial redemption.
As always, Eureka! has bundled a plethora of special features in with the film. There's the option of either its original, uncompressed Mono audio presentation or 5.1 surround, feature-length audio commentary from Stone, an extensive archival interview from when Stone visited the British Film Institute and another rarely heard audio interview with the director from 1986.
But it's the 'Making Of' addition that really makes Salvador's special features worthwhile. Named Into the Valley of Death, it's one of the most fascinating behind the scenes documentaries I've ever seen. It is 60 minutes of enthralling, insightful and eye-opening detail of just how death-defyingly dangerous it was to get the film to fruition, with Woods recalling an occasion where he almost certainly would have been killed if it was not for a quick-thinking intervention.
What struck me the most though was the inclusion of the real Richard Boyle for talking head interviews. Sadly passing away in 2016, Boyle certainly seemed like a fascinating character and one to embellish the truth, as detailed in the documentary when speaking of an early, extremely hedonistic draft for the script.
This additional feature will certainly give you a further appreciation of a film which deserved it in the first place. The likes of Platoon and Born on the Fourth of July may be more well known, but Salvador demands to be considered as equal to Stone's other greats.
Salvador is out now on Blu-Ray/DVD Dual Format pack through Eureka! Releasing. It is available to order from 

Amazon

 

https://amzn.to/2zwmOm

 and

Zavvi

 http://po.st/wiMFr1
We Liked
Closely filmed action sequences
Uncompromising and raw
An Oscar-worthy turn from Woods
We Didn't Like
Political story may be overwhelming for those completely new to the situation