In our second report from the Melbourne International Film Festival (MIFF) 2019, we'll be taking a look at some of the most hotly anticipated features on show. Just like in our first report, we have a real mixed bag from all across the world. Not only are there the new films from British cult comedy director Chris Morris and French cult comedy director Quentin Dupieux, but we'll also be reviewing the new Pedro Almodóvar film Pain and Glory that won Antonio Banderas the best Actor award in Cannes earlier this year. Let's jump right in.
Deerskin (2019)
Dir: Quentin Dupieux | IMDb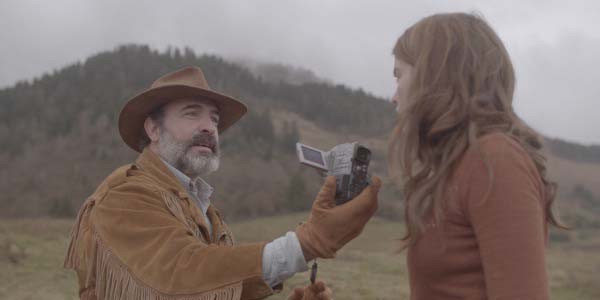 Anyone aware of French filmmaker Quentin Dupieux will know that his films sit a little left of mainstream. His breakout was the killer tyre movie Rubber back in 2010 and since then the director has continued to lean into the surreal and bizarre as much as humanely possible. Whilst this has meant his films are always intriguing it has also meant that his work has not always been entirely successful. At times Dupieux's unusual style has actually been detrimental as he leant too heavily into it. With his newest film Deerskin though, it appears Dupieux has finally found the perfect balance.
The film focuses on Georges (a never-better Jean Dujardin), a man clearly in the midst of a midlife crisis, who splashes all his money on a ridiculously expensive deerskin jacket. He moves out to a small village in the middle of rural nowhere with only the jacket and an old video camera the previous owner threw in to sweeten the deal. It's safe to say Georges loves his jacket. He loves it so much in fact that there's nothing he wouldn't do for it. So, when he gets it in his head that it needs to be the only jacket in the world, he sets out to make that happen. Along the way, he accidentally and incorrectly tells budding editor Denise (Adèle Haenel) that he is a film director, and she eagerly sets out to help him realise his bizarre vision.
It certainly helps Dupieux's film that his two protagonists are extraordinary actors. Dujardin commits so entirely to the role of Georges, delivering one of his best performances of late. He laps up the quirky comedy and is a complete riot as Georges. Haenel's character Denise grows into the film and is given her own moments to shine and bask in all the strangeness happening around her.
There is no weak link here, with Dupieux reigning it in just enough, whilst letting his weird flag fly. It builds spectacularly to a roof-raising finale, and it's really a sign of a mature writer and director who has begun to master the craft. There's no wrong step here, every beat building perfectly on the last, and given its brief 88-minute runtime, there's no lag either.
With Deerskin, Dupieux has finally found where the brilliance lies within all the bizarreness. It's hands down his best film, a riotously funny black comedy that will be christened a cult classic before the year is out.
Highly Recommended
The Day Shall Come (2019)
Dir: Chris Morris |

IMDb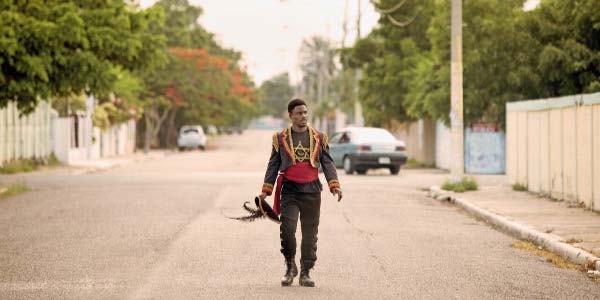 Chris Morris has long been a cult figure in the British comedy scene, and his status was firmly cemented with 2011's Four Lions, a brilliant comedy that focuses on a group of British terrorists. As is clear from that description Morris isn't afraid to dive headfirst into controversial material. He's taken a similar leap into the deep end with his new film The Day Shall Come, which focuses on the FBI attempting to frame the oblivious commune owner and leader of exactly 4, Moses (excellent newcomer Marchánt Davis), as the next big terrorist threat.
Morris has shifted the action from the UK to the bigger fish that is the USA, and thoroughly embraces the many shades of the country, warts and all. However, Morris is clever enough to avoid the temptations of the bigger scale that was no doubt offered to him by the Hollywood bigwigs after the success of Four Lions. Instead he chooses to focus in on Moses and his small family and followers, and juxtapose that with the office-dwelling FBI agents trying desperately to pin him for something. After a somewhat shaky start, the film begins firing on all cylinders, with the two groups full of more than capable comedic actors. FBI Agents Kendra (Anna Kendrick) and Stevie (Adam David Thompson) are quick with an insult whilst Davis leans successfully into the wackier side of Moses' character.
The Day Shall Come is much more than the jokes though. It has something bubbling under the surface which really comes to the forefront as the film reaches its finale. It is emotion and most importantly heart that builds throughout the admittedly brief runtime. This is no doubt due to the stellar lead performances of Davis and Danielle Brooks, as his wife Venus, whose connection is the crux of the film, and Kendrick as the guilt-ridden agent.
The Day Shall Come is another success for Morris. Maybe it's not the runaway comedy hit that his previous effort was, but it never sets out to be. It's hilarious and then it stops you dead in your tracks. There's a touch of genius in executing that.
Recommended
Continue to Page 2 for reviews of famed Spanish director Pedro Almodovar's latest Pain & Glory as well as the imaginative animation Buñuel in the Labyrinth of the Turtles. 

It has a fulfilling plot and a tight script, with exciting action set pieces and an protagonist that you can't help but root for whilst simultaneously "awwww"ing