The Details
Release Date
May 2018 (Cannes Film Festival Premiere)
Synopsis
Two ten year-old boys are detained by police under suspicion of abducting and murdering a toddler. A true story based on interview transcripts and records from the James Bulger case which shocked the world in 1993.
Starring
Ely Solan, Leon Hughes, Will O'Connell
The abduction and murder of two-year-old James Bulger in 1993 is a crime that is still felt in Britain today. The details of the killing itself are shocking enough, but when the police made their first arrests in the days following the discover of James' body, the country – and indeed the World – couldn't believe what they were seeing: the suspects were two 10 year old boys, Jon Venables and Robert Thompson. In Vincent Lambe's devastating Detainment, the initial interviews of the boys are recreated using the original transcripts and features powerhouse performances in its young leads.
Detainment doesn't provide any further answers to questions that still burn about the 25 year old case or contain any revelations further to what we already know, but its unique take on the existing evidence is no less impactful. This is undoubtedly due to the incredible acting from its two stars, Ely Solan as Jon Venables and Leon Hughes as Robert Thompson. Both of them aren't much older than the actual killers were at the time of the crime, but their performances are some of the best work you're likely to see this year. Solan especially gives an emotionally raw turn, constantly throwing himself into the arms of his mother or a detective while uncontrollably sobbing. Whether this was an attempt to emotionally manipulate the detectives or simply the actions of a child not knowing the magnitude of their actions, we'll never know. But Solan is utterly convincing as one half of England's youngest ever murderers in modern history.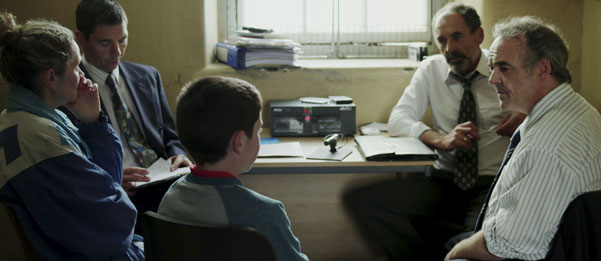 Leon Hughes' portrayal of Robert Thompson is a stark contrast to his friend. Here, Thompson is shown as a cold, vitriol-fuelled rebel who has a smart-alec answer for everything. There's almost a feeling of deliberate exaggeration of both ends of the emotional spectrum here for the sake of displaying differing people, and to that end it's a little disappointing if this is the case to add a little more drama, but in no way is that a knock on the performances given.
There's a few notable names from TV involved in the production too, with Game of Thrones' Will O'Connell taking the role of a Detective and Kathy Monahan from History Channel's Vikings Thompson's mother, Anne. Cutting between the interview rooms and recreations of the horrific events that led to the murder, Detainment takes the less is more approach and lets the actual words spoken at the time do the, well, talking. Seeing the two young boys leading the toddler through a fence to a train track, knowing what happened next, is a chilling enough image and Lambe is nothing but respectful to the memory of James throughout, knowing when to end shots long before it gets gratuitous.
In the closing moments, a place card informs us that four tapes were withheld from the jury and have never been made public due to their distressing content. By this point, it's for the best. The heinous act committed by these two is  appalling enough and there is absolutely no situation that exists where anyone other than the investigating officers should know of any further details. Lambe's Detainment doesn't ever try to get into the minds of these two damaged children to figure out what made them do what they did, but by putting faces to the voices it's a stark and entirely necessary reminder of the terrifying capability of humans – no matter what their age.
For more information about Detainment, including any upcoming screenings, visit: http://www.detainmentfilm.com/

In our first report from Melbourne's International Film Festival (MIFF), we take a look at Les Miserables (2019), The Souvenir, Sword of Truth and Ghost Tropic.

We chat to Charles Williams about his Palme D'or winning short film All These Creatures where he talks about specific casting choices, his future and bugs.