The Details
Release Date
4th March 2019 (UK VOD Release)
Synopsis
A hypochondriac working as an airport baggage handler is forced to confront his fears when a British teenager with a terminal illness enlists him to help her carry out her eccentric bucket list.
Starring
Asa Butterfield, Maisie Williams, Nina Dobrev
Calvin (Asa Butterfield; Hugo, Enders Game), an airport baggage handler, is convinced he's dying. In reality, he's a hypochondriac who believes the smallest of symptoms is going to result in serious illness. To try and give him some perspective, his father suggests he goes along to a support group meeting for genuinely sick people. While at a congregation for cancer sufferers, he meets teenager Skye (Maisie Williams; Game of Thrones). She's loud, brash and blunt – absolutely everything he's not.
The group are asked to come up with a list of things they'd like to do before they pass; a 'To-Die List' as Skye calls it. The pair form an unlikely but indubitable friendship as she enlists his help to complete her bucket list before her illness makes it impossible.
Films that deal with terminal illness are never going to be a laugh-a-minute riot, but Departures handles its subject matter sensitively enough that the infectiously positive attitude of Skye will no doubt have you smiling for the majority of its 90 minute run-time. Maisie Williams is an absolute delight as the boisterous blue haired Skye, a character whose nonchalant approach to her deathly diagnosis is nothing short of inspirational. Williams performance sends us on the same roller-coaster of emotions that Skye rides, especially as it reaches its inevitable free fall drop in the third act.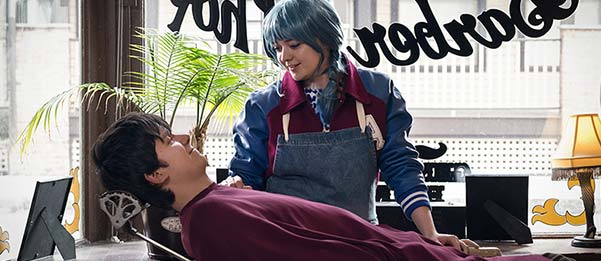 She's fantastically supported by Asa Butterfield as baggage handler Calvin, the perfectly cast awkward dork whose initial dishonesty about non-existent illness has an underlying reason for being. As a pair, their on-screen chemistry is dynamite as they first seem to be polar opposite personalities. Of course, as these types of stories always play out, they both grow as people but with the devastating caveat that one of them is unlikely to make it to adulthood. Departures script, written by Fergal Rock, doesn't dwell too much on the misery that comes with incurable disease, although it never underplays the unpredictability of its effects on Skye's body as moments of elation or complacency of moderately healthy instances can be quickly followed by the effects of the disease ravaging her body.
In its attempt to keep things as light-hearted as possible though, there are two characters that mean well but don't really work in the grand scheme. They're police officers, played by Ken Jeong (The Hangover II) and Briana Venskus (The Walking Dead, Let's Be Cops), and they give the mischievous pair a free pass to do as they please as they try to cross off all the tasks on Skye's list. Jeong's character, Officer Al, is aware of the kids condition as his dad goes to the same support group. Because of this, he lets them run riot across town, turning a blind eye to their misdemeanours of shoplifting, driving dangerously and so forth. It results in mildly comical scenarios, but they admittedly add another subplot to the already slightly convoluted narrative that also includes unsatisfying love interest angles for both Skye and Calvin. Basically, I just wanted to see more of Asa and Maisie's friendship develop: there work here really is sublime.
Its story is as familiar as a yearly trip to your favourite destination, but if you're looking for a reliable feel-good tearjerker led by rising talent with sunny dispositions, Departures is a welcome break from the expensive and explosive blockbusters that will be cluttering up multiplexes for the next few months.
We Liked
Handles subject matter sensitively
Butterfield and Maisie Williams have wonderful chemistry
The devastating realities of living with terminal cancer are never underplayed
Character arcs and backstories are believable
We Didn't Like
Police officers are an unnecessary subplot
Additional narrative strand of separate love interests isn't satisfying