The Details
Release Date
1st March 2019 (UK Restoration Theatrical re-release) 31st January 1998 (Japanese Release)
Synopsis
A reporter and her ex-husband investigate a cursed video tape that is rumored to kill the viewer seven days after watching it.
Starring
Nanako Matsushima, Miki Nakatani, Yûko Takeuchi
Seven days. That's all the stricken victims have left to live after watching a cursed videotape in Hideo Nakata's Ring, which receives a new restoration from Arrow Video and a cinematic re-release for its 20th Anniversary.
A group of teenage friends are found dead, their bodies grotesquely contorted, their faces twisted in terror. Reiko (Nanako Matsushima, When Marnie Was There), a journalist and the aunt of one of the victims, sets out to investigate the shocking phenomenon, and in the process uncovers a creepy urban legend about a supposedly cursed videotape, the contents of which causes anyone who views it to die within a week after being visited by a terrifying figure known as Sadako – unless they can persuade someone else to watch it, and, in so doing, pass on the curse.
First enjoying success upon its Japanese release in 1998, it wasn't until two years later when Ring hit Western shores that its popularity, and indeed the beginning of its enduring legacy, took off. The late 80's and throughout the 1990's were inundated with gory slasher horrors, which by the turn of the millennium audiences had understandably become fatigued with. Ring's patient approach to its scares was an immediate hit with cinema goers and sparked not only a resurgence within the genre but firmly put Japanese film making on the map as a fright force to be reckoned with.
Criminally, I'd only ever seen Gore Verbinski's 2002 American remake of the same name until the opportunity arose to review the restored original and while the Naomi Watts starring incarnation is a solid interpretation, it is also an undeniably mainstream and crowd-pleasing take on the story. The impossibly long and jet-black locks of Samara (a renamed Sadako) had been put front and centre as a vengeful spirit capable of bucket loads of jump-scares, whereas Hideo Nakata's original is much more restrained in taking its time to deliver spine chills that'll catch you off guard.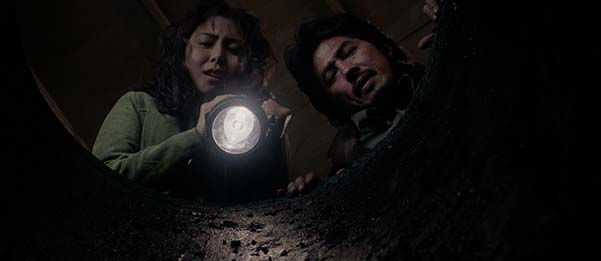 Having some idea of what to expect based entirely on Verbinski's version, the starkest difference is just how much more emotion is poured into the central narrative. Yes, there's a creepy VHS that gives you a very short time period to get your affairs in order before you suffer a death that leave you with a facial expression sure to give the coroner a jolt, but Ring's power comes from its sombre story of Sadako's awful upbringing.
Despite there being an unforgettable antagonist in the form Sadako, the humans of Ring are just as memorable. Nanako Matsushima plays Reiko, a journalist who is investigating the tape and goes above and beyond for research by foolishly watching the tape herself. Not only does she have to contend with having a countdown to be killed, she's mortified when she catches her young son Yoichi (Rikiya Ôtaka) watching the tape after reportedly being commanded to from the ghost of a past victim. Not only that, but her ex-husband Ryûji (Hiroyuki Sanada) willingly views the seemingly random images on the tape in a show of solidarity or stupidity (I can't decide which) and it sets up a tense and genuinely nerve-racking scenario that places three likeable characters in a situation you find yourself rooting for all of them. For a horror movie, a genre which usually promises a high body count, this is no mean feat to want the leads to succeed.
Another reason Ring was (and still is) so successful is its grasp on urban legends. 20 years on and even though the media format is the primitive VHS tape, the fundamental idea of a curse that must be passed on is just as relevant as ever – at the time of writing, the World is currently in the grips of mass hysteria over a freakish creation known as 'Momo'. In the unlikely event you've not laid eyes on the bug-eyed, wide grinned lady that gives Alita a run for her optics and makes The Joker look sad, Momo allegedly infiltrates child friendly online videos and sets 'challenges' for them – the likes of which include harming themselves and keeping it a secret from their parents.
Largely debunked as a hoax and an example of social media sharing without fact-checking, the similarities between Momo and Ring remain and is just one of the many reasons that cement Nakata's supernatural masterpiece as a film that will always remain ahead of its time.
Ring will be released in Cinemas from

1st March 2019.

Tickets can be found at: 

http://ringfilm.co.uk/showtimes

Digital, DVD, Blu-ray, Limited Edition Steelbook, and Limited Edition Collection featuring Ring, Ring 2, Ring 0 & Spiral will be available from Arrow Video from

18th March 2019.

Special Features: 
Limited Edition Collection Extras:
-Limited edition packaging featuring original and newly commissioned artwork.
-Limited edition 60-page booklet containing new writing by Violet Lucca, Alexandra Heller-Nicholas, Jasper Sharp, Kieran Fisher and Kat Ellinger.
-"Spiral" – George Iida's 1998 sequel to "Ring".
-New audio commentary by film historian David Kalat.
-New audio commentary on "Ring 0" by author and critic Alexandra Heller-Nicholas.
-"Ring Legacy" – interviews from critics and filmmakers on their memories and the enduring legacy of "Ring".
-"A Vicious Circle" – video interview with author and critic Kat Ellinger on the career of Hideo Nakata.
-"Circumnavigating Ring" – video essay by author and critic Alexandra Heller-Nicholas on the evolution of the film series.
-"Spooks, Sighs and Videotape" – video essay by critic Jasper Sharp on the J-horror phenomenon.
-"The Psychology of Fear" – newly edited archival interview with author Koji Suzuki.
-Archival Behind-the-Scenes featurette on "Ring 0".
-"Ring 0" deleted scenes.
-Sadako's Video.
-Theatrical trailers.
Blu-ray / Steelbook / DVD Extras:
-New audio commentary by film historian David Kalat.
-"Ring Legacy" – interviews from critics and filmmakers on their memories and the enduring legacy of the Ring series.
-"A Vicious Circle" – video interview with author and critic Kat Ellinger on the career of Hideo Nakata.
-Sadako's Video.
-Theatrical trailers.
-Limited Edition SteelBook packaging featuring newly commissioned artwork by Matt Griffin (SteelBook-only).
-Booklet containing new writing by Alexandra Heller-Nicholas (SteelBook-only).
We Liked
A masterclass in slow-burning atmospheric dread
Characters you can root for
Remains as relevant as ever even 2 decades on
So Basically...
Curse be damned - Twenty years on and Hideo Nakata's landmark chiller continues to run, well, rings around the countless imitators that spawned from it.
You have rated this
Creator. Owner. Maestro. CEO. That last one is probably a bit too much, but basically Sean is a rarity by being both the brains AND looks behind Review Avenue. Having established the site in 2010, he still can't believe people still value his opinion, with some even genuinely asking for it without laughing.
What begins as a well-made, effective but admittedly routine chiller, turns into a much more sly and emotionally involving horror picture due to some clever shocks and a few fantastically orchestrated reveals.