The Details
Release Date
6th February 2019 (UK)
Synopsis
A deactivated female cyborg is revived, but cannot remember anything of her past life and goes on a quest to find out who she is.
Starring
Rosa Salazar, Christoph Waltz, Jennifer Connelly, Mahershala Ali,
On paper, Alita: Battle Angel has all the makings of a box office failure. Intentions by legendary director James Cameron to adapt the manga into a live-action film arose in 2000, but due to Cameron's work on Avatar, a project he felt passionately about due to its messages about Environmental conservation, and various other projects it repeatedly got pushed to the bottom of his to-do list. Adaptations of manga or anime never usually translate well into Western live action movies either; just look at 2017's Ghost in the Shell, Netflix's Death Note and the less said about Dragon Ball Evolution the better. Of course, there are exceptions to the rule but as a whole the two different styles simply don't work when combined.
Still, Cameron never gave up entirely on the project and in 2015 took a step back into a producing role, eventually handing Robert Rodriguez (Sin City, From Dusk Til Dawn) directing duties after being impressed with his script revisions. By 2016, the film had yet to be green-lit by 20th Century Fox due to budget disputes. Fox wanted Alita to bring its cost down – which at the time stood at around a massive $200 million. While the cost of Alita has yet to be revealed, I imagine Cameron didn't budge much on the projected total instead just bringing in his three Oscars and a print out of the "Top Grossing Film of All Time" list, placing them on the polished mahogany table with a deservedly smug grin.
Even after Fox gave Alita the go-ahead, it still wasn't without its problems. In mid 2016, a release date of July 20th 2018 was announced. In the US, this would have put it up against action sequel The Equalizer 2 and low budget horror Unfriended: Dark Web while it would have to compete with Abba inspired Mamma Mia: Here We Go Again and crime thriller Hotel Artemis in the UK. But, rather predictably, its release date was pushed once again to a Christmas time release of December 21st – putting it into an unwinnable fight against Disney's Mary Poppins, DC's Aquaman and Transformers spin off Bumblebee.
A final hour change of plan gave Alita another, definitely 100% for realsies this time, UK release date of February 6th and one of February 14th across the pond, meaning it had to compete with the undoubtedly less challenging but still threatening The Lego Movie 2. So here we are: over 18 months from its first planned release and 500 words later, you're fully caught up with Alita's life story. Now let's actually review this thing, shall we?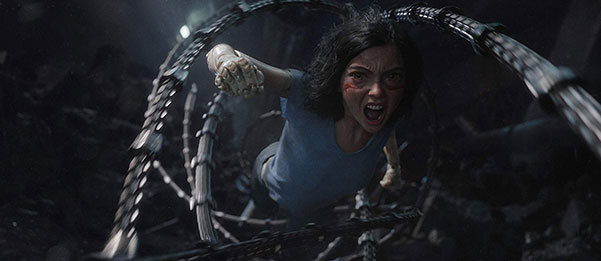 In the year 2563, the World has been ravaged by a war known as 'The Fall'. Alita is a cyborg made from scrapheap parts collected by Doctor Dyson Ido (Christoph Waltz; Inglourious Basterds, Downsizing). While her body has been completely destroyed, her brain remains miraculously intact but she has no recollection of who she was before being dumped. With the help of Hugo, Alita sets out on a journey to discover her identity in a dangerous city that knows more about her than she does – and one that will stop at nothing to kill her for a past she cannot remember.
Rather than trying to instantly grab your attention with an overblown action scene, Alita takes its time in building the vivid and expansive Iron City which contains its many stories. It's both helpful and a hindrance, as the first hour is exceedingly heavy on exposition. Dialogue is more like description than conversation and the script, Alita's noticeably most malfunctioning component, struggles to inject any real excitement into the first 45 minutes or so. But when all the parts are fitted and the titular battles commence, Alita becomes an unstoppably entertaining machine with regular narrative swerves that keep it delightfully unpredictable.
The central narrative deals with Alita and her quest to unearth exactly who she is, but there's a wealth of subplots to the story involving mysterious floating utopias, alien technology, cyborg bounty hunting and, of course, the deadly sport of Motorball. Alita contains a fully-fledged game which is part Robot Wars, part NASCAR, a little of Quidditch and a whole lot of destruction. Basically, players speed skate to catch a 'motorball' and take it across the finish line while trying to remain intact. My feeble description doesn't do it any justice, but fortunately Fox released a trailer with some scenes from it:
Thanks to this and its numerous depictions of combat, Alita certainly does push its 12A rating to the maximum. There may not be a lot of blood, but the red stuff is substituted with gratuitous robot dismemberment which spews blue fluid and sparks everywhere. The violence is bone-crushingly brutal with skilfully choreographed sequences and plenty of wince-inducing injuries both to robots (they still have feelings y'know!) and the human meatbags. There's even a perfectly placed F-Bomb to put an excruciating exclamation point on the climax of an already agony-filled altercation. Alita's never too far away from another foe either; if it's not a mechanical monstrosity loaded to the limit with razor sharp weapons trying to tear her limb from limb, there's always the omnipresent watcher in the sky, Nova, who can channel into any of his Iron City puppets. It's especially astonishing that Alita never feels too convoluted or complicated with its many threads all successfully getting enough screen time to feel equally important as each other.
In the unlikely event that the plethora of plots don't tickle your fancy, Alita is eye candy of the highest sugar content. It's an awe-inspiring visual feast that will repeatedly amaze in the feats it accomplishes. Just look at Alita herself: an entirely computer generated character with 100 times more detail in her eye than there was in Gollum's from The Lord of the Rings. The blend of live-action and VFX is seamless as characters interact with each other as if they're physically in the scene together.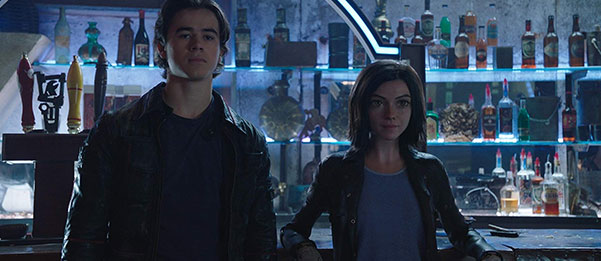 Of course, a performance capture was used to get the nuances of Alita's movement and facial expressions but never on a scale of this size. In the grey suit of white dots is Rosa Salazar from The Maze Runner series and thanks to the advanced technology from James Cameron's WETA her charm and soul does shine through. She shares the screen with a very real Christoph Waltz as Doctor Ido, a character Waltz came under fire for in a recent interview. He refused to disclose any of the backstory of Ido and was absolutely right in doing so. Ido is a multi-layered chap whose story should not be disclosed in a quick 30 second press junket, so kudos to Waltz for keeping schtum. Relative newcomer Keean Johnson holds his nerve in his biggest role to date as Alita's human friend Hugo, while Deadpool's Ed Skrein and Jackie Earl Hayley (Watchmen, 2010's A Nightmare on Elm Street) are villainous highlights who relentlessly pursue her. Earl Hayley's Grewishka is an especially knife-like thorn in her side as he is repeatedly upgraded after every encounter, eventually becoming a retractable-blading behemoth. Oscar winners Mahershala Ali (Green Book, Moonlight) and Jennifer Connelly (A Beautiful Mind, Requiem For A Dream) add some star power to Alita, albeit unnecessarily, but their characters remain pivotal nonetheless.
A riskily optimistic ending keeps the option open for more Alita adventures, something which I genuinely hope happens. Alita: Battle Angel deserves to be successful; it's an exhilarating visual marvel that takes the time to sufficiently build its ever-expanding World before firing on all cylinders. Let's hope it wins the fight that will guarantee its continued survival – the one which takes at the Box Office.
We Liked
Awe-inspiring visuals, seamlessly blending CGI with live action
Richly layered World building
Bone crunching action
Motorball, obviously
We Didn't Like
Exposition heavy script to begin with
Risk of not getting closure on some narrative strands if a sequel does not happen

Alexander Payne's misleading social satire falls far short of answering the Earth-sized questions it raises.