The Details
Release Date
8th February 2019 (UK)
Synopsis
It's been five years since everything was awesome and the citizens are facing a huge new threat: LEGO DUPLO® invaders from outer space, wrecking everything faster than they can rebuild.
Starring
Chris Pratt, Elizabeth Banks, Will Arnett, Tiffany Haddish,
2014's The Lego Movie is somewhat of a rarity: it's a toy-based film made solely to sell merchandise that's actually good. Its humour is sharp, its references and ribbing of existing franchises are witty and well-observed and, like physical Lego, it strikes the perfect balance to be fun for both adults and children alike. Five years later, the sequel mostly uses the same set of bricks that made its predecessor so successful, but there's an unshakeable feeling of familiarity that comes with a repeat build.
Beginning right where The Lego Movie left off, The Second Part sees Emmett, Wyldstyle and the rest of Bricksburg's inhabitants try to reason with the Duplo invaders but to no avail; they destroy the city and promptly leave. Cut to five years later and it's clear the Duplo aliens are repeatedly causing carnage to their home. Now a dystopian Mad Max-esque wasteland, it goes by the darker and gritter name of Apocalypseburg and the residents are equally hardened warriors. Not Emmett though – he remains incessantly upbeat, much to the frustration of Wyldstyle who has become an expert at long-distance stares and gruff narration brooding.
But when the leader of the Duplex Army, General Mayhem, kidnaps Wyldstyle and his friends, Emmett must toughen up if he's going to save them. Luckily, he has the help of newcomer Rex Dangervest, a multi-skilled daredevil who laughs in the face of fear. Together, they must go on an intergalactic adventure to retrieve the group from the grip of shape-shifting Queen Watevra Wa'Nabi who definitely doesn't have evil intentions.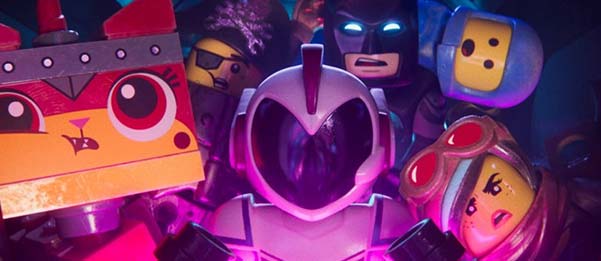 The Lego Movie 2: The Second Part employs the 'If it ain't broke, don't fix it' method, weaving self-referential humour and wry satirical nods with beautifully inventive set pieces. The now ravaged Bricksburg allows for some riffs on Terminator, Planet of the Apes and the like but Emmett's 'awesome' morning walk from the first movie now in a much grittier place is the best use of the location.
The fun-poking at other franchises doesn't get more obvious than with the addition of Rex Dangerfield who is quite clearly a mish-mash of Chris Pratt's (who confidently voices both Emmett and Dangerfield) roles in Guardians of the Galaxy, Jurassic World and even The Magnificent Seven. Dangerfield, along with his raptor co-workers, is far and away the pivotal piece of Lego Movie 2's construction and provides the films funniest moments.
Lego Batman, who got his own spin-off film in 2017, features heavily too and while there's still some laughs to be had with the character, there's a real danger of it becoming tiresome. This incarnation of Batman arguably became an accidental success through his sporadic use in the first film, so I'd have liked to have seen the spotlight go on another character which in turn could've emulated this. Regardless, there's still a little juice left in the Batmobile yet with Arnett's growling voice and blunt responses continuing to amuse.
The constant decision for references work against The Lego Movie 2 though. The fine balance seen in The Lego Movie to appease all the family has noticeably shifted to just the adults as Phil Lord and Chris Miller's script frequently throws in jokes about copyrighting and franchises far too mature for younger viewers to understand. They may be distracted by the hyperactive colours, but there's little chance of them knowing what's going on for long stretches of the film or why mum and dad are laughing and they're being left out of the punchline.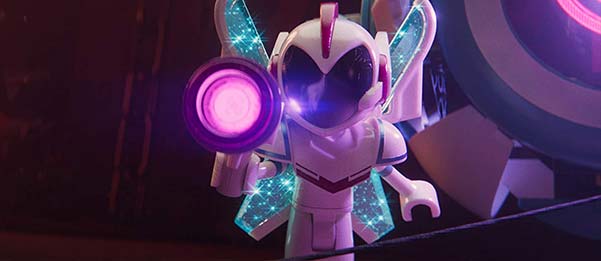 Speaking of stretches, after a breakneck paced first act, The Lego Movie 2 powers down its engines and coasts for quite some time. What begins as a simple story about saving friends becomes convoluted and bloated, ultimately seeming more episodic than one coherent story. There's definitely a touch of Toy Story influence to the narrative too but thankfully it never becomes a complete clone. A defining moment of 2014's The Lego Movie is the reveal that it's all happening in a basement through child's play on a massive set and that idea sees some evolution here. Unfortunately, it's not as emotionally impactful and admittedly drags both the pace and the film down as a whole.
There's still some semblance of awesome in The Second Part, however. The sassy and suspicious shape shifting Queen Watevra Wa'Nabi (Tiffany Haddish), while underutilised, regularly breaks out into humorous song akin to Disney movies to explain her plans. A worthy substitution for 2014's earworm 'Everything is Awesome' makes its debut as well, with a song that is guaranteed to get stuck inside your head even if the overall film doesn't.
Wyldstyle takes more of a central role here too as she becomes separated from Emmett and remains colourfully haired and headstrong and, as ever, there's countless cameos with one particular action movie star popping up occasionally to steal the scene. Be sure to stay for a few moments after the film, as it contains some mightily impressive Lego builds and a new song by comedy group The Lonely Island who express their appreciation for the credits.
We Liked
Rex Dangervest
Wonderful animation
Energetic voice work
We Didn't Like
Heavy focus on jokes that younger viewers won't understand
Story loses steam in the second act

As exciting as waiting in line at the visitor information booth, Jurassic World: Fallen Kingdom pushes everything you enjoyed about the franchise to the brink of extinction.

While flawed and mainly throwaway, we should just be thankful that Jurassic World succeeds in being passable.