The Details
Release Date
22 December 2017 (China) 5th November 2018 (UK VOD Premiere)
Synopsis
Jackie Chan must protect his daughter and the world from a ruthless cyborg and his super-soldier minions.
Starring
Jackie Chan, Show Lo, Na-Na OuYang, Erica Xia-Hou, Callan Mulvey, Tess Haubrich
Have you seen a modern Steven Seagal movie? I'm talking one of his straight-to-video releases. They all have similar sounding names like Out for a Kill, Driven to Kill or Contract to Kill etc. Well if you've had the pleasure with any such Seagalian back catalogue you're probably aware that the majority of these films are incomprehensible (plot wise) and don't often feature much of the pony-tailed Aikido ass-kicker himself.
Truth be told Seagal will probably be on set for a couple days at best, despite often having a hand in the script and being the main star of the movie. The rest is filled in with stunt doubles and creative editing. Hell, he's even dubbed most of the time. They're largely unwatchable, bottom of the barrel pound shop drivel, reserved only for action movie gluttons or badass cinema historians.
Yet Seagal is an anomaly in that he started as the leading man right from the off. There's no previous history of him jobbing his way through some low budget tosh as "Bad Guy" or "Goon" like rivals Stallone or Schwarzenegger. 1988's Above the Law had a bigger budget than The Terminator and gambled much of it on the shoulders of its' debuting leading man.
Top Steven Seagal expert (they exist) Vern, lays out three distinct phases in his career in his great book, Seagalogy; Gold, Silver and Bronze Ages. Make no mistake, we're in the Bronze Age now and we have been for some time. Unfortunately, I'm concerned that Jackie Chan may be joining him in a turgid, crap-stained age of misery himself, and if Bleeding Steel is anything to go by, you better be worried for old JC too.
Right from the get go we know this is some crud. Chan plays Lin Dong, some kind of special agent for some kind of agency. He gets a call whilst driving from a doctor telling him his young daughter Xixi has slipped into a coma after the treatment for her leukaemia failed. Talk about toying with our emotions right out the gate! We know he's on his way to the hospital already because he keeps looking to the passenger seat where we see a big teddy bear that's been strapped in. Note, we never see them in the car together. There's no wide, master shot. It's almost as if they added in the shot of the bear after.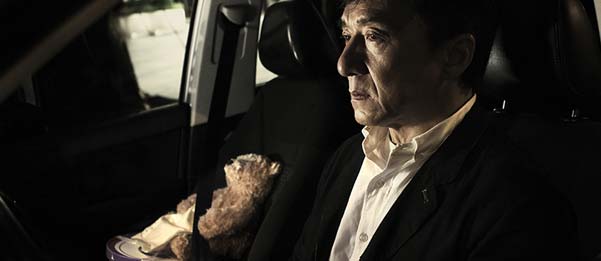 And that is Bleeding Steel. Lots of creative editing, miss-matched cuts, body-doubles and rubbish dubbing. There's so many instances where Jackie will be fighting some bad guys but he'll be wearing a mask for no real reason. No one is fooled here guys; it's blatantly not him. Look, the man is 64 years old and as Indiana Jones once said "it's not the years honey, it's the mileage". Well, if you've seen some of his older work, you'll know that Jackie Chan has clocked up the miles.
I can forgive him for taking it easy. I'll give him a pass on that front. The man still puts in the effort. There's some actual fight scenes where it's clearly him. Some low-impact stunts. Hell, the guy even cries at one point. He isn't phoning this in like Seagal. It's a shame no one told him that everyone else was going to half ass the rest of the movie.
So he's doing some fairly fast driving towards the hospital. It looks mildly dangerous. But it's likely a stunt driver. There's lots of fast cutting and shaky camera work, making it look a million times more fast and dangerous than we know it is. Literally as he pulls up at the hospital he gets another call, this time from his boss telling him that the cover of one of his witnesses (Dr James) has been blown and he needs extracting now.
Chan, being the super loyal trooper that he is, does what must be done and leaves his unconscious daughter to fend for herself. Don't worry Jackie. She's unconscious. She won't know if you're gone. Sadly she dies while he's away. I hope he kept the receipt for that bear…
By this stage I'm thinking this is a Chinese/Australian remake of Eraser. I'm down with that, even if it's a little rough round the edges. It'll get a pass from me if at some point someone says "You've been erased" or something.
Chan goes to meet up with the rest of his squad. They're all young, K/J/C-pop looking guys and gals, dressed like they're in a Resident Evil game. Some babe called Susan is in charge and gives the lowdown on James – he's an Australian scientist who has massively advanced the field in regenerative serums. To cut a long story short, he's developed a super soldier serum.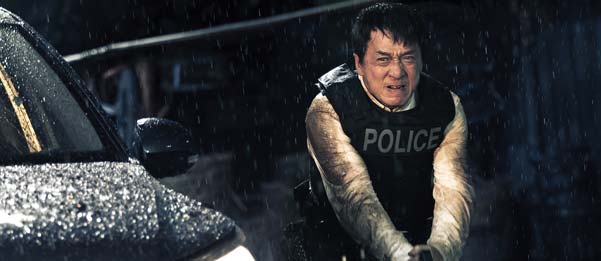 Mid-extraction they're assaulted by a squad of armoured goons that look like they're Skeletor's foot soldiers from Master of the Universe. They're lead by a hooded dude in black with some white facepaint on. He's like a skinny Vinny Jones and storms about like Star Wars' Kylo Ren. This struck me as odd, because while Eraser did feature some cool rail-guns, it didn't feature futuristic super soldiers from Tron.
They annihilate Team Chan with ease, popping Dr James in the back and injuring Jackie boy too. The main bad guy (who we'll learn is called Andre) is basically Red Skull from Captain America  – the prototype of Dr. James' research. So he's super strong and durable, and also totally mental. He only lacks the cool dress sense of his crimson-faced Nazi counterpart.
Chan manages to defeat him by blowing him up using a fuel tanker truck. But Andre isn't dead. He'll turn up again 13 years later as some Mr. Freeze-lookalike cyborg who is flying above Australia in a giant spaceship. I'm not exaggerating here; There are many moments in this movie where you'll throw your hands in the air and exclaim "what?!" Your only hope for survival is to roll with these moments.
Luckily, Andre is pretty messed up. Somehow Dr. James' research is still out there, and some writer dude called Rick Rogers has penned a novel called "Bleeding Steel" about the entire thing. This strikes everyone (including Chan) as odd, as everything about the botched mission and James was covered up. So how does he know about it?
Andre sends his number one out to find answers. Woman in Black (Tess Haubrich; Alien Covenant), as she's known the credits, or Lady Fidget Spinners as she's referred to online, is another super soldier or "Bio-Roid" as Andre calls them. Both names are sort of misnomers as her ludicrous black outfit has some snazzy red piping and her fidget spinners are also razor blades that can sometimes be used as lasers. Seriously.
But she gets to Rick Rogers too late; he's already been seduced by Li Sen (Tai superstar Show Lo), an unusually resourceful hacker kid who infiltrates Roger's compound by dressing up in drag (another hands in the air moment). As the three converge to find the background of his book, everything kicks off and we start to realise everything isn't as it seems.
This leads all three parties back to a student called Nancy who has been having dreams of the whole affair. She's been going to a witch (whose valet is a dwarf – more arm waving) to be hypnotised to try and figure out about her mysterious repressed past. Of course, we know she's really Xixi from the beginning, as the entire film is so ball-crunchingly predictable. Like some Chess Lord, we're sadly ten steps ahead of all the characters all the time.
So who is gonna get to Nancy/Xixi first? And why doesn't she know who Jackie Chan is?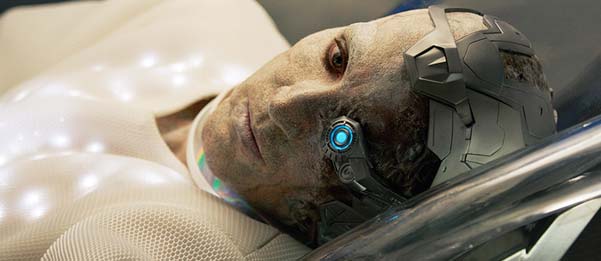 Bleeding Steel is a baffling movie. It's overly convoluted plot is at once predictable and mind-numbing in some of the surprises it presents. Bizarre character motivations, woefully convenient plot contrivances, shoddy production values all cooked up into a weird cop/kung-fu/sci-fi, Tron-meets-The Matrix-meets-Die Hard 4 cocktail. You know, I get it. Sometimes weird combinations work; have you ever tried bacon and maple syrup? Sadly this is more like a hit of cola and mouthwash – a redundantly foul mouthful of sugary crap.
This is certainly like nothing I've ever seen Jackie Chan do. But then it doesn't feel like a Chan vehicle. It's unusually gory and unfunny for something you'd usually find him in. And let's be honest he's just not in it enough. He shares the screen too much with masked stand ins, lanky women in black, Nancy and Li Sen. Though I have to admit I did kind of like Li Sen. Not only does his name sound like some cyberpunk bastardization of Liam Neeson, there's some funny shit this guy does too.
I actually nearly cracked a smile during a moment where Nancy has been sent to some steampunk wizard to unlock her memories (don't ask) and he saves the day. Now that's a positive reaction, considering I spent the rest of the film wearing an expression on my face that was anything but.
There are some other highlights (if you can call them that) too. Like when Jackie regrows a severed arm to rip out a cyborg's heart. That was pretty badass. Or how despite numerous failed attempts by Jackie and co to defeat Fidget Woman, their eventual plan of success is laughably simplistic. Or how they couldn't be bothered to come up with a sound track for the end and just re-used the Police Story theme.
In a career spanning over 150 movies, a dud like Bleeding Steel is hardly likely to damage the legacy of one of cinemas great icons. Let's just hope it doesn't start a trend for old Jackie Chan. While his glory days are likely behind him, no one wants to see him ride off into the sunset on a horse made of straight-to-video cash ins like this. We'll leave that to Steven Seagal.
Bleeding Steel is available on VOD Platforms including iTunes, Amazon, Google, Microsoft, Sky Store, Sony, TalkTalk and Ubiquity from 5th November 2018.
We Liked
Police Story theme is reprised in the end credits
Li Sen is kind of likable
It has a dwarf in it
We Didn't Like
A bizarre mix of genres
Terrible production values, editing and music
The dwarf dies