The Details
Synopsis
Based on Edgar Allan Poe's "The Tell-Tale Heart". An overlooked associate struggles to complete a corporate presentation as a horrific secret gnaws at her conscience.
Starring
Stacy Snyder, Joanna Sotomura, Matt Mercer
During the annual short film showcase at Mayhem Film Festival this year, the wide display of upcoming talent struck me. With 18+ shorts on offer, there are some that inevitably don't land with you. But they were surprisingly few. One of the most memorable and entertaining was Kevin Sluder's Heartless: a modern-day retelling of Edgar Allen Poe's classic story The Tell-Tale Heart. 
Full of aggression, this is a frantic little film mixing dark humor and gore. Great editing and a compelling, deranged performance by Stacy Snyder make it a blast to watch. Here at Review Avenue, we were lucky enough to speak with Director Kevin Sluder about the film, where the inspiration came from and how it all came together.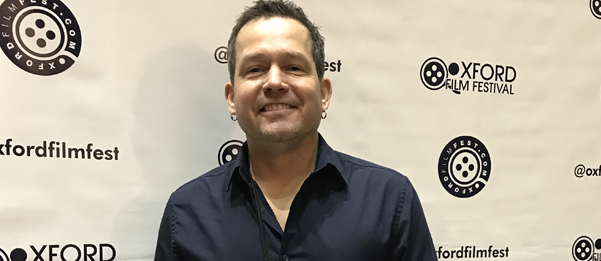 Heartless is based on the story "The Tell-Tale Heart" by Edgar Allen Poe. What was it about such a classic tale that compelled you to create a contemporary take on it?
Thanks so much for the interview, Oliver.  "The Tell-Tale Heart" is such a timeless tale, I couldn't resist trying to put my own spin on it. It's been done lots of times and, most often, as a period piece. I'm not huge on research so maybe that had something to do with it. (Laughs) When I first had the idea, it was simply the first scene of the film. A young female exec staring at her reflection in a mirror having done what the narrator of "The Tell-tale Heart" had done the night before. I thought that was such a provocative visual and could be a cool, gory short
The film also feels like a cathartic release from the bureaucracy of a 9 to 5 job and lifestyle, taking the "dog eat dog" world of many careers into a literal sense. What encouraged you to use this setting and these ideas to explore a part of our consciousness that's usually hidden away?
Yeah, I didn't really dig my time in corporate America, can you tell?  I guess I had some inner thoughts I needed to purge. For the film, the setting was an extension of the opening scene. I wanted the environment to be something that would trigger Shelby to flash back to memories from the night before. Being that those memories are things she's desperately trying to forget, I felt I needed the atmosphere to be particularly aggressive.  Plus, I feel the "rip the heart out of your opponent in order to succeed" business model can make monsters out of people. So I kinda threw all that in there for the film.
The protagonist Shelby is mistreated and a victim of condescension at work. Was the choice of a female lead made to present Heartless as a female story? Or was Stacy Snyder's character a vessel to address a more universal issue?
From the outset, I wanted the film to have a female lead. I had worked with Stacy on a previous film so I wrote the role with her in mind. "The Tell-Tale Heart" is typically told from the male perspective so I thought having a woman in that situation would be a nice twist.  Once I started writing her male colleagues in the office I felt I could take shots at how mistreatment of your co-workers can really backfire on you.  My wife and I have had so many women come up to us after screenings saying how they've been told to "smile" a million times so I would say it struck a nerve. We actually hand out pens (featured in the film) to people after they've seen it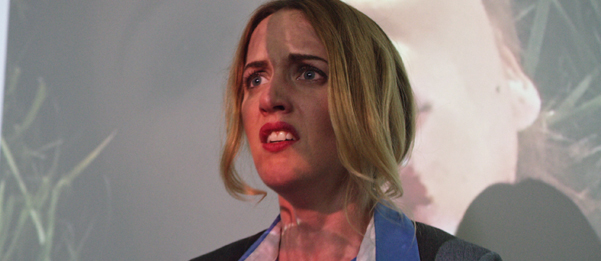 Heartless is a very well edited short, interweaving present and past using the camera, but also with the use of cuts. Can you discuss the editing process and how the film finally got pieced together?
I will have to give huge props to my editor Matt Mercer (who also played Deano, the "smile" guy) in the short. Getting the transitions between past and present to work was definitely a challenge.  I had a plan of how it would be cut together in my head when I went to film it but lots of things change on set. Some of the shots I thought would go together didn't work or I ended up filming them in a different way. But Matt is really creative and found ways to make it all work. My favorite transition he did was cutting from the final scene in the backyard to the office. He found a 1-2 second clip of the lawn and looped it over and over to do this really cool, dreamy fade back to reality.  It's one of my favorite parts of the film
The special effects are another highlight, especially for horror fans. How is it working with practical effects like those in Heartless? Are there discussions on how realistic/comedic they should look?
I had worked with Josh and Sierra Russell (Russell FX) on a previous film and they're absolute badasses The realism of the effects came with the package. I knew they'd give me the realism I was going for in some moments and the over the top feeling for others. All I did was tell them what I wanted and they made it happen.  Their attention to detail is amazing. It was incredible working with them and I'm hoping I get to do it again.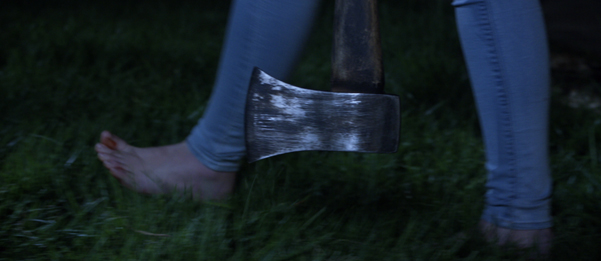 As a short film director do you feel that there aren't enough platforms for shorts to be viewed by a wider audience? Or do you feel there is a growing awareness of the short film scene? 
I feel festivals are an amazing way to get eyes on your film. Plus, it's a great way to meet other filmmakers and get your name out there. Heartless just played Screamfest and was shown on a gigantic screen with stellar sound. How cool is that?  As far as online platforms there are quite a few.  You can very simply put your short up on YouTube or Vimeo and people will watch it. Our first short with Stacy in it has over 200,000 views on YouTube. As far as getting paid for shorts, it's a little trickier. I do feel there's a growing awareness of shorts which is a very good thing.
Finally, are you working on anything at the moment that we can hope to see in the future?
I just completed a horror feature and a producing team is looking at it so we'll see if we can get that one out together. I'm also writing a lower budget neo-noir film that I'm hoping to direct possibly at the end of next year.  So, hopefully, you'll be hearing more from me.
For more information about Heartless and where to see it visit https://www.heartlessmovie.com/