The Details
Release Date
4th February 2019 (UK DVD Release)
Synopsis
Five crew members are forced into an escape pod built for four after their starship is destroyed. Just as rescue seems imminent, an alien creature boards their craft and attacks them.
Starring
Morgan Lariah, Manu Intiraymi, Doug Jones
If you're going to make a film with an outer-space alien as the antagonist in 2019, you'd better make it a darn special one and 5th Passenger sounded like it could well have been. Beginning life as a Kickstarter campaign in October 2014, its initial goal for backing was reached in a month, eventually exceeding its target by nearly $20,000. A large part of why people were interested in the project was its cast of Star Trek alumni from various series; at least five of the main cast had featured in the iconic sci-fi television show in one way or another over the years. Add in the casting of Doug Jones, better known as the man behind the makeup for Hellboy's Abe Sapien and The Shape of Water's monster, and you've potentially got a selection of actors who might just succeed in creating a memorable entry to the impossible-not-to-compare-to-Alien genre. Unfortunately, a knowledgeable cast and community spirit is not enough to save 5th Passenger from the deep depths of monotony.
The year: 2151. After the Yellowstone Volcano erupts throwing the Earth into chaos and class struggle, a pregnant officer, Miller, and her crew struggle to survive in an escape pod with limited resources as they try to reach a new home planet.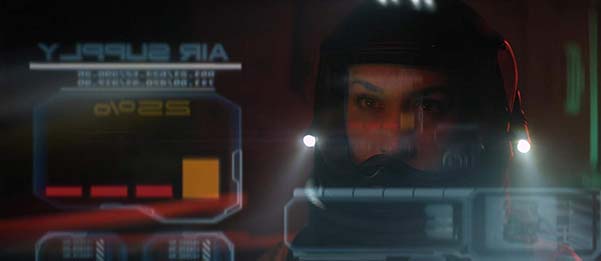 Running low on air, the team must work together when a vicious alien boards their ship and hunts them down, determined to become the dominant species. But the key to survival may be the secret that is buried deep within Miller's own mind.
It's clear from 5th Passenger's take-off that financial restrictions mean compromise on visual effects. It's not a deal breaker, and if anything I was actually impressed with what has been achieved with such a minuscule budget. As long as performances and story are the focus, I thought, CGI can be forgiven. Except, neither of those things satisfy either. After an explosive first few moments, 5th Passenger cruises in hyperspace with everyone on board looking as lost as you would be if you'd been catapulted into the great abyss without a decent script. A tame attempt at tackling social issues on the deteriorating Earth is quickly forgotten and there's not enough depth or the conflict to the vacuumous characters to make them remotely interesting to watch. It's bewildering as to why this is the case though. As I said, the actors all have extensive experience in sci-fi capers but here it looks like they've never been in front of the camera before.
But what of the alien, you say? I'd tell you about it if we saw more than 30 seconds of it. Even then, it doesn't show up until nearly three quarters of an hour into the 90 minute film. The rapid editing makes it impossible to get a good view of the creature too, but at least it's practical effects rather than CGI. It's just a shame that you can't actually see the work that's gone into creating it.
Ultimately then, 5th Passenger is a close quarters survival movie that doesn't have enough layers to its characters or enough menace in its creature to be considered anything other than a disappointment.
We Liked
Proof that crowdfunding can be successful
Fleeting glimpses of practical effects created alien
We Didn't Like
Absolutely no chemistry between Star Trek experience cast
Glacially paced
Insufficient amount of alien