The Details
Release Date
25th February 2019 (UK VOD Release)
Synopsis
A troubled family's problems come to a head during a stay in a seaside town.
Starring
Samantha Morton, Billie Piper, Bella Ramsey, Daniel Mays
If nothing else, Two for Joy effectively captures the horror of a caravan holiday by the British seaside. The skies remain grey, the children grow bored, and rather than fostering togetherness, the shared space accentuates resentments. There hasn't been a film this damning for tourism since Sacha Baron Cohen gave us a tour of a small Kazakhstan village.
Following the death of her husband, Aisha (Samantha Morton; Minority Report) rarely strays from her bed unless she's picking up her prescription pills. Meanwhile her youngest son Troy (Badger Skelton) is borderline mute and making his first tentative steps into crime. It all falls on Violet (Emilia Jones; Brimstone, High Rise) to keep things together while she studies for her GCSE's. At breaking point, Violet begs her mother to bring them to the family caravan for a holiday.
Two for Joy is a film of remarkable restraint, some might say to its detriment. Dialogue is sparse, backstories are minimal, and the film itself clocks in at a brief 86 minutes. Writer/director Tom Beard is much more interested in elusive moments and pastoral images than delving into his characters.
There are times when that approach pays off, like the scenes depicting the budding friendship between Troy and Miranda (Bella Ramsey), the troubled niece of the site's caretaker. When the camera follows them through an arcade, or jumps into the sea with them for a swim, the film becomes completely immersive in its loveliness.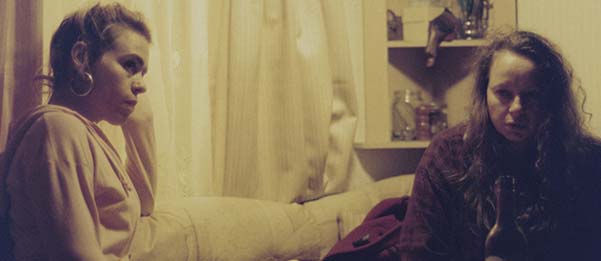 It's when the script needs to do the heavy lifting that the film stumbles. No doubt Beard would baulk at dramatic monologues or weighty conversations that lay the characters' souls bear. After all, that would dilute the impressive realism that he's portraying. But so much has to be inferred that it begins to feel more like indecision than subtlety.
Bar Troy and Miranda, the characters float aimlessly through the film, lacking specificity. They take little action and express precious few of their desires, verbally or otherwise. We don't require pointed dialogue to find a way into these people, but we do need something.
Things are exasperated by a third act that builds towards grand tragedy instead of getting closer to the characters. Though it fits the film's core theme of parental neglect, it feels like a cheap way to generate a climax.
But if Beard is unsure of how to explore these characters, he's ultimately saved by his cast, who imbue meaning through their utterly dedicated performances. Morton is incredible, capturing the quiet dilapidation that's inherent to depression. She's an empty shell of a human being, only vaguely remembering the joys of life.
Credit must also go to Beard for coaxing such authentic work out of his young actors. Badger Skelton gives a performance as delicate as his name is spectacular. Emilia Jones projects an simmering indignation that grows every time she has to care for her mother. Bella Ramsey is electrifying as Miranda, being utterly disarming one minute and an absolute nightmare child the next. The three make the film more than the sum of its parts.
They're given able support by Billie Piper and Daniel Mays, but ultimately this is the children's story. Two for Joy may meditate on grief and mental illness, but at its core it's about families on a precipice. These are children on the verge of being lost, both to themselves and their parents. Beard's sensitive direction and brilliant cast do just enough to make that register with the audience. With a more robust script, there's no doubt his next film can have an even greater impact.
Two For Joy will be available on other Digital platforms including Amazon, Google, Microsoft, Sony, TalkTalk, Vubiquity, BT from 25th February 2019. 
We Liked
Incredible performances
Sensitive direction
Evocative camera work
We Didn't Like
Weak script