The Details
Item Reviewed
Butterfly Kiss
May 1, 2020
Release Date
18th August 1995
Synopsis
Set on the bleak motorways of Lancashire, Butterfly Kiss tells the story of Eunice, a bisexual serial killer, and Miriam, a naive, innocent, and lonely young girl who falls under her spell.
Director
Michael Winterbottom
Starring
Amanda Plummer, Saskia Reeves, Kathy Jamieson, Ricky Tomlinson
"Killing people is nothing. I've done much worse than kill people". Words uttered by a brilliant Amanda Plummer (The Fisher King, Hercules) as an unhinged psychopath called Eunice. Fresh off her iconic role in Pulp Fiction as one half of the robbing duo Pumkin and Honey Bunny, Plummer deep dives into Butterfly Kiss as a deranged and profoundly damaged person. She does this so effectively that it feels criminal to be largely unrecognised in her career. The same under appreciation can be said of the film itself too. Released in late 1995 and hailed as "A twisted British answer to Thelma & Louise", it seemed to be forgotten as quickly as it arrived. Prior to its main release, the film played at various film festivals, where it garnered enough attention to be nominated for awards including the Golden Bear, the highest prize at the prestigious Berlin Film Festival. Despite this, along with rare recognition from streaming services like MUBI, Butterfly Kiss has been sadly lost to history.
Butterfly Kiss follows Eunice (Plummer) as she walks the motorways of Northern England looking for a woman called Judith, who she claims to be in love with despite never seeing her before. Moving between petrol stations she questions the attendants in a staged routine to find out their names. Those not named Judith are verbally abused or outright attacked by this extremely dangerous killer. During one of her filling station visits, she meets Miriam (Saskia Reeves: Luther, A Christmas Carol), a naive, young lesbian with hearing difficulties. Miriam is immediately besotted with Eunice's fierce attitude and takes her home. Despite Eunice revealing her murderous behaviour, Miriam sticks by her, always attempting to bring out the good in Eunice, but she begins to lose her own morals as the crime spree continues.
The first thing to say about Butterfly Kiss is that it's a very odd film. Anything resembling plausibility is treated as unimportant. People don't act rationally and the film is totally uninterested in portraying a realistic world. You wouldn't know from screenshots how off-kilter the film is, but when watching you're transported into the strange company of two women where nothing feels quite right. It's dreamlike without ever displaying something like trippy 'on the nose' visuals. It's bonkers but never becomes a farce.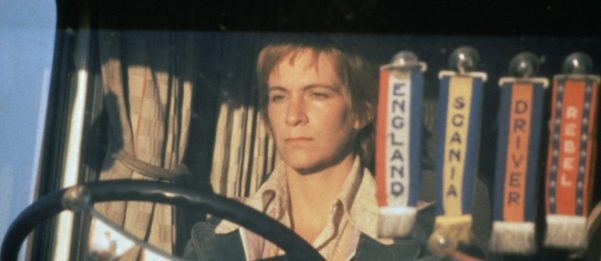 Despite the film's weirdness, I couldn't keep my eyes off it. It somehow all works, which is something I don't entirely understand. Perhaps it's in part due to Plummer and Reeves terrific performances, the artful photography by Seamus McGarvey, or how Butterfly Kiss successfully asks the viewer to involve themselves in such deplorable characters. If you give yourself over to the film you may even find something to relate to or something to ask yourself. I found it exceptionally good at rousing thought and feeling both internally, regarding the film itself, and existentially outside it. Which is a good time with a movie in my eyes at least!
The downside of being so 'art-house' is that you're bound to alienate a lot of people. Butterfly Kiss certainly isn't for everyone. Even if you can grasp some kind of meaning from it, I still believe there would be legitimate arguments for downright hating the film. It's simply something you'd have to try on for size yourself to know. I personally found it to be very entertaining whilst also having a more obscure artistic intention that I could engage with and one that didn't bore me or feel disingenuous.
Butterfly Kiss simply plays in its own little world and invites you along. If you're looking for something unique, I'd suggest accepting that invitation.
Butterfly Kiss is available on DVD from Amazon 
We Liked
Terrific performances from Plummer and Reeves
Assured direction and photography
Strange, dreamlike atmosphere that pays off
We Didn't Like
Will easily be too strange for casual audiences