The Details
Release Date
25th January 2019 (UK)
Synopsis
A female dog travels four hundred miles in search of her owner throughout a Colorado wilderness.
Director
Charles Martin Smith
Starring
Ashley Judd, Jonah Hauer-King, Edward James Olmos
When Lucas finds a stray dog living in a construction site along with some cats, he takes her home with him and names her Bella. After a few peaceful years, their home state of Denver deems the breed of Pitbull to be dangerous and subsequently outlaws ownership. To prevent Bella from being taken away, Lucas sends her to live with some of his friends in New Mexico until they relocate to a new place outside of the state border. Not quite understanding the situation, Bella makes a daring escape and begins the 400 mile journey back to Lucas, encountering new friends and challenges on her adventure.
If you think the plot sounds familiar, you'd be correct. The story is strikingly similar to Disney's Homeward Bound, although I suspect this will not live as long in the memory. There's nothing particularly wrong with A Dog's Way Home, it just never becomes it's own film instead relying heavily on the well established, heartstring-tugging cliche's seen in countless canine capers. Half the manipulative work is done for screenwriters William Bruce Cameron, better known for writing the book and script for A Dog's Purpose, and Catheryn Michon by having the adorable Shelby lead the pack as Bella. But even this is tarnished somewhat with a grating voice-over by Bryce Dallas Howard (Jurassic World, Jurassic World: Fallen Kingdom) as she delivers the lines as if she is reading for an audio book. The saving grace here though is there's thankfully no attempt at making Bella's mouth move with the dialogue, with the words acting more as internal thoughts. Still, Bella's facial expressions or the occasional whimper and bark would have been more effective than having Dallas Howard explaining every single action or outcome to events.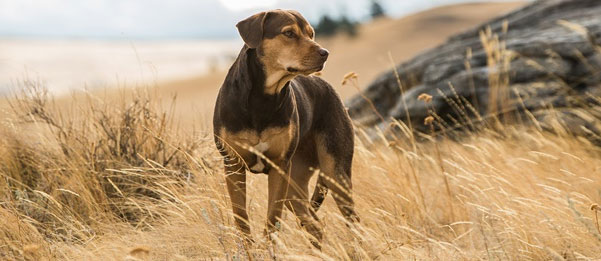 Although I imagine the incessant voice-over for Bella is largely present due to A Dog's Way Home seemingly aiming for a much younger audience. At least, for the first hour anyway. Then it takes a much darker turn that will likely upset anyone under the age of 12 with a subplot involving a homeless war veteran. It's a jarring narrative thread that will no doubt have youngsters asking many questions to their parents through teary eyes once the credits have rolled.
Don't count on Bella performing her journey without getting unscathed either. There's some toddler tear-inducing sequences of the poor pit bull sustaining injuries on multiple occasions, so if you're planning on taking a young child it may be worth explaining to them that it's not real and Bella's just acting too.
But it's not all gloomy. Bella's friendship with a cougar is sweet enough even if the animal suffers from one of the worst cases of CGI-itus 2019 is likely to have. A Dog's Way Home is unsurprisingly an overwhelmingly romanticised look at dog ownership as well, with Lucas and his partner Olivia literally planning to uproot their entire lives to move house so they can keep their mutt. It's refreshing to see such love from (most) of the human cast towards dogs, with strangers chipping in to look after Bella too while she traverses the wilderness rather than shooing her away.
So despite its tooth-eroding sugary nature, A Dog's Way Home does manage to introduce some important messages about caring for animals as well as showcasing its unwavering faith in friendships between man and dog.
We Liked
Adorable lead in Bella
Some positive messages in its story
We Didn't Like
Would have benefited from not having Bryce Dallas Howard voicing the dog
Could be too upsetting for younger viewers

Rocketman only succeeds at being a more entertaining and creative film than last years Bohemian Rhapsody, thanks to its musical aspects that offer something more impressionistic than the norm. But without those few excentric flourishes, the film is your standard copy and paste job in Hollywoods latest music biopic trend.

As exciting as waiting in line at the visitor information booth, Jurassic World: Fallen Kingdom pushes everything you enjoyed about the franchise to the brink of extinction.