The Details
Release Date
12th September 2018 (UK), 14th September (US)
Synopsis
When a young boy accidentally triggers the universe's most lethal hunters' return to Earth, only a ragtag crew of ex-soldiers and a disgruntled science teacher can prevent the end of the human race.
Starring
Yvonne Strahovski, Olivia Munn, Jacob Tremblay, Thomas Jane, Sterling K. Brown
One of the many reasons why the 1987 Predator works so well is down to just how darn simple the story is: a group of commandos on a mission in the jungle are hunted by an alien creature and must work together to stop it. Nothing more, nothing less.
It's an attribute that Shane Black's The Predator should have stuck with, as his effort in the long-running franchise is a convoluted clutter of chaos with a thousand ideas all shoved into a blender with the lid off and the blades turned on.
The Predator begins promisingly enough with a blazingly fast introduction. A Predator ship crash lands in the jungle and is witnessed by a renegade sniper, Quinn McKenna (Boyd Holbrook). He naively steals some of the Predator's gear, namely the helmet/face mask and wrist wear, and mails it back to his house.
Unbeknownst to him, his son Rory (Jacob Tremblay) is home when the package arrives. Rory, who suffers from Asperger Syndrome, quickly grasps the Predator language and unwittingly sets the creature on a course to the suburbs to retrieve its property.
Along with a damaged group of soldiers who call themselves The Loonies, Quinn must reach his son before the Predator does and save both his family and Earth from the ultimate Hunter.
Shane Black is responsible for some of the sharpest witted comedies of the last 20 years. He wrote and directed the Russell Crowe/Ryan Gosling buddy cop vehicle The Nice Guys and the little known but essential Robert Downey Jnr. crime caper Kiss Kiss Bang Bang. He knows his action tropes too, having penned Lethal Weapon 2 and 3, the misunderstood meta-action movie Last Action Hero and arguably being most famous for The Last Boy Scout. He even starred in the original Predator movie as the radio operator Hawkins.
So pairing Black with 80's creature feature maestro Fred Dekker (Monster Squad, Night of the Creeps) should have resulted in nostalgic gold. Instead, the outcome is an outdated, insensitive entry into an ailing franchise which, 31 years later, still has no sense of identity.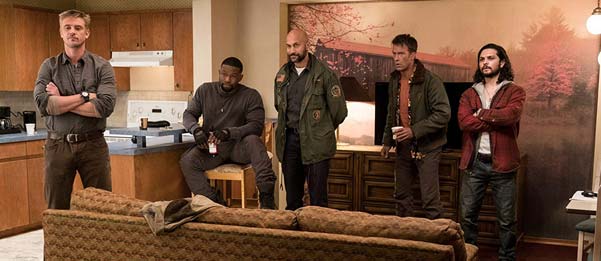 While there's plenty of other problems with The Predator, the most prevalent (and indeed disappointing) is the script. Black and Decker have gone for a comedic approach, cramming as many jokes as inhumanly possible in its 107 minutes. That would be acceptable if the gags were a similar quality to what we've come to expect from Black, but the majority rest entirely on mocking mental health and jokes directed towards other characters mothers.
Thomas Jane, horribly miscast in the role, is the most affected victim here as the Tourettes-suffering Baxley. His condition is only used sporadically as an excuse to throw in severely misjudged curse words and phrases, none of which ever successfully land. One unforgivably crude interaction in particular with Olivia Munn's scientist character Casey Bracket made me feel sorry for everyone involved – especially given the recent controversy surrounding Black's decision to cast (and the subsequent hasty removal of) a convicted sex offender.
In his first leading role, Boyd Holbrook suffices but again falls prey to Black's writing and character under cooking. His actions wildly swing between heroic and heartless and there's never a valid reason for us to care whether he becomes Predator fodder.
Keegan-Michael Key, whose comedic partner Jordan Peele is enjoying a huge career boost after his writing and directing work on 2017's Get Out, plays his character as if he belongs in one of the pairs' outlandish sketches, an overly energetic shtick that gets tiresome very quickly. The rest of The Loonies are so thinly drawn out, it's a miracle they don't blow away in the wind.
There is a silver lining though in both Sterling K. Brown's perpetual gum-chewer Traeger and Jacob Tremblay as Rory. Brown brings the best out of what he's given as a smug Government agent, while in one of the biggest shocks for me Tremblay and his character trait is one of the films saving graces. In fact, Rory and his capabilities is likely to draw comparisons to Dave Bautista's Drax in the way that it depicts the condition as advantageous.
But what of the titular Predator? Well it's not the Predator you've come to know at all. This is a truly different kind of beast, one more human than ever. It's better to view the film as separate from the franchise and rather as another alien from space with a strikingly similar appearance. Give it your own name if you like – The DREADnaught was the best I could do – it just sure isn't the same Predator that gave Arnie grief in the jungle, or the one that made Danny Glover realise his ever-increasing age while running through the city.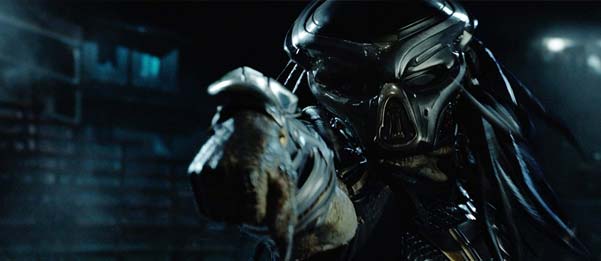 Effort is made to spruce up the series with the introduction of the taller, faster, meaner 'Super Predator' (it's not a spoiler if it's in the trailer!) and Predator Dogs, but when all is said and done they amount to nothing more than regular extra-terrestrial Joes, just amped up with steroids. The dogs are especially useless, only ever threatening to cover faces in space saliva with their excessive licking.
It's with these dogs that the CGI really struggles. They look terrible, like a minor threat in a late 90s video game. But the effects in general appear woefully unfinished, most prevalent in what should be the climactic third act. I can tolerate sub par CGI if I can follow the action, but the frenetic editing and inadequate lighting in the last half an hour makes it almost impossible to follow the already perplexing and bloated story.
A pivotal character moment occurs which I completely missed because of the hyperactive shredding of the film and it was only verified when the credits rolled and I knew nothing more was going to happen. I firmly believe there's a cut of The Predator that exists which fills in the black hole-sized narrative gaps and would ultimately make it a much better experience.
I know I've launched a barrage of criticisms towards The Predator, but it's not all bad. Black works best when there's action, and what precious little of it there is in the first two acts, it's filled with tantalisingly violent kills. Heads will and frequently do roll, limbs are thrown around willy-nilly and the Super Predator signals his arrival with dominant, spine tearing authority. When these rare moments are in full swing, The Predator is immensely enjoyable and feels like the film I'd been expecting.
Regrettably, it's never too far away from a repellently unpleasant attempt at a joke or a misconceived shot at rewriting Predator lore.
The hunt may have evolved, but Shane Black's The Predator is a regressive and unamusing misfire.
We Liked
Jacob Tremblay and Sterling K. Brown
Some satisfying kills
A few of the attempts to forward the Predator lore are plausible
We Didn't Like
Insensitive barrage of jokes rely heavily on the expense of mental health issues
Rapid cutting in the third act makes the already convoluted story even harder to follow
So Basically...
Unlike the capability of their power tool namesake, the screenwriting duo of Black and Decker aren't up to the job of assembling a strong and sturdy entry into the long running Predator franchise. 
You have rated this
Creator. Owner. Maestro. CEO. That last one is probably a bit too much, but basically Sean is a rarity by being both the brains AND looks behind Review Avenue. Having established the site in 2010, he still can't believe people still value his opinion, with some even genuinely asking for it without laughing.

Here's our picks of what stood out in the cinematic year of 2018 as we hand out the coveted and completely non-existent RAFTA trophies.