The Details
Release Date
1st August 2019 (UK)
Synopsis
Lawman Luke Hobbs and outcast Deckard Shaw form an unlikely alliance when a cyber-genetically enhanced villain threatens the future of humanity.
Starring
Dwayne Johnson, Jason Statham, Idris Elba
The Fast & Furious franchise has undergone some serious modifications since its first entry in 2001. Originally focusing on the world of illegal street racing, the series sharply veered into spy and heist territory with a reboot in 2009 confusingly titled Fast & Furious. Since then, the instalments have gotten increasingly over the top, favouring outlandish stunts and overblown set pieces with excessive explosions and physic defying flips from some of the World's most expensive cars. In this latest offering, two warring characters from the later entries spin off and completely out of control in the ruddy ridiculous Hobbs & Shaw.
Other than appearing in other films contained within the Fast Universe, there's very little connecting Hobbs & Shaw to the wider picture. This both works in its favour, allowing it to be even more brazen than usual in its action scenes without getting bogged down in repercussions to the 'main' F&F story line, while simultaneously making it a redundant entry for die-hard petrolheads of the franchise.
Its plot is basic 90's actioner stuff – a deadly virus affectionately named Snowflake must be safely contained before it falls into the hands of a genetically enhanced super soldier called Brixton (a solid if underutilised Idris Elba; Pacific Rim, The Dark Tower). The bickering dynamics of the relationship between Hobbs (Dwayne Johnson; Skyscraper, Fighting With My Family) & Shaw (Jason Statham; The Expendables 3, The Meg) harks back even further to buddy cop comedies which littered the 1980's such as Lethal Weapon, 48HRS and Tango & Cash. Try as it might though, Chris Morgan's screenplay fails to create any real humorous friction between the mountain of a man Johnson and the painfully cocky Cockney Statham, instead relying on overused quips about each others mothers, physical appearance comparisons to male genitalia and derivative time-worn taunts relating to height (Hobbit and Frodo jokes) and nationality (Harry Potter for Statham's Britishness).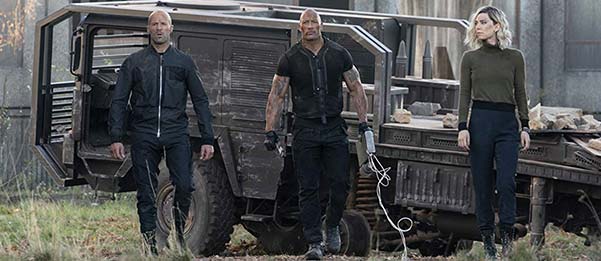 The quarrelling gets exhausting, especially when there's very little originality to the slandering. There's a few mildly comedic moments of slapstick when in combat, but these have mainly been the focal point of the trailers so somewhat lose their effect in context. Fortunately, Vanessa Kirby (Mission Impossible: Fallout) is on hand to eye roll and shake her head disapprovingly for us. She's akin to driving with the top down as Hattie, an agent believed to have gone rogue after stealing the virus. It's a positively gutsy performance and thankfully she's never put in the 'damsel in distress who needs rescuing by big strong man' position even when the odds are stacked against her, convincingly battling her way out of harm.
Ironically, for all its advanced technology with Chip activated weapons, Transformer-like motorbikes and indestructible robot soldiers, Hobbs & Shaw is at its best when it goes back to primative basics. The third act showdown in Johnson's native Samoa is unquestionably the highlight of the film, even if it feels like it's taken a twelve hour coach trip with broken air conditioning in 100 degree heat to get there, largely thanks to its dependence of hand-to-hand (or more specifically terrifying Samoan death sticks-to-hand) encounters. While the good ol' fashioned fistycuffs don't last too long before spine-jarringly swerving back into what could possibly be the most reckless use of Dwayne Johnson's biceps you're likely see this year, it's a pleasing change of gear from the tedium of countless explosions and laughably implausible CGI vehicular shenanigans.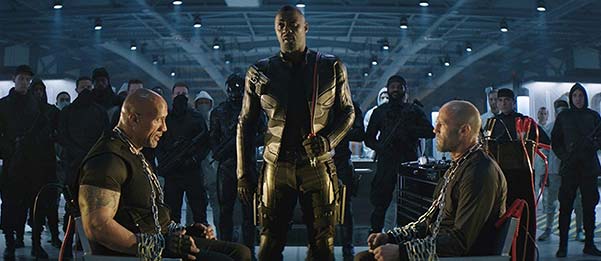 Director Leitch, who's no stranger to action movies having helmed Deadpool 2, Atomic Blonde and most notably the Keanu Reeves career reviving John Wick, allows the choreography to speak for itself in these bare-knuckle brawls, wisely ignoring the go-to method of rapid cut editing to mimic fast paced fights. You're never at a loss as to what's happening on screen, which itself is a miracle considering the considerable carnage which gets progressively more preposterous as the 135 minute run-time drags on.
Simply put, Hobbs and Shaw is just as nonsensical as the promotional material suggests, crammed full of testosterone fuelled, off the wall (and skyscrapers… and nuclear smokestacks…) action. Fans of the car-focused Fast & Furious franchise may despair at just how far in the back seat that series now finds itself, but for those who enjoy the catalogue of films from both lead actors, you're likely to already have the correct idea of what you're strapping yourself in for.
We Liked
Vanessa Kirby's gutsy performance
Leitch's direction of the action sequences
Credit for just how ridiculous it gets
We Didn't Like
Tired attempts at insults
Could easily have trimmed about 20 minutes from the run time
Far removed from the F&F franchise with its futuristic weapons which could alienate fans of the original series