The Details
Item Reviewed
Horrible Histories: The Movie - Rotten Romans
July 31, 2019
Release Date
26th July 2019
Synopsis
Atti, a smart and quick-witted Roman teenager, manages to upset Emperor Nero with one of his schemes. For punishment, Atti is sent to work in a cold and wet Britain where he also meets the Celts.
Director
Dominic Brigstocke
Starring
Sebastian Croft, Emilia Jones, Nick Frost, Craig Roberts, Kate Nash, Kim Cattrall, Derek Jacobi
Those who know about Horrible Histories will know what a delight it can be. Whether it's the books written by Terry Deary, it's magazine spin-off, theatre shows or the CBBC television program, it's always enlightened and entertained those consuming it. One of it's greatest strengths is its ability to reach out to children and adults alike, being accessible and gruesome enough to intrigue the kids, but also factually correct and classically humorous for adults to also enjoy. The 2009 TV show stayed true to this and became a big hit. I myself remember catching a good amount of episodes and always found it a joy to watch. But here we are in 2019 with the first big-screen outing for Horrible Histories, with many of the same writers/producers that worked on the much-loved TV series. But can they translate such a loose formatted show into a 90-minute narrative film?
When the film begins all seems promising enough. A smart Roman teenager Atti (Sebastian Croft) manages to insult Emperor Nero (Craig Roberts: Submarine, Bad Neighbours) through a madcap series of events involving the purchase of a pair of new, stylish sandals. He is banished from Rome and is given a punishment known worse than death: Atti is sent to England (known as the stain). He is forced to serve in the Roman army who are fighting the celts and Boudicca's (Kate Nash) rising army. During his service, he is captured by native Orla (Emilia Jones: Brimstone, High Rise) but they soon become friends and learn that they aren't so different after all.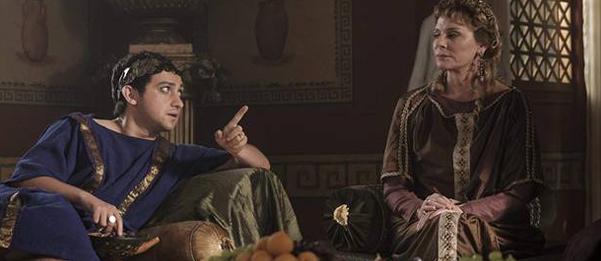 The setup is handled quickly but effectively, supplying a host of visual gags, amusing cameos and a classical sense of British comedy that draws from the likes of Monty Python and Blackadder. To give you an idea of what to expect, a high five becomes a high V and hearing Craig Roberts's Nero say "Thanks Mam" to Kim Cattrall's (Sex and the City) Agrippina has a certain unexplainable hilarity to it. There are scenes and jokes sprinkled throughout that feel aligned with this tradition and go some way in saving the film from total abandonment.
Once the setup is complete however, the story grinds to an abrupt halt, struggling to find anything meaningful to propel the story forward. But let's be honest: we all know Horrible Histories isn't going to be rich with a deep and poignant story. But there needs to be something between the jokes to maintain our interest. Histories tries having Atti & Orla rescue her grandmother from a rival tribe to develop their relationship but it's hard not to view this as a shallow attempt to create a story around a variety of sketches. That's what the Horrible Histories movie is, unfortunately. It may work for a half-hour light entertainment program, but sitting in the theatre I found myself majorly bored waiting for the credits to come.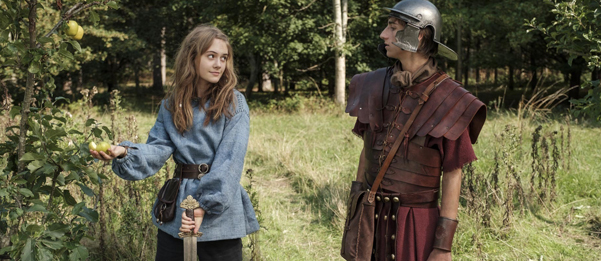 The sporadic use of musical numbers didn't help things either. They feel oddly misplaced, not particularly funny, and one is lifted directly from its TV counterpart. Subsequently, I feel that Horrible Histories: The Movie is geared more to a child audience than anything else from the franchise, which isn't necessarily a bad thing as your kids could be watching much worse. Its educational nature might even make it the perfect film to watch in a history lesson. But alas, if you were hoping for a silly, surreal comedy with a spark similar to Monty Python and the Holy Grail you are sure to be greatly disappointed.
We Liked
Individual sketches work
Historically accurate & pleasant for kids
We Didn't Like
Fails to become any kind of interesting narrative
30-minute sketch show stretched into a film
Musical numbers are jarring