The Details
Release Date
12th July 2013 (UK)
Synopsis
In the near future, giant robots wage war against giant alien monsters in a fight for survival.
Director
Guillermo del Toro
Starring
Idris Elba, Charlie Hunnam, Rinko Kikuchi
The 2018 Oscars are over (for 2017's films), and Guillermo del Toro's Shape of Water won big. You can find both my own and Sean's reviews of this great film here and here. But what I'd like to talk about is his huge 2013 giant robots vs. giant monsters movie, Pacific Rim, something so far removed from his emotionally big yet narratively small (in scale) Oscar winner, that it's difficult to believe they're both from the same writer/director. So strap in and prepare to drift.
In the near future, an interdimensional rift appears in the Pacific Ocean. A giant monster (or Kaiju as it's referred to) appears from this breach and attacks San Francisco. Six days later the combined might of the army, navy, and airforce manage to take it down at the cost of three whole cities and tens of thousands of lives.
Six months later it happens again.
With conventional weapons proving ineffective the world leaders collaborate and put together the "Jaeger programme" – the construction of giant robotic monsters of their own to fight the kaiju. But initial tests indicate that the neural stress is too much for a single person to handle on their own.  A two pilot system is implemented.
With this in place, the jaegers start to succeed and the war turns in Earth's favour. The pilots become rock stars and things look on the up. Then it all changes.
A "Category 3" kaiju appears, the biggest yet. Brothers Raleigh (Charlie Hunnam) and Yancy Beckett, the pilots of the jaeger named Gipsy Danger are tasked by General Marshal Stacker Pentecost (Idris Elba), to protect Alaska from the approaching monster. Detecting a stricken fishing boat in the water, the brothers disobey orders to go to its rescue (because they're goddamn heroes).
Yancy and Raleigh aren't the best guys. They aren't Track athletes or brain surgeons or anything – but they are "drift compatible". Effectively, the jaeger technology melds their minds together, allowing them better mutual control of the robot. The deeper the bond the better they fight. So they can't just stick any old person in the cockpit.
The kaiju is barely defeated at the cost of Yancy and the crippling of Gipsy Danger. Charlie fights it off alone before collapsing down on some beach in Alaska. He's rescued from the wreckage by a father and son, then kicked out of the jaegar corps for being so damn reckless.
Years later and he's working on the Wall of Life. You see, the Jaeger programme is in a bad state. Robots are dropping like flies as the kaiju adapt and grow in size. The attacks are also coming more frequently. The world council cuts the funding to the programme, and instead, funnel it into the Wall – effectively a giant stone wall surrounding the entire coastline of each country.
This to me seemed a bit fishy. While hiding ourselves behind walls is certainly a human reaction, I can't see how even a really thick barrier could stop…anything. If little people can break out of little rooms in maximum security prisons, giant alien monsters can certainly break through giant stone walls.
Anyway, Raleigh is now a labourer on the construction of one such wall. The marshal tracks him down to recruit him for one last offensive after a wall in Australia is breached by a kaiju. Only the recently decommissioned Jaeger, Striker Eureka (the last ever built), manages to defeat it.
Despite not wanting a reckless risk-taking renegade on his team, the Marshal has little choice as he has an old mark three jaeger without a pilot, and Raleigh is the only living guy with any experience with that model. Together they head to Hong Kong, where the jaegers have been assembled. There are only three other jaegers left in existence now – as the Marshal puts it, they aren't an army anymore – they are a resistance.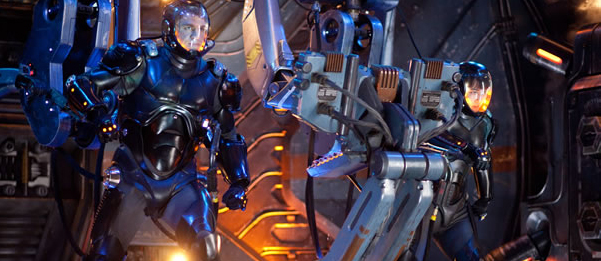 In Hong Kong, we meet the Marshal's adoptive daughter, Mako Mori (Rinko Kikuchi). Rescued by the Marshall when she was a child, he is now her father and commanding officer. She has assembled a group of potential co-pilots for Raleigh, though she really wants the job herself; revenge for her dead family. The Marshal is dead against this. "You can't bring that level of emotion into the drift" is the excuse he hides behind. We all know it's because he loves her, and couldn't handle losing her.
Here we also meet Doctors Newton (Charlie Day) and Hermann (Burn Gorman), two chalk and cheese dudes in charge of RnD. "Newt" is a kaiju groupie, who is all about understanding the nature of the beast, whilst Hermann is an English tweed-clad mathematician who believes that a "double event" – the attack of two kaijus – is due imminently.
Together these two characters work well together. But Newt is really annoying on his own. He's so over-acted and Day's voice especially grating. His continued presence really takes me out of the movie, similar to how Chris Tucker does in The Fifth Element. The character does not fit the film, and far too much time is spent on him at the expense of genuine robot action.
With the last four jaegers, the Marshal hopes to destroy the breach with a giant nuclear bomb procured from the Russians (they're still being pesky, even in the future). Raleigh will be piloting a restored and upgraded Gipsy Danger, running back up for Striker Eureka, piloted by Aussie dad-and-lad team Herc (Max Martini ) and Chuck (Robert Kazinsky). Chuck is a cocky little bastard, who blames the canceling of the jaeger programme on the likes Raleigh and other risk-taking pilots.
Even Mako is against Raleigh too. He's unpredictable and undisciplined, two flaws that are dangerous for anyone. But she also wants to be his co-pilot, and when all the other candidates flunk out, Raleigh insists she's given a shot. Dueling him with sticks, the pair fight to a draw and the Marshal is forced to relent. As far as I can tell, neither Hunnam or Kikuchi are trained, martial artists. Despite this, their fight is really well executed. Bravo on the choreography here.
Things don't go well for their first drift test run though. Mako "chases the rabbit" and sinks deep into the memory of her family being killed by a kaiju. She nearly destroys the building, as some idiot left Gipsy's plasma cannon fully loaded. Raleigh manages to her bring her out safe, but she's taken off the mission by the Marshal.
With Gipsy Danger down a pilot, it's up to the three others to complete the mission. Unfortunately, they have to fight off the latest kaiju attack, a double event as predicted by Dr. Hermann. Two of the three jaegers, the Russian Cherno Alpha and Chinese Crimson Typhoon are taken out quickly, and Striker Eureka disabled by an EMP attack. The Marshal has no choice but to put Mako back into Gipsy Danger with Raleigh for a desperate rescue mission.
Meanwhile, Newt has drifted with the remains of a kaiju brain and learned some vital back story. According to him, each kaiju is a clone, created by masters on a distant alien world. They move from planet to planet, stripping it of all resources. The Marshal needs more info, and recommends he go and speak to black marketer Hannibal Chow (del Toro favourite Ron Perlman) to see what he can find.
Gipsy Danger defies the odds and defeats both kaiju. I personally loved the scene where they take out one kaiju and Raleigh, having learned from the loss of his brother is all "I think its dead, but let's check for a pulse". They then shoot it to virtually nothing. Nice.
Returning as heroes, even Chuck is quietly impressed (they share a mutual alpha male hero nod). But with Herc's arm broken in the kaiju attack, who is going to be Chuck's co-pilot in the final mission? Plus, according to Dr. Hermann's calculations, the next attack (a triple event no less) will be in a matter of hours. It's time for a badass speech from the Marshal before the final act begins. He's cancelling the apocalypse, baby.
As a kid, I loved an 80's movie called Robot Jox. It's a trashy sci-fi flick that pits giant robots against each other in an area. I and a friend would mimic it with Lego robots of our own, and I have fond memories of the film to this day. Pacific Rim seemed made for nerds like me, and I can't deny enjoying it immensely upon seeing it.
However, it's not without flaws. First, as I've mentioned before, the Newt character and story arc are really annoying. Yeah, it leads into effective cameos from del Toro regulars Perlman and Santiago Segura. But he also tries to bring a lighter, more comedic approach to this storyline. It doesn't fit for me. Plus, consider that a movie about giant monsters and robots is over two hours long, it could have been pruned or even removed entirely.
Secondly, not enough time is spent on the action, especially the other Jaegers. There is great design work throughout Pacific Rim. The kaiju and the Jaegers all look really cool. You just never see them very much. The Russian and Chinese jaegers are built up immensely then taken out almost immediately in their first battle. These guys are supposed to be badass kaiju killers, not neophyte noobs.
Plus the fighting is also a bit suspect. A lot of the combat is at sea at night, so you can't really see much of what is going on. It also fuzzy's the scale of the combat – the best fight takes place in Hong Kong, as you can see what is going on, there is a greater sense of danger, and you get a real sense of the size of these things. Gipsy Danger, at one point, wields a train (deserted I hope) as a club, for example.
The actual combat is really inefficient too. There's too much throwing about and punching. Come on, that's not going to stop anything. The collateral damage caused by the rock 'em sock 'em approach must be huge. When they eventually use their weapons you're left thinking "why didn't you do that earlier". This especially applies when Gipsy Danger whips out a sword and starts chopping kaiju limbs off.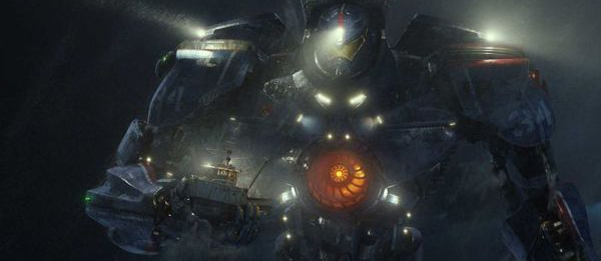 Where it succeeds is the production work. Everything looks really cool, from the suits to the robots, the kaiju, the woman from the popular video game Portal doing voice-overs, even Mako's hair. There is a distinct style at work, and it felt very akin to del Toro's Blade 2.Pacific  Rim isn't a grim, bleak action/disaster movie; It's full of colour, from neon blue blood to the reds and oranges of Hong Kong at night. Every shot is replete with colour.
The script is a decent one too, with every character having their own little moment. Both the leads Raleigh and Mako are damaged but relatable, and you really think they've grown by the climax. There is no romance involved; instead, it's all about a deeper sort of mutual bond between two warriors.
Even Chuck is kind of cool, and the final parting between him and his dad is really moving. You know they're likely never to see each other again. I love emotional heroism stuff like this – It chokes me the hell up. And speaking of getting choked up, Idris Elba's Independence Day-esque speech is great. Rumour has it he hates these Hollywood SFX-fest movies, but he's brilliant in this. There is a connection between the Marshal and Mako and the actors really make it work. I also genuinely chuckled at the look he shoots Raleigh when he makes the mistake of grabbing his arm.
Speaking of SFX, they are fantastic. Combining the physical inside the jaeger cockpits or the kaiju body parts (at Hannibal's place), to the full CG jaegers, kaij, and cities, it looks absolutely mind-blowing in 4K definition. The score is really good as well, being either stirring or pumping in all the right places. It syncs classical orchestral with a bit of electric guitar for something that seems really appropriate for the movie.
Finally, I feel it pays great respect to the various genres it borrows from. Kaiju movies are a huge part of Japanese culture, and mecha (robot) is its own genre of anime. You can see the obvious connections with the likes of Godzilla movies and anime such as Neon Genesis Evangelion, Patlabour or Gundam. It's appropriately set in the East too. This is one of the first large-scale multinational Hollywood movies which really panders to this alternative market.
Guillermo del Toro is a filmmakers filmmaker. This is his nod to a different style of monster movie, one that is a million miles away from vampires, sea monsters, and ghosts he's more attributed to. It's perhaps a trifle mindless, even a bit shallow – you could even call it dumb. But it's also a great popcorn movie, if a tad long, one that is genuinely entertaining despite its limitations. The big kid that is hidden beneath the various adult responsibilities, aging body and greying beard of mine will always emerge to appreciate something like this.
The sequel, Pacific Rim: Uprising starring John Boyega is out next week, so whether you're a newcomer or reaquianting, there's never been a better time to get this one watched.
We Liked
Fantastic Production Design
Great hero moments.
Decent action.
We Didn't Like
Tad too long.
Charlie Day's character.

Raunchy without crossing the line, funny without overstaying its welcome and surprisingly never too dark, it's the perfect tonic after a hard days working for those titular figures.