The Details
Release Date
9th September 2019 (DVD Debut)
Synopsis
Two teenage boys in Scotland in 1994, best friends with no control over their lives, risk everything to attend an illegal rave, hoping for the best night of their boring lives.
Starring
Lorn Macdonald, Cristian Ortega, Laura Fraser
Set in 1994, just as the Criminal Justice Bill attempted to place restrictions on Scotland's rave culture and the free party movement, Beats is the story of friendship, rebellion and the irresistible power of gathered youth.
Best mates Johnno (Cristian Ortega) and Spanner (Lorn Macdonald) share a deep bond. Now on the cusp of adulthood, life is destined to take them in different directions – Johnno's picture-perfect family are moving him to a new town and a better life, leaving Spanner behind to face a precarious future with a psychotic bully of a brother, Fido (Neil Leiper). But this summer is going to be different for them, and for the country. The explosion of the free party scene and the largest counter-cultural youth movement in recent history is happening across the UK and the best friends intend to have the ultimate night of their lives.
Presented in stark black and white, Beats is illuminated by its electric performances and addictively energetic soundtrack. The two leads in Cristian Ortega and Lorn Macdonald, both making their mightily impressive feature film debuts, superbly juxtapose each other as the timid Johnno and superficial tough guy Spanner respectively, a pair whose home lives are worlds apart who are united through their love of music.
The accompanying soundtrack to Beats is, unsurprisingly, a raver's dream. Cuts from some of the scene's biggest names including The Prodigy, Leftfield and Plastikman will no doubt spark memories of all-night parties to re-emerge for those who were thick in the mix.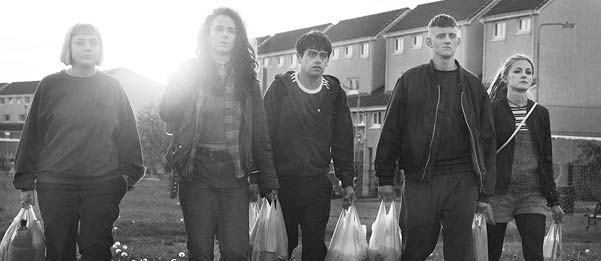 Like any good dance track, Beats takes its time to build up to the drop. Characterization takes priority for at least an hour, allowing us to get to know Spanner, Johnno, and their friends. There's plenty of predicaments from their living situations, especially involving Spanner's completely unhinged thug of a sibling Fido (an intimidating Neil Leiper) and Johnno's dilemma of having his mother dating a police officer. But as events culminate at the massive illegal rave, director Brian Welsh expertly recreates a feeling of overwhelming euphoria through trippy visualizations, rapid editing and intermittently introducing colour to the monochromatic palette. We believe they've left their problems at the door because Welsh's crafting of the scenes have made us do exactly the same thing.
Alas, Beats is also a bittersweet reminder that those seemingly never-ending good times do indeed come to a halt. Fictional updates to all the characters current whereabouts during the closing credits will definitely hit hard for some viewers, now likely married with children in their late 30's, feet firmly in corporate careers who once defiantly (albeit naively) believed in their own indestructibility.
And that's ultimately why Beats is a resounding success. Yes, it blasts strobe lighting on a music movement that defined a jilted generation, but the primary focus is also on the people from all types of backgrounds who made it so.
Even if you're not a fan of rave though, I guarantee there are some aspects of the film that will ring true to your own life and experiences. Much like music, Beats' messages of the power of friendship and marching to the beat of your own drum are universal, regardless of whether there's a thumping bassline to accompany your recollections of youth.
Beats is available to buy now from Amazon & digitally through iTunes.
We Liked
Strong debuts from leads
Perfectly curated soundtrack
Genius decision to keep it black and white
We Didn't Like
Some slightly far-fetched plot points to get from A to B

Do you like remembering that you saw stuff elsewhere? Then you'll love Steven Spielberg's pop culture extravaganza Ready Player One.