Regardless of how you feel about professional wrestling, it is hard to deny the dedication of the wrestlers themselves. Many will continue with the storylines and planned endings of their matches even after suddenly suffering potentially crippling injuries. They are dedicated to staying in character, and surely this would make their transition to regular acting fairly easy. Right?
Not always. Some performances by pro-wrestlers in films have been ridiculous, and it's not always their fault. You may be able to continue to wrestle with your knee-cap in your shin, but you can't overcome poor scripts or mediocre roles so easily. Such as…
#7 – Hulk Hogan in "3 Ninjas: High Noon at Mega Mountain" (1998)
Hulk Hogan is one man who can claim to have put pro-wrestling on the map in the 80's and early 90's. His signature moves and theatrics are copied by people around the world to this day (I'm afraid to say I've been to more than one party where a drunk guy has yelled "Watcha gonna do brother?" before tearing his shirt off)
His filmography however is far more lacklustre, I've had to whittle it to one film, otherwise this list would be called "7 reasons Hulk Hogan shouldn't be allowed in films".
Eventually I settled on 3 Ninjas: High Noon at Mega Mountain, not just because Hulk Hogan is terrible in it, but because it is generally considered the worst film in a poor series and Hogan plays a prominent character in it.
Hulk Hogan plays Dave Dragon (I can't decide which of those is a worse name) a retiring TV action hero who teams up with three martial-arts trained kids to save a theme park from a gang of mercenaries led by a woman called Medusa.
It's all pretty baffling really. If bodyslamming Andre the Giant at Wrestlemania III was the highlight of Hogan's career, this has to be its lowest point.
#6 – Kurt Angle in "Sharknado 2: The Second One" (2014)
Kurt Angle is a widely respected professional wrestler and Olympic gold medallist. Sharknado 2 is the sequel to Sharknado – a film about a tornado full of angry sharks that devastates Los Angeles. These are two paths that didn't seem destined to cross – yet somehow they did.
In fairness to Angle, the sequel also featured such, er, celebrated actors as Kelly Osborne and Billy Ray Cyrus, so it was less an effort to assemble a cohesive competent cast and more a case of throwing in as many big names as possible regardless of whether they are actors or not.
There is nothing bad about Angles part in this film. After all it isn't meant to be taken all that seriously – at one point a guy with a chainsaw fights a shark in mid-air in a tornado. Angles role feels disappointing as it seems like a wasted opportunity.
This was the world's one chance to see Kurt Angle Angle-slam a shark through a table, and they failed to make the most of it. The moment is lost forever now. Thanks, Sharknado.
#5 – The Rock in "The Mummy Returns" (2001)
The Mummy films can be slated for a number of reasons. The ridiculous storylines, the irritating son and the terrible grasp of Egyptology all spring to mind. However they are quite enjoyable for what they are – over-the-top action films involving a mummy.
The second film in the series, The Mummy Returns, was the cinematic debut of Dwayne Johnson, then (and still in the heart of most men my age) known as The Rock. The then-WWF went wild promoting the fact that one of their biggest names was appearing in a Hollywood film. As I loved both the WWF and the first Mummy film, I went to the cinema to watch it.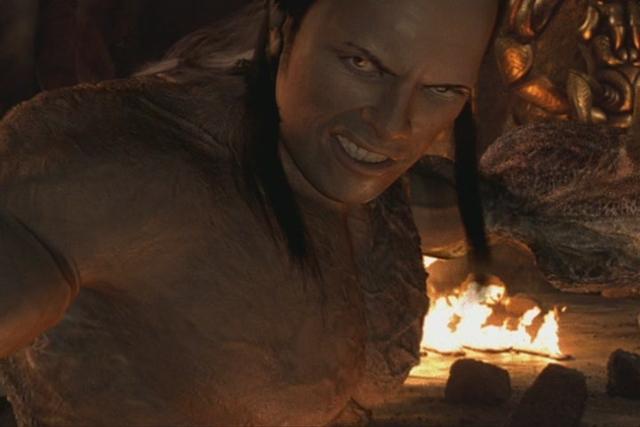 The Rock himself is in the film for about five minutes at the start, speaks a few lines of Ancient Egyptian and that's pretty much it. His character, the Scorpion King, turns up again later – but it's just a CGI giant scorpion with the Rock's head on it, like a really bad glitch on an old Smackdown playstation game.
The Mummy Returns was the start of the Rock's long film career and marked the point where wrestlers in films became more commonplace. It wasn't an inspiring start though.

#6 –  Babe (1995) For those that haven't seen it but know of the plot, it would come as a surprise to learn that it was nominated for a Best Picture Oscar alongside Braveheart, Apollo 13 and a host of other hard hitting dramas. But if you have seen it, you'd know that it fully […]

#8 – Shug Avery, The Colour Purple (1985) Based on the 1982 Pulitzer prize winning novel of the same by  Alice Walker, The Color Purple focuses on the life of black women living in Southern America during the 30's. The main character is Celie (played by Whoopi Goldberg in an Oscar nominated role) who's upbringing […]