The Details
Release Date
3rd December 2018 (VOD Premiere)
Synopsis
A battle-scarred War on Terror bounty hunter is forced to go to London on a manhunt for a disavowed CIA operative, which leads him into a deadly running battle with a former military comrade and his private army.
Starring
William Fichtner, Sylvia Hoeks, Milo Gibson
All the Devil's Men follows Collins (Milo Gibson), a bounty hunter and combat junkie who takes morally questionable contracts from the CIA instead of going home to raise his newborn child. But when he accepts a particularly gruelling job in London, he finds out just how expendable he is.
It's uncertain whether Milo Gibson shares his father's belief in a global Jewish conspiracy, but he definitely has the same brooding machismo that Gibson Sr. used to great effect in the 80's and 90's. He's a little stiff when it comes to dialogue and he tends to hang back in scenes to let others take centre stage, but I dare say it works. He feels like a man who has wound himself tightly lest he lose control. There's an unsettling intensity in his ocean blue eyes that make you feel like he could snap at any moment.
Admittedly, his performance can sometimes seem out of place in a movie as conflicted as All the Devil's Men. Is it a savage thriller that wants to critique those who wage America's War on Terror, or is it merely wallowing in it to score some cheap, exploitative thrills?
Cynicism abounds. Soldiers fight not for their country, but for pleasure or alimony payments. The shady CIA handler does predictably shady CIA things. In one surprising scene near the end, Collins ruminates on the atrocities he committed while serving in Afghanistan.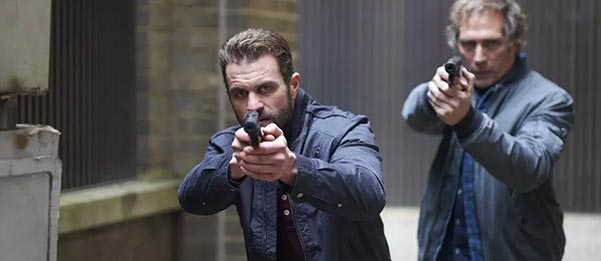 The problem is that the film never follows through with any of the questions it raises, being content to merely blow stuff up and kick ass. That makes for a frustrating halfway house of a movie that talks the talk but never walks the walk. One starts to pine for Sicario, an ugly film for sure, but one that at least had the courage of its nihilistic convictions.
It's not a total loss though. Hope mounts the action fluidly, and it's refreshing to see a film that builds its set-pieces around basic military firefight strategies. Just like in real combat, there's a greater emphasis on suppressive fire rather than bagging wicked headshots. By the final act, Collins has to rely on misdirection and plain ol' sneakiness to get the upper hand. He's damn good at his job, but he's not a superman.
William Fichtner also shows up just long enough for you to miss him dearly once he's gone. Fichtner could do this role in his sleep, but he's so magnetic, so full of oily charisma that not even a severely under-written role can stop him from running rings around the rest of the cast.
Ultimately though, All the Devil's Men ends up being too safe for its own good. By the time it reaches its climax, it's abandoned any pretence of intelligence or critical thought. The action is satisfying, but it undercuts the cynicism that the film clearly wants to project. It's only in the final shot, as Gibson's hollow, piercing eyes stare directly into the camera, that you're reminded that this could have been a much richer film.
All The Devil's Men is now available to buy on all major VOD platforms including  iTunes, Amazon, Google, Microsoft, Sky Store, BT, Sony, Vubiquity and Rakuten. 
We Liked
Milo Gibson's cold, borderline-psychotic performance
Grounded action scenes
William Fichtner just doing his thing
We Didn't Like
Lazy critique of the War on Terror
Incredibly convoluted plot
Weak Villain