The Details
Release Date
10th December 2018 (VOD Premiere)
Synopsis
When Troy Holloway wakes up to find himself trapped aboard a drifting escape pod shooting towards the Sun he quickly realises the true terror of his situation. With rapid oxygen depletion and a burn- up rate of 90 minutes, Commander Roberts leads a rescue party to save Holloway before time runs out.
Starring
Steven Ogg, Alice Lowe, Kate Coogan
In Carl Strathie's sci-fi survival story Solis, an astronaut named Troy (Steven Ogg) is hurtling towards the sun in an escape pod. With only the voice of Commander Roberts (Alice Lowe) to guide him and rapidly depleting oxygen, the pair must devise a rescue mission while a million miles apart.
Having specialised in shorts since 2011, Solis is director Carl Strathie's first venture into full-length features – and it shows. The films flow feels more like a series of vignettes, with every 15 minutes of action potentially being able to work as a stand-alone offering. The formula for each quarter hour segment is essentially the same: Troy encounters a problem and Roberts aids him in what he must do to solve it. Each instance of this culminates in a sense of finality, as if the entire film is about to wrap up, only to circle back around to begin a new dilemma. It's a cycle that becomes tiresome after an hour or so and ultimately hurts the impact of the third act but it's still a valiant debut effort by Strathie.
For a film about a craft rapidly heading towards the sun, the crawling pace of Solis leaves a lot to be desired. There simply isn't enough story here to be dragged out for its already lean 92 minutes. A few well photographed shots of the vast emptiness of space against the speck of a vessel go a small way to combat this, but there's a distinctive feeling of filler material to pad out the run time. The swelling score does more harm than good and is a huge distraction when silence or minimal sound would have given scenes a more believable sense of remoteness.
The power of performance relies entirely on Ogg as the stricken spaceman and, for the most part, he impresses. Much like the Ryan Reynolds' coffin fodder Buried or the "Tom Hardy in a taxi" offering Locke, Solis takes place entirely within a claustrophobic confined space with a single character. There's a deceased crew mate in the seat next to his, but disappointingly it's an unnecessary addition that could have been used to a greater end. Nevertheless, Ogg is the star amongst the stars here, but what's surprising about Solis' Troy is just how defeatist he appears to be.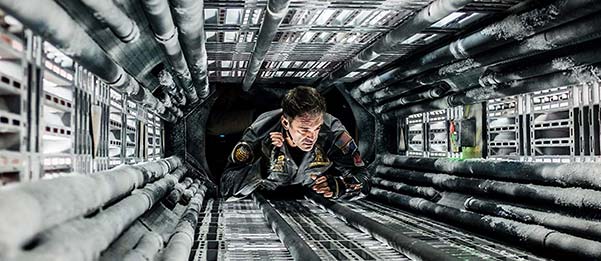 Faced with the seemingly impossible task of avoiding the sun as well as a crippling personal trauma, Troy frequently appears to give up or wilfully lack the instinctive survival spark. It's only thanks to the friendly but equally frightened voice on the other end of the line of Commander Roberts that he intermittently snaps out of the slump and finds the desire to endure. In this respect, Ogg and Lowe are an immensely captivating duo as their reliance on each other becomes increasingly essential. Lowe, who is at the forefront of dark British comedies with the likes of murderous maternal movie Prevenge and caravan holiday-from-hell Sightseers, is especially remarkable given we only ever hear her voice.
Known primarily as the voice of unhinged psychopath Trevor in the game Grand Theft Auto V, Steven Ogg doesn't quite set the world on fire when given the responsibility of a leading man, but that's partly down to the slim backstory he's been given. When a story leans heavily on one player, it's important for us to care about every facet of their lives. Unfortunately this isn't the case with Troy, who isn't given an ample foundation for us to invest in. Still, Ogg makes the best of a bad situation and cannot be faulted for his efforts.
Quite simply, Solis does not work in its final format. As a short, its effectiveness would have increased tenfold as the urgency of events would have been heightened. But as a feature film, it's a frequent slog of repeating events, sandwiched between flashes of brilliant cinematography that are drowned out by an obnoxious score.
Solis is available on VOD platforms from 10th December 2019.
We Liked
Some impressive cinematography
Steven Ogg and Alice Lowe's partnership
We Didn't Like
No urgency for its premise
Not enough story to pad out its already short run-time

An impressive low key debut for Simon Bird in the director's chair, Days of the Bagnold Summer is a quaint and charming story, told especially well through the spirited performances of Earl Cave and Monica Dolan.