The Details
Release Date
31st August 2020 (UK Blu-Ray Release), 7th October 1971 (UK Theatrical)
Synopsis
Two city-bred siblings are stranded in the Australian Outback, where they learn to survive with the aid of an Aboriginal boy on his "walkabout": a ritual separation from his tribe.
Starring
Jenny Agutter, David Gulpilil, Luc Roeg
"In Australia, when an Aborigine man-child reaches sixteen, he is sent out into the land. For months he must live from it. Sleep on it. Eat of its fruit and flesh. Stay alive. Even if it means killing his fellow creatures. The Aborigines call it the Walkabout. This is the story of a Walkabout." So begins Nicholas Roeg's 1978 Australian Outback survival drama Walkabout, released on Blu-Ray in an ultra-Limited Edition set from Second Sight Films.
It follows a brother and sister pairing (played by Luc Roeg –  Nicholas' son – and Jenny Agutter respectively) who after a picnic in the Outback with their father takes a dramatic turn, are left to fend for themselves. After a few days, they are met by an Aboriginal boy on his ritual Walkabout. From here, the trio must work together, learning from one another, in order to make it out of the tough terrain alive – but a clash of cultures leads to terrible and tragic consequences.
Critically acclaimed but financially unsuccessful upon its release in 1971, Walkabout has endured generations by being a deceptively complex story told extremely well. There are plenty of underlying themes to its narrative, and I'm not going to pretend I'm intelligent enough to have picked them all up on my first viewing, but I have a few theories on its deeper meanings. Of course, on the surface it can be seen as a basic tale of two children lost in the Outback. But there's certainly a theme of innocence (or loss of it) streaking through Walkabout. Maturity and sexual awakening for both men and women is heavily implied too. Another concept which I couldn't shake was the idea of communication and its importance. From how the children's father lacks it, to how the sister twists and masks truth from her inquisitive young brother and obviously the language barrier between the Aboriginal man and the English, communication is key.
Its setting is beautiful as it is dangerous. The Outback is notorious for its vast, remote nature and Roeg photographs the landscape exquisitely. Not only does he successfully capture the sheer scope of the traversing the children must undertake, but manages to get intimate close up shots of the wildlife which call this place home. Indeed, it generated controversy at first for its depiction of real-life animal killing as the Aboriginal man (as well as gun-toting hunters) take down water buffalo and wallabies. It makes for extremely uncomfortable viewing, but reinforces Roeg's vision of an uncompromising picture.
Far from being a bare bones release, Second Sight have gone all out in this presentation of Walkabout. For picture quality, the film boasts a new 4K Scan and restoration, making the scorched earth shimmer and blaze like never before. There are a wealth of special features commissioned especially for the disc too, including a never before heard audio commentary with the films star Luc Roeg and film critic David Thomson. A quartet of newly filmed interviews come with the package, talks with the like of director Danny Boyle, the films leads Luc Roeg and Jenny Agutter and an insight into producing a film like Walkabout with Si Litvinoff. A 2011 Q&A session with the late Nicholas Roeg and the two leads as well as an archive introduction from Nicholas round out the filmed Special Features – but the goodies don't end there.
Included in this very Limited Edition Box Set of only 3000 is the source novel 'Walkabout' by James Vance Marshall, with exclusive cover artwork made for this release. The set itself proudly displays strikingly gorgeous new art on a rigid slipcase by celebrated cinematographer Michael Boland. The written offerings don't stop with the novel though. Two more books are part of the purchase: a soft cover book featuring an exact copy of the 65 page First Draft script with a preface by director Daniel Bird and another collection of essays by Bird, Little White Lies writer Sophie Monks Kaufman and film critic Simon Abrams. Printed stills and lobby card images wrap up what is unquestionably the definitive release Walkabout. Most films can only dream of being given the treatment that Second Sight have offered to Walkabout and the director, who sadly died in 2018, would be immensely proud of the release. It's an essential purchase for slow-burn drama fans and Blu-Ray collectors alike.
SPECIAL FEATURES
• Brand new 4K scan and restoration
• A new audio commentary with Luc Roeg and David Thomson
• Producing Walkabout: A new interview with Producer Si Litvinoff
• Luc's Walkabout: A new interview with Luc Roeg
• Jenny in the Outback: a new interview with Jenny Agutter
• Remembering Roeg: a new interview with Danny Boyle
• 2011 BFI Q&A with Nicolas Roeg, Jenny Agutter and Luc Roeg
• Archive introduction by Nicolas Roeg
• English SDH subtitles for the hearing impaired
LIMITED EDITION CONTENTS
• Limited Edition Box Set of only 3,000
• Rigid slipcase with new artwork by Michael Boland
Walkabout is available from 31st August 2020 and can be ordered through Second Sight's Official Website.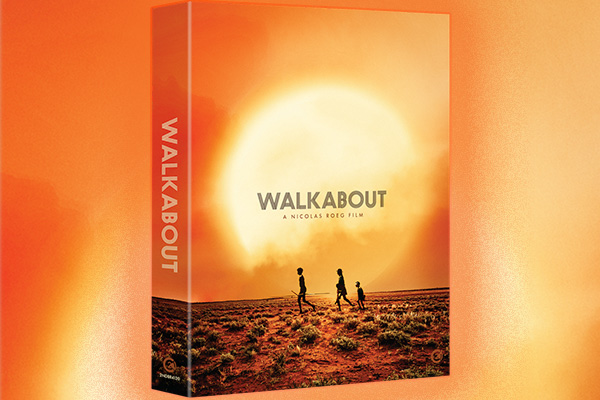 We Liked
Rich, multilayered narrative (that I'm definitely not smart enough to have completely understood)
Sun-scorched cinematography has never looked better thanks to a new 4K scan and restoration
Plethora of features and added bonuses