The Details
Release Date
21st December 2020 (UK VOD Premiere)
Synopsis
A group of teen girls set out to scare their reclusive new neighbor, but the prank turns to terror when some of them don't come back.
Starring
Troy Leigh-Anne Johnson, Isabel May, Odessa A'zion
A group of girls take their prank-pulling one step too far in Let's Scare Julie, a film filled with unlikeable characters and a creative filming choice which occasionally hits the mark.
Having been made to live with her cousin Taylor due to a family tragedy, Emma is 'initiated' into Taylor's friend group by being on the receiving end of a number of their pranks. They're harmless enough – being woken late at night with an unknown person hiding at the side of the bed only to leap out for a fright – but there's still a menacing streak racing through the actions. When one of the friends suggests they take their hijinks across the road to frighten the reclusive new neighbour Julie, the girls quickly discover some things are better left alone.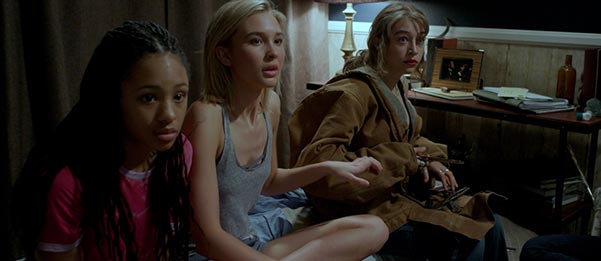 Filmed to give the impression of it occurring in real time by using the 'one take' technique, Let's Scare Julie is intermittently effective in creating tension but the story doesn't really warrant the gimmick to be implemented into the whole feature. We stick with Emma (Troy Leigh-Anne Johnson) through the entirety, even when the others undertake the titular task at another property. It's a relief then that she is undoubtedly the most agreeable figure in the film. The other girls are insufferable. Being in their company is exhausting. They are irredeemably unpleasant people and I have no idea why they'd be friends with each other. Maybe because no one else would be. For this reason, it really is impossible to care about what befalls any of them; they truly deserve their comeuppance.
The eventual reveal falls a little flat, but there are few flashes of Julie's mother which get the goose bumps rising. There's also a vague supernatural element to the story, but I felt it wasn't developed enough to leave a mark. What I did enjoy was the groundwork laying of incessant prank pulling. It meant that later into the film, I was never quite sure whether the girls were still fooling around on Emma. A subplot involving Emma's uncle feels like one narrative thread too far and could easily be removed altogether.
With a little more focus and characters worth caring about, the scaring of Julie could have translated as a memorable jolt for audiences too.
We Liked
Solid performance from lead Troy Leigh-Anne Johnson
We Didn't Like
Awful personalities of characters
One-take gimmick not necessary for the entire film
Too many narrative threads