The Details
Release Date
22nd January 2016 (UK)
Synopsis
Four waves of increasingly deadly alien attacks have left most of Earth decimated. Cassie is on the run, desperately trying to save her younger brother.
Starring
Chloë Grace Moretz, Matthew Zuk, Gabriela Lopez
You know, The 5th Wave is a sly, sly movie. Like used-car-salesman sly. You're immediately drawn into it with a tense, pre-credit scene before it becomes something quite…different.
Picture this: Kickass star Chloe Grace Moretz is Cassie Sullivan. She's wandering around some woods armed with a hefty automatic rifle. Pretty unusual, considering she's not dressed up as a vigilante murderer, but more like your garden variety teenage American girl. But let's go with this.
Appearing at a roadside she comes across an abandoned petrol station. Seemingly needing supplies, she enters. It's been picked clean save for a few bottles of precious water. A noise from the backroom alerts her to the presence of someone else. Rifle at the ready she enters. It's a wounded guy, with his own gun pointed at her.
They shout and snarl but he hasn't got the energy to keep it up. A temporary cease-fire is agreed. She doesn't keep her eyes off him though, as he has a hand in his jacket (probably holding his guts in). When he moves to pull it out he's holding some metal and BAM, she shoots him dead. That piece of metal? A simple crucifix. Dude got murdered because he wanted to "the power of Christ compels you" or something.
Cassie is a bit distraught, and the scene ends with terrible silence. Credits. I'll admit I was interested at this point. I took the bait. Why the hell is this girl armed with a machine gun? What the hell has happened? Is Nicholas Cage in this?! Don't worry, she'll explain everything.
Not long ago she was just regular old Cassie: a teenage kid with an annoying younger brother, some generic middle-class parents, and your standard stupidly spacious American house. She has your typical teenage girl problems. No one cool has asked her to the prom, she's interested in this dude called Ben (Nick Robinson – Jurassic World) who sort of likes her but nothing has happened etc, etc. That kind of shit.
This all changes when aliens turn up! Yeah, caught me out of the blue too. Guess I should read the description more carefully. I thought this was gonna be zombies. But no, it's aliens. They drop down into orbit and linger over cities like that one did in District 9.
Ten days later, the aliens (creatively called the "others") launch their first wave – an electromagnetic pulse which knocks out all the electronics across the globe. And I mean everything. Facebook? Gone. Instagram? Dead. Even MySpace has fallen.
The second wave hits soon after; the Others mess with the planet itself to create tsunamis and earthquakes, wrecking all kinds of havoc. This is followed up by, you guessed it, the 3rd wave – a potent and highly contagious avian virus which is carried across the world. People get dumped in quarantine camps, including her bestie and her Mum. She dies soon after, as do 85% of all the peeps left.
By this stage, everything is looking grim for the Sullivan family. Dad (Ron Livingston) is stressing because he's got to look after two kids alone in a world that has totally gone to hell. With no food, running water or working internet, he has no choice but to leave the safety of his quiet suburban house with the kids. Together they find a refugee camp with about 300 other survivors and it looks like things may work out after all.
Days later the military turns up. We haven't seen squat from them up to now. No pre-emptive strikes, no Independence Day speeches, no Goldblum. The 5th Wave is an alien invasion experienced from the ground by people like you and me. Or rather middle-class suburban white American teenage girls. But face it, we're closer to that life than being a fighter pilot who looks like Will Smith, aren't we?
The military dudes have managed to get stuff running, like cars, helicopters and so forth. They don't explain how, but they do tell everyone that they need to be evacuated. The 4th Wave is being unleashed – aliens disguised as humans are roaming about, infiltrating survivor camps and killing them like the terminator. By getting all the kids away, they can at least be screened and protected.
Dad puts Cassie and brother Sam on the bus heading to safety. But the stupid little idiot Sam has left his favourite cuddly bear behind in the tent, the dumbass. Cassie runs to get it and misses the bus. Meanwhile, Dad and the other adults of the camp are killed when one crazy dude pulls a weapon during a town meeting. Tearful, she says goodbye to her Dad, picks up a machine gun, and makes to follow the bus. It's here where the film opens.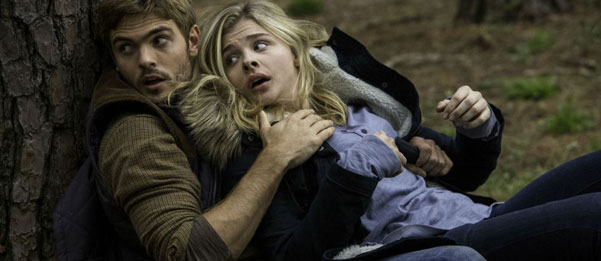 At this stage, I was at least engaged in the movie. Let's not mince words: it's hardly directed or shot with any kind of flair. Nor does it have a gritty sort of look that you'd expect from this kind of 28 Days Later style movie. Instead, it looks like a pretty generic movie. Looking at stills, it could be a teenage movie about a girl going to the prom or something. It could probably star Will Farrell.
One reaction I did have was "Christ, Ron Livingston has aged". He performs well, and killing him off hurts the picture. It also suffers by diminishing the power of that initial opener. We're lead to believe that she's been wandering around for days, even weeks, that she's a dab hand at the old rifle. Nope. It's only her first day and she's dying of thirst and killing wounded religious garage employees. It gets worse. Remember that guy she had a crush on, Ben? Well, he's a survivor too and is taken to the same camp that Sam is. It's here the film splinters off from Cassie's perspective, and it really begins to unravel.
The military base is run by Colonel Vosch (Liev Schreiber) and Sergeant Reznik (Maria Bello). I'll be fair, Bello is really good in this. She's really hateable, really cold. Very military. She's not phoning this in, despite the ludicrousness that's about to follow. They explain that the aliens are like worms that live inside people's brains, controlling them. They show an x-ray of the creature (hilarious CGI) wriggling around in some random dude's head. Schreiber reveals that they only afflict adults and that it's down to the remaining kids to train as elite kill squads to defeat the infected human inhabitants dossing about the rest of Earth.
That's right. Little Sam is going to be trained to do battle, potentially, with the likes of an infected Steven Seagal or Chuck Norris. Sounds a little suspect to me. Naturally, most the kids suck at their training. Ben, who is promoted to squad leader, is also constantly being challenged by some teenage girl called Ringer who is all "I'm way better than you dude". She's really annoying, and were there true sexual equality in the world, deserved of a "stfu" slap by Ben. Unfortunately, he'd look like a dick if he did that. But we all want him to. Actually, as this is based on a "tween" novel, she'd probably do some crap judo on him.
Oh yeah, forgot to mention, this is some tween nonsense. I didn't realize either, not until Cassie is shot in the leg by an "other". She wakes up in this house, rescued by Evan Walker, an attractive mysterious guy who knows suspiciously lots about the aliens. He's also got super strength and other abilities. Turns out he's actually one of these possessed sleeper agents, but has renounced his "otherness" because he has the hots for Cassie.
See what I mean by sly? You're hoodwinked into thinking this is going to be The Walking Dead-lite, and end up in the middle of a teenage romantic triangle between a strong female lead, one all-American good guy, and a mysterious half-alien half-handsome stranger dude. If I could pop my eyes out of their sockets, I'd be rolling them suckers like marbles, make no mistake.
The whole backstory and premise of this film are designed to make it, effectively, kids versus adults. Now, I'm no huge fan of the Hunger Games movies but they at least had elements of creativity and believability. You can understand why kids were chosen as "tributes" and so forth. Here there's just no way you can believe they are ever going to work as Navy SEALS or anything. It's just stupid regardless of how it's spun.
Plus it feels very much like the entire first 90 minutes or so are there purely to put Moretz into this potential love triangle dilemma. Sorry, I don't give a shit about whether she's gonna fall for the boy down the street or the alien from the other planet. Talk about getting their priorities wrong.
The 5th Wave squanders what little attention it steals in that strong opening five minutes. The performances are as bland as the film looks, with little to no atmosphere or menace present anywhere. It's also utterly insulting in how blatantly it sets up a sequel – like it deserves that kind of treatment.
I don't want a 6th Wave. Instead of waving, I'd sooner give the whole mess the middle finger. I can't recommend this. Maybe a teenage girl or a Chloe Grace Moretz pervert will benefit from seeing this. I doubt it though.
We Liked
Maria Bello is highly unlikable as a drill sergeant.
Interesting premise to the tried-and-true alien invasion dynamic.
Strong opening five minutes.
We Didn't Like
Unconvincing action and narrative choices.
Bland and unevocative direction.
Just another young adult tween movie wrapped up in an alien invasion story.