The Details
January 29, 2018
Release Date
13th October 1989
Synopsis
A civilian diving team is enlisted to search for a lost nuclear submarine and face danger while encountering an alien aquatic species.
Starring
Ed Harris, Mary Elizabeth Mastrantonio, Michael Biehn
Nick Thorburn of The Movie Bastards takes a looks back at James Cameron's deep sea sci-fi The Abyss and ponders on a few reasons why it was a commercial failure.
It's easy to forget that between the mega successes of Aliens (1986) and Terminator 2 (1991) director James Cameron did a little film set in the deep sea about a group of oil drillers, twitchy Navy SEALS, and freaky aliens. Underwhelming commercially, The Abyss is the black sheep of Cameron's flock (Piranha 2 notwithstanding). But that doesn't mean it's a bad film. Not by a long stretch. Let's recap.
An American nuclear submarine is tracking an unusual submersible in the deep ocean. At the critical point, all her systems go down, only to re-activate moments before she collides with a nearby shelf. It ruptures and goes down.
Miles away, an experimental drilling platform, Deep Core, is in the process of testing the financial feasibility of operating on the seabed. Led by chief tool pusher Bud (Ed Harris – The Rock), it's a rag-tag bunch of greaseheads, tech nerds, and cowboys (or girls).
Mid-test, the Navy turn up and commandeer the platform in hopes of mounting a rescue mission on the downed submarine. They're gonna send a Navy SEAL team down, led by Lieutenant Coffey (Michael Biehn – Terminator) to take charge, to the frustration of both Bud and his soon-to-be-ex-wife "ice bitch from hell" Lindsey (Mary Elizabeth Mastrantonio – Robin Hood Prince of Thieves).
Of course, this is the 80's, so the whole anti-Russian thing is in full force and the rescue mission is just a cover-up for the SEALs to activate a nuke from the sub's arsenal to scuttle the wreckage. However, remember that weird submersible that caused this whole problem in the first place? Turns out its undersea aliens.
Coffey, going mental from high-pressure syndrome, cut off from his superiors due to a pesky storm, thinks they're evil Russians and doubles down, setting the nuke to target the aliens and not the sub. So on the brink of making first contact some crazy dude is about to blow it all (literally), and it's up to Bud, Lindsey and the crew of the Deep Core to stop him.
From top to bottom this is a very standard James Cameron film. And that's not a criticism. All his movies are great. It's very blue. It feels very authentic. The special effects, even 20+ years on are still high level. There is a strong female character, albeit not the lead, and each character is fully realized; all ingredients of a typical Cameron movie.  The two stories (the rescue mission and the alien encounter) could easily be two movies in themselves, but he's woven them together to create something totally original.
So why didn't it ignite the fires of the box office? That's a more thorny question. My good mate Stew says that all submarine films have to feature two different elements to be successful. First, there has to be a mutiny. And there is, sort of, where the Deep Core crew rebel against the SEALS. Secondly, and this is most important, there has to be a scene where the sub commander looks through a periscope. Cameron misses this scene, thus relegating it to B-league submarine film levels.
All the actors do fine jobs. Even the minor characters get their moments. Most are expanded upon in the director's cut but work perfectly well in the standard edition. Ed Harris, an unusual choice for a leading man, is believable as Deep Core's foreman, and his relationship with estranged wife Lindsey is really well realized too.
Michael Biehn, a stalwart of James Cameron films in the 80s, is as glorious as ever, working especially well as a Navy SEAL commander cracking under pressure. His descent into total paranoid madness elevates him above most normal movie bastard antagonists.
However, my second major beef with this film would definitely be Navy SEAL member Schoenick (Christopher Murphy). Sorry, I ain't gonna believe anyone is a badass wearing a bandana unless they're fucking Rambo or Hulk Hogan in Thunder in Paradise. Plus, the way he holds his uzi is all wrong. Even I, a neophyte when it comes to weaponry, realize his hands would get melted off by holding his gun the way he does. He's so miscast and so utterly unthreatening, I'm pretty sure resident Deep Core nerd Hippy could take him.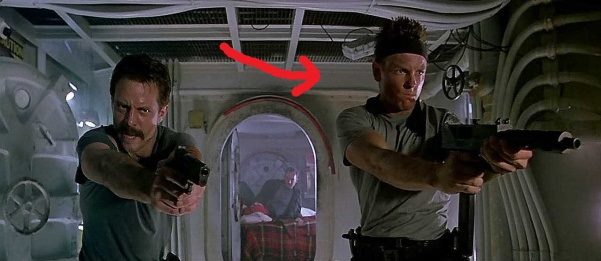 I've searched through dental records, DNA, and hired private detectives in a hope of connecting Murphy to Cameron in some way, but can find no reason why the hell he got cast. It's a damn mystery to me.
Anyway, the film does work, but the inclusion of aliens along with the Navy conspiracy does make for a complex soup. There are a lot of elements of play. And you could also be forgiven for thinking this is James Cameron's turn at doing the friendly alien thing, like ET, Cocoon, or Starman. Some people might roll their eyes at the end and say "oh, it's one of those films".
I think most people were expecting to see evil aliens, like the xenomorph or something. Maybe people want to see horrific, evil shit just so we kind of forget that we're the biggest assholes in the universe. However, despite how pleasant and kind Cameron's sea aliens appear, do they ever, at any one point say sorry for causing the submarine to go down in the first place? Nope. Dicks.
The Abyss is a solid movie. The end could be taken as a bit too sweet for some, but the overall product is good. There's a ton of tension, great production values, lots of paranoia, kind of like The Thing underwater. Apparently, it was a nightmare to get made, with Ed Harris nearly dying at one point, punching James Cameron, and Mastrantonio storming off the set after hours of being fake resuscitated. That shit is par for the course with James Cameron.
You just have to remember; The Abyss may be the black sheep, but it's still well worth your time.
We Liked
Strong casting, especially Michael Biehn and an unlikely leading man in the form of Ed Harris
It's typical James Cameron - authentic and well realised
Tension filled, with paranoia seeping in all seams
We Didn't Like
Fails to tick the boxes needed for a successful submarine movie - no periscope?!
Navy SEAL member Schoenick. Everything about him.

Man on a Ledge is full of missed opportunities. It's an entertaining, throwaway popcorn thriller, but will be forgotten after a good nights sleep.

Gritty, grimy and grim, Gone Baby Gone is a superior crime picture.