The Details
Release Date
7th January 2019 (UK VOD Premiere) 14th January 2019 (UK DVD Release)
Synopsis
The lone surviving thief of a violent armoured car robbery is sprung from a high security facility and administered an experimental drug.
Starring
Sylvester Stallone, Meadow Williams, Matthew Modine
Ever walked into a room and forgot why you went in there? How about robbed an armoured car, stashed the money somewhere, get betrayed, sustain an almost fatal head injury which leaves you with amnesia? That's the predicament found within Backtrace, a sluggish crime thriller that forgets the intentions of its genre.
Matthew Modine stars as Macdonald, the lone survivor of a robbery gone wrong. He's eventually caught and put into a prison psychiatric ward with no recollection of the crime he committed. Seven years later, a fellow inmate (Ryan Guzman) and ward doctor (Meadow Williams) approach him with a seemingly too good to be true offer – to get him out of prison and help him remember where he left the money. The only catch is he must be injected with an experimental serum to kick start the pistons of his rusty memory banks.
Obviously, he takes them up on the offer and when Skyes (Sylvester Stallone), the lead detective on the case, hears of the audacious escape he ups the ante in catching Macdonald to put him back behind bars before the criminal gets to the money and evades capture for good.
Backtrace gets straight to the point with an aimless shootout within the first five minutes. Unfortunately, this is a false indication of what's to come for the next 90. What follows is a dull and achingly slow unfolding 'mystery' filled with blue tinged, motion sickness inducing flashbacks that don't reveal anything particularly interesting. There's nothing dramatic about the unseen robbery itself, nor are the few twists enticing enough to make this a story worth telling in the first place.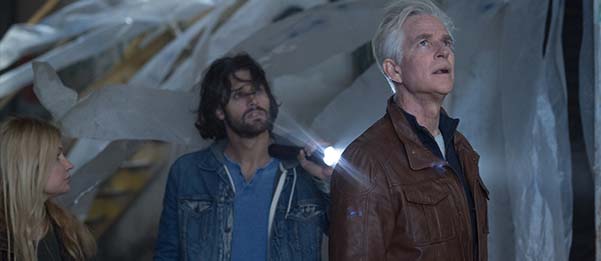 Credit where it's due though: Modine gives his wafer thin character more acknowledgement than it deserves, even pushing it to a point of seeing potential in his plight. After the amnesia and thanks to Modine's performance, Macdonald appears to be a regular law abiding citizen that you could maybe sympathise with, which could raise the question of whether a life of criminality is ingrained in a person or if it's a conscious choice. Disappointingly, it's a route that isn't explored so instead we're left with a top notch performance woefully restricted by a
Stallone's stony-faced Sykes appears every twenty minutes or so for a couple of seconds to remind us he's even in this thing and puts in an uninterested, feet dragging shift for what is likely to be an eye-wateringly handsome paycheck, while Christopher McDonald (better known as Happy Gilmore's pro-golfer rival Shooter McGavin) matches Modine in giving an impressive turn as FBI Agent Franks, one that is also undeserving of the bare bones script.
If it wasn't for the inclusion of the big name of Stallone, Backtrace would be a perfectly serviceable TV movie found on the likes of Free-To-View, testosterone fuelled channels like Movies 4 Men. Ironically, Stallone was probably used to drive more people to watch it, when ultimately  he's one of the reasons why it should be avoided. The humdrum story doesn't help either, but strong and enthusiastic performances from Modine and McDonald mean Backtrace isn't instantly forgettable – but you're unlikely to give it a second thought after a few days.
We Liked
Modine and McDonald's performances
We Didn't Like
Stallone's just here for the money
Bland locations of empty houses, disused factories and fields.
Story unfolds incredibly slowly with unsatisfactory payoff