The Details
Release Date
2nd April (UK Blu-Ray & DVD Release)
Synopsis
Class 1-A made a name for themselves after facing The League of Villains, but an even greater challenge is about to begin. These young heroes will now fight students from other classes in the world's biggest Quirk competition-the U.A. sports festival! With dreams at stake and friends turning to adversaries, Deku will give everything he's got in his grand debut as the world's next symbol of peace.
Starring
Daiki Yamashita, Kenta Miyake, Nobuhiko Okamoto
Runtime
300 mins (12 episodes at 25 mins each)
Getting bored of the traditional super hero action movies and cinematic universes? Would you like to see powers interact in a real-world environment? Fear not citizens because My Hero Academia Season 2 is here!
Having been a big fan of anime as a child, innt years I've fallen out of touch with new releases and not really found something that hits the same spot as Cowboy Bebop and Sailor Moon.
This changed when I was introduced to Season One of this bittersweet yet colourful and action-packed offering based on Kohei Horikoshi's manga from Weekly Shonen Jump. Follow Izuku 'Deku' Midoriya and his fellow heroes from Class 1-A they compete in the U.A High School Sports Festival.
Born into a world where over 70% of the world's population has superpowers (known as 'quirks') and being a hero is a legitimate career path, Deku remained 'quirkless' in Season One whilst chasing his dreams of enrolling into U.A High School and being the next top hero just like his ultimate idol All-Might. Season Two sees us following him straight after where the last season left off. After being bestowed the 'One for All' quirk from All-Might himself and facing off against the League of Villains who broke into U.A, Deku faces against his fellow classmates in sports festival televised to the world in order to gain sponsorships and scholarships towards his hero career in the future.
It is a beautifully written piece of anime giving full development to many supporting characters outside the main protagonists. As many anime fans will vouch for, usually festivals and contests are reserved corrupted episodes when the anime has to catch up with the manga or the well of ideas has run dry. In My Hero Academia: Season 2, this is certainly not the case. Several of the other students such as Todoroki, Iida and Bakugo are given the spotlight with their chance to shine.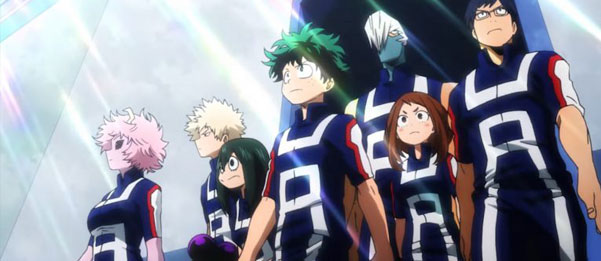 It is a show with a lot of depth and heart. What really sets this apart from other superhero-related media is the humility and the downfalls of the student heroes in question. We see movie quality backstory of Todoroki and his relationship with his father Endeavour (the second-best hero after All-Might). It is storytelling at its best and this direction could have easily run over more episodes and been given a season of its own.
The quirks on show are really different to the usual powers we imagine ourselves to have. Characters like Uravity and Froppy really stand out as they have the powers of zero-gravity and a frog respectively.
Some of the action sequences are as good as classic anime such as Dragonball Z and Full Metal Alchemist and they really have an equal mix of old and new animation styles and techniques.
For the first twelve episodes of a new season, this really packs a lot in for the small time each 20-minute episode occupies. We see Deku grow even more into the hero he wishes to be, whilst he can only use the full power of his strength for specific moments resulting in damage to the part of the body used, he is very smart and careful with how he uses this within the environment around him, and contributing to 13 notebooks of which he observes fighting styles and weaknesses of each hero and fight he witnesses.  Deku shows a distinctive attitude to saving and helping everyone he encounters. That is his only motive and it works and is fully believable on screen.
Christopher Sabat gives another star vocal performance as All-Might, the world's greatest hero who was left terribly injured after a fight with a villain, meaning he can only use his quirk for three hours a day – a secret only known to a few in order not to destroy the sense of peace and protection he brings to the world. A particular reoccurring piece of the score I really enjoy is You Say Run! which usually follows an All-Might entrance of the height of a battle.
Teamed with an emotive soundtrack and opening/ending themes which will stay in your head for a while (I have now added them to my Spotify) the only suggestion I can make is that future episodes and seasons include more episodes which focus purely on a singular character and their own personal journeys. Like I've said previously the different quirks featured include dark shadow, acid, invisibility, hardening and powerful earlobes all which I am interested in learning more about.
Whilst the future story and plot devices seem predictive for usual fans of anime, it isn't really a big concern of mine. I love the characters, I love the sound and colour design, so I like that I can relax a bit in this colourful universe and focus my concentration on other aspects.
The opening narration tells me that Deku is going to be the best hero in the world and overtake All-Might, so I know this is coming, hence I can enjoy other moments and secondary storylines.
One of the standout moments for me comes when Iida tells Deku why he cannot join his team for the second round of the sports festival. Although he considers him as a friend, he needs to be testing and bettering himself and be around a variety of other student heroes. For a character like Deku who plans and thinks logically about everything, Iida not joining his team is a surprise and a challenge he must overcome. As a fan of Season One, it is great to see the unusual combinations and formations of the characters in the multiple rounds of the sports festival.
Overall, this is an enjoyable anime that I certainly see becoming a challenge modern classic if it keeps up the animation quality and emotional pacing it has built up and displayed already. It is a different, more down to earth take on the superhero genre and shows off the highs and lows of each character equally.
My Hero Academia: Season 2 (Part One) is available to pre-order now from Zavvi on Blu-Ray and DVD for an April 2nd UK release date.