The Details
Release Date
15th October 2018 (UK VOD Premiere)
Synopsis
A romantic escape into nature turns into the ultimate moment of reckoning when a husband and wife are trapped in a tent with a deadly snake. Unable to escape and with certain death looming, the tent becomes a heated confessional to a cataclysmic truth. Betrayed, the couple finds themselves spiraling into a dark and dangerous space of which only one can survive.
Starring
Tom Ainsley, Sarah Dumont, Nicole Johnson
I've never had a fear of snakes. But then, I've not been trapped in a tent with one of the World's deadliest species either. In Amanda Evans' suffocating Serpent, this is exactly the the slithery situation that married couple Adam and Gwynneth find themselves in.
On the verge of being outed as a cheat by her bit on the side, Gwynneth (Sarah Dumont; Scouts Guide to the Zombie Apocolypse) joins her husband Adam (Tom Ainsley) on a wildlife research expedition, preferably to get away to a place with no phone signal. They find a secluded spot, complete with relaxing waterfall and swimming hole, and set up camp for the night. A late night jaunt outside by Amanda results in a Black Mamba snake getting into their tent, which is only discovered after Amanda has returned, lay back down and zipped up the front. Unable to move due to the fear of being bitten, revelations about their crumbling marriage emerge – and so does the horrifying truth that it's not just the snake that's venomous.
Reading the synopsis, I was admittedly sceptical about this premise. 'A snake? In a tent? Just throw the duvet over it and scarper out of there', I thought. What I didn't take into account was the sheer size of this thing; a painstakingly long take of about 30 seconds displays just how big this thing is as it stealthily glides around the canvas shelter. You could throw the whole tent over this Daddy Mamba and it would barely cover half of it. Also, it's one of those 'you wouldn't know what to do until you were in it' situations; just last week, I was trapped in my kitchen for a solid hour because there was a spider on the other side of the door.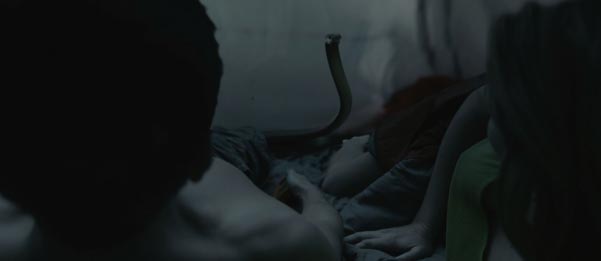 Very similar predicament to this one, I know, but Amanda Evans' claustrophobic direction of Serpent inserts you right in the cramped setting with them. Being over 6 foot tall, tents aren't really somewhere I feel comfortable in as it is, but throw in a snake with a lightning-quick strike whose venom could kill you in less than 20 minutes, and the idea of the film doesn't sound so silly now.
It's hard to feel any sympathy for Sarah Dumont's Gwynneth though; it's almost as if karma struck committing adultery. Dumont is fantastic here as the remorseful cheating wife, but her attempts to make amends feel too little and far too late. Tom Ainsley as her in-the-dark husband is equally great as his life unravels while he's unable to move thanks to the snake lying on his chest. The added element of internal hostility between Tom and Gwynneth gives the film additional life between scenes of the pair wondering where the snake is, but I wasn't a huge fan of the way this narrative strand culminates.
Much like the audio-reliant tent sequence in Bobcat Goldthwait's found footage Bigfoot movie Willow Creek, Evans utilises her minimalist setting to maximum effect. A dizzying cycle shot from inside the tent to under it and back again is impressively performed and through the slightest of movements or glimpses of the snake's tail we're always aware that the threat has never left.
So look past Serpent's disputable setup and due to inventive direction and strong performances, there's a tightly-wound thriller to sink your teeth into.
Serpent is available to buy on iTunes, Amazon, Google, Microsoft, Sony and Sky Store from 15th October 2018
We Liked
Evans' direction confines you right in the tent with them
Great performances
Inventive shots
We Didn't Like
Subplot of the cheating gets a little silly