The Details
Release Date
6th September 2018 (UK Premiere)
Synopsis
After dying from a strange illness that she suffered for 3 years, a mother returns home to pick up her children.
Starring
Bront Palarae, Tara Basro, Endy Arfian
Little is known about Indonesian horror films in the west, even to self confessed horror fanatics the usual go-to countries for foreign frights are Italy or Japan. Even trying to research it's history turns up mostly dead ends. So it's no surprise the Southeast Asian nation is not the most prolific in terms of output, having been creatively stifled by years of political unrest and long periods of dictatorship. But even from the early 80s there have been examples of a unique horror film identity from Indonesia with films like Mystics in Bali (1981), a film about a witch that couldn't be further removed from our own broom riding, pointy nosed deviants.
From the mid 2000s a steady revival has taken place in the countries horror scene. Films like 2009s Macabre and The Forbidden Door have proved that Indonesian film-makers are offering a fresh perspective on the genre, and one of it's latest releases is the subject of this review: Satan's Slaves.
Actually serving as a prequel to a 1982 film of the same name, Satan's Slaves was the most viewed film of 2017 in it's home country, once again proving the countries appetite for scares. The story follows a family living on the outskirts of Jakarta who are caring for their terminally ill mother (Ayu Laksmi). As her condition deteriorates, a series of ever increasing supernatural occurrences begin to fall upon the house, and things only get worse when the mother passes away early in the film. Sole daughter Rini (Tara Basro) and eldest son Tony (Endy Arfian) begin to investigate and start to uncover some dark secrets their mother was hiding.
The film wastes little time setting an unnerving mood, quickly establishing likeable characters with well written dialogue but also hitting you with some brilliantly controlled scares. Even it's opening shot coming back to haunt later on. There is an expert precision in these early scenes, and whilst they might contain clichés like a dream sequence or the servants bell the mother used to ring for assistance, they work surprisingly well due to the patient set-up employed by director Joko Anwar.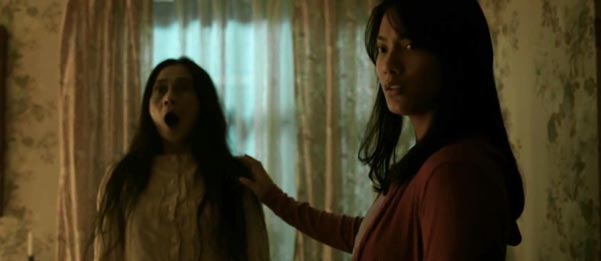 The tension steadily ramps up once the mother passes away and the father (Bront Palarae) has to leave to sort out house finances. Creepy old records the mother sang on before falling ill become the soundtrack to the house, and hanging pictures in the dark transform into nightmarish portraits. It's sharply paced and contains some genuinely terrifying scenes that truly gave me the shivers, both of the jump scare and slow build variety. It's also a relief then, that the child actors in many of these scenes are surprisingly excellent, adding a certain Steven Spielberg/Stephen King feel to the proceedings.
It must be said though, that whilst the tension and scares are extremely effective, they certainly aren't original. As well as the Spielberg/King influence, you can certainly feel the looming presence of Hollywood horror giant The Conjuring too. However, the cultural differences do avoid this feeling too much like a retread. It's interesting to see from Indonesia for example, a predominately Islamic country, a horror film teaching moral lessons regarding the dangers of turning your back on religion. Something that our own cinema (and that of the USA) has a vast history with in relation to Christianity.
So far I have been very positive as to Satan's Slaves, but unfortunately readers, there is a catch. The latter half of the film does start to feel a little repetitive. The scares come more and more frequently, becoming predicable and less effective. Camera tricks are reused, the plot starts to tangle within itself, and the climax of the film, whilst a entertaining spectacle, really cheapens the story. It's thankfully entertaining still, and there are some aspects like the umbrella holding cult members seen on the posters, that make a striking image. But the knife edge tension created in the first act is long lost.
The technical components of Satan's Slaves are very sound. The score has some interesting and effective compositions using what I imagine are traditional Indonesian instruments, but at the same time relies on the cliché 'rising violin strings' too often. Cinematography is solid all around, with light being well photographed and never looking flat, and scenes shot at night are never too dark. A mostly slick package.
We Liked
Some extremely tense and frightening scenes
Promising and intriguing setup
Well acted all around
We Didn't Like
Peaks too early
Finale is fun but derivative
Relies on clichés