The Details
Release Date
6th October 2018 (Grimmfest Northern Premiere)
Synopsis
When Simon brings his twelve year-old son, Finn, to rural Vermont to help flip an old farmhouse, they encounter the malicious spirit of Lydia, a previous owner. And now with every repair they make - she's getting stronger.
Starring
Arija Bareikis, Alex Draper, Zach Jette
"You have to look at it like you're looking at something from far away, even though it's up close."
So says young Finn when describing the Magic Eye image that hangs in his new bedroom to his bewildered father Simon. It's also a statement that can easily be applied to The Witch in the Window, a quietly dramatic and absolutely soul-shaking horror from Andy Mitton.
Simon (Alex Draper) is a house flipper. He buys banged-up properties cheaply, renovates and sells them for a profit. When an opportunity arises for him to remodel a house in rural Vermont, he brings his 12-year-old son Finn along in an attempt to bond with him.
Almost instantly, the pair notice something's not quite right with the house due to sinister sightings and knocks in the wall. It's not long before a run-in with a nearby neighbour sheds light on the mysterious goings on. He tells them the house was previously owned by a woman named Lydia, an infamously cruel woman who would simply sit at the first-floor window looking out. It's there, in the chair, where she died and her spirit is said to have remained.
Incredibly, the father and son combination discover that with every successful job completed as part of the renovation, Lydia's spirit grows stronger. This disturbing revelation brings with it another, far more alarming speculation: what is in store for the duo when the house is at full repair?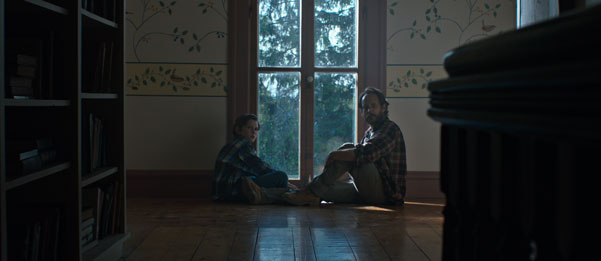 Much like the recent offerings of Hereditary, The Babadook and, indeed, The Witch, The Witch in the Window's horror elements are there to compliment a more dramatic and deeper narrative. Here, the central story is the fractured relationship between adolescent Finn, his father Simon and his estranged partner Beverly.
Finn, stuck in the middle of the parental battle while at a pivotal moment of his life as he teeters on the brink of his teen years, is beginning to ask difficult life questions as well as shouldering a predictably troublesome attitude. Simon, who has largely been absent from Finn's life as of late, sees the six week restoration project as the perfect way to reconnect with his son and prove to Beverly he can be the provider for the family.
The leads of Draper and Tacker have chemistry that is undeniable here, with Draper's subdued and naturalistic performance as Simon being a key attribute to the film's impact. The young Charlie Tacker is wonderfully inquisitive and equally stroppy as Finn, but ultimately the pairing are an absolute joy to watch.
Of course, the fixing of the house correlates with the mending of their relationship too and there are further concealed themes that eventually begin rising towards the end of the film. They're never too pretentious though or get too complex and The Witch in the Window can easily be enjoyed by not looking too closely, like I said, as if it were a Magic Eye picture.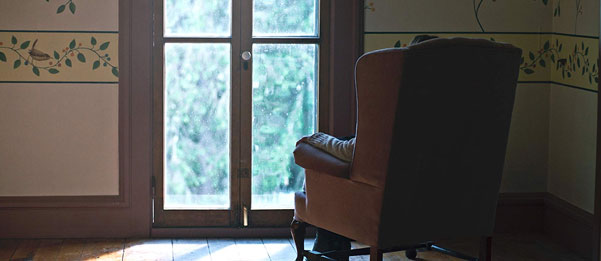 But you're here to know about the horror, aren't you? Thankfully, The Witch in the Window succeeds where many claim the aforementioned films do not; Mitton's creation provides chills that will give you frostbite. My neck aches from looking over my shoulder and I've spent the day closing all the curtains. The image of Lydia will put goosebumps on your goosebumps – especially the first time we see her gaunt, emotionless gaze as it peers from the huge first-floor windowpane.
The Witch in the Window doesn't resort to cheap jump scares from this point either, even though it so easily could. Instead, Mitton keeps us on our toes by inserting distant glimpses of Lydia in scenes where you least expect it.
Heartfelt conversations between Finn and Simon are voyeuristically watched over by the haunting figure giving them an infinitely more foreboding tone. She is used sparingly, but Mitton's direction leaves enough breadcrumbs for us to certify she's always there. But it's a sequence in the second act that will really shoot shivers down your spine and send your stomach to your feet.
This is truly masterful horror film-making that excels because of the care and attention given to the characters on screen, an intriguing narrative and frightening but disciplined use of its antagonist.
We Liked
Relentlessly unsettling
Rich, multi-layered narrative makes the horror even scarier
Wonderful chemistry from both leads