The Details
Release Date
8th August 2020 (UK Theatrical)
Synopsis
A man providing overnight watch to a deceased member of his former Orthodox Jewish community finds himself opposite a malevolent entity
Starring
Dave Davis, Menashe Lustig, Malky Goldman
When it comes to religion in horror, Christianity seems to get all the glory. The Omen, The Exorcist, Stigmata, Bless The Child and Prince of Darkness to name a few. In Keith Thomas' The Vigil, however, it's Hasidic Judaism and its practices which gets a sinister spin.
Disillusioned with his faith after a personal trauma and low on money, Yakov Ronen reluctantly takes on the job of being a 'Shomer' for a recently deceased Jew. This traditional task requires those responsible to watch over the body until its time of burial. Having been a Shomer many times before, Yakov settles in for an uneventful night, only for things to take a terrifying turn when he finds himself tied to a malevolent entity known as a Dybbuk.
Straight out the gate, The Vigil impresses by having a fresh premise. Judaism isn't an entirely neglected area for horror, with one of the earliest of the genre in 1915's Der Golem being about the mythical Golem legend and 2012's The Possession featuring a Dybbuk Box too. But it's rare to see a contemporary horror dive head first into this particular religion. As such, the whole film intrigues as it unfolds oft undiscovered lore to a mainstream Western audience.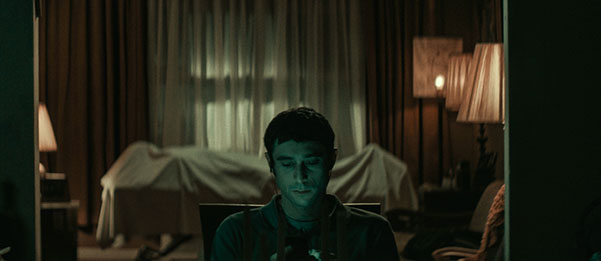 Cleverly intertwined with the supernatural goings on is some inner turmoil for our stricken protagonist Yakov, played by Dave Davis. It's not the most original of troubles, and the decision to communicate it in fragmented flashbacks is a misstep in my opinion, but Davis excels here and accurately conveys the range of emotions necessary for his unforgettable evening of evil looking over the deceased.
The Vigil works best when it's a simmering, suggestive mood piece which, fortunately, is the majority of its 90 minute runtime. Its set up and most of the second act is exceptionally tense as it employs method such as letting the camera linger for an uncomfortable amount of time on the corpse covered by a sheet. Fans of the 2016 sleeper hit The Autopsy of Jane Doe will find much to enjoy in these moments of anticipation. It's predominately set in one location too, a cramped elderly couple's front room, and I especially enjoyed how Davids and cinematographer Zach Kuperstein find a plethora of ways to film this area and still provide effective chills from doing so.
Unfortunately, while it may have helped with its distribution and marketing, the involvement of masters of low-budget/high return Blumhouse Productions is a big part of The Vigil's flaws. It is plagued with unnecessary, deafeningly loud jump scares that the company is known for which are completely at odds with the superb slow burn build up it spent so much time crafting. The Insidious meets Elm Street finale may divide opinion too. I'm in the mind of it being rather anti-climatic, whereas fellow RA Reviewer Oliver is more on the side of it being a satisfyingly symbolic conclusion.
The tone of The Vigil can be summed up by its schizophrenic score. It ranges from the ominous underlying menace heard in It Follows to the punch-to-the-face WAAAHHH of War of the Worlds with very little in-between.
Nevertheless, it remains an effective chiller and The Vigil should be commended for its ambition in telling a familiar story by treading through unexplored grounds.
We Liked
Dealings with Hasidic Judaism feel fresh
Atmospheric first half with a palpable eerie mood
Dave Davis is a fantastically emotive lead
We Didn't Like
Unnecessary and deafeningly loud jump scares cheapen the picture
Flashback approach is cliched and outdated
Finale feels anticlimactic

An intense, electric thriller and a razor-sharp commentary on the frailty of our online personas, Cam is another Blumhouse success story driven by Madeline Brewer's fantastic lead performance.