The Details
Release Date
7th August 2020 (VOD Premiere)
Synopsis
A widow struggling to get by meets a stranger who subscribes to a philosophy of positive thinking.
Starring
Katie Holmes, Josh Lucas, Jerry O'Connell
Based on the groundbreaking best-selling book about the law of attraction by Rhonda Byrne, The Secret: Dare to Dream follows Miranda (Katie Holmes), a young widow trying to make ends meet while raising her three children and dating her boyfriend (Jerry O'Connell). A devastating storm brings an enormous challenge and a mysterious man, Bray (Josh Lucas), into Miranda's life. Bray reignites the family's spirit but, unbeknownst to Miranda, also holds an important secret — one that will change everything.
The Secret: Dare To Dream is essentially a rainy afternoon TV movie with the benefit of branding. The plot stakes are low, with the biggest issue coming from a fallen tree as a result of a tropical storm. The message from the book, which boils down to 'you attract what you think', is conveyed accurately and for all its schmaltz it's actually refreshing to see so much positivity being promoted.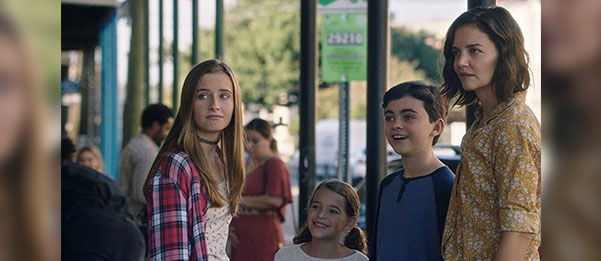 A large chunk of its success is due to the warming presence of Josh Lucas as Bray. His introduction usually results in the kind of films where a seemingly perfect man comes in to torment the family (The Stepfather, for example) but Bray remains pure of heart throughout. The level of help he provides Miranda, for seemingly no personal gain in return is unusually high, but it's all part of The Secret's message of positive thinking. When Bray's motives are finally revealed, and not a moment too soon with the film admittedly beginning to drag at the hour mark, The Secret begins to make much more sense and ultimately more enjoyable.
Katie Holmes'  plays an exasperated Miranda, a woman who could do with some good luck. I liked how she never felt truly helpless, just that she needed a nudge in the right direction. To change from 'It can always be worse' to 'it can and will get better'. Holmes and Lucas' chemistry is wonderful and even as friends there's an undeniable spark of romance between the two – much to the misfortune of Miranda's mega-rich boyfriend and boss Tucker. Maybe he could use some help from The Secret's philosophy himself.
Bekah Brunstetter's adaptation surprisingly isn't as hokey as you'd expect from reading the synopsis. It's about as subtle as the daily emails I receive from signing up to The Secret years ago, with its dialogue filled with empty platitudes and tired adages. Even so, I was still mostly on board with what it was offering. I just wish it didn't focus on using the self-help method to obtain material gains and instead emphasised its uses in spiritual contentment.
The Secret: Dare to Dream is available to rent for £13.99 through On Demand platforms such as Sky, Amazon, Apple, Google, Virgin, Talk Talk, Chili TV, XBOX, Sony PS, Rakuten and Showcase At Home.
We Liked
Holmes and Lucas' chemistry
Refreshingly positive message
We Didn't Like
Characters goals are too materialistic
A TV Movie at heart with the benefit of The Secret branding
Plodding pacing in the second act