The Details
Release Date
29th October 2018 (4K Blu-Ray Restoration), 6th November 1980 (UK Theatrical)
Synopsis
An unearthly fog rolls into a small coastal town exactly 100 years after a ship mysteriously sank in its waters.
Starring
Adrienne Barbeau, Jamie Lee Curtis, Janet Leigh, Tom Atkins
"11:55… Almost Midnight. Just time for one more story, before midnight. To keep us warm", promises Mr Machin as he tells campfire tales to a small group of young children suspiciously out way past their bedtime.
Mr Machin then proceeds to tell them about the events of the 21st April 1880, when a mysterious fog appeared from nowhere and engulfed a small ship. Seeing a small light on the shore, the captain steered his vessel towards it – only to discover it was campfire much like the one the group are surrounding, crash on the rocks, sinking and killing all those aboard. As quickly as the fog appeared, it lifted and was never seen again.
Since then, the story of the fog has been passed down through generations with the warning that if The Fog were to appear once more, it would bring back to life the ill-fated sailors who would search for the campfire that caused their deaths.
Of course, he's telling this spooky legend five minutes before the 21st April, exactly 100 years later, to really give these kids the heebie-jeebies. Pretty reckless and fiendish behaviour from a man who should know better, but even more so when his folktale of a rapidly developing fog becomes a terrifying reality for the residents of the small coastal town of Antonio Bay only a few hours later.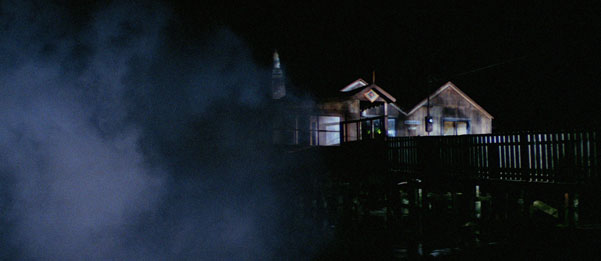 The mysterious events begin small – a broken window here, a smashed clock there – but when bodies start piling up, some of the townspeople affected, including Stevie Wayne (Adrienne Barbeau; Escape from New York, Argo) a radio host broadcasting from the lighthouse and Elizabeth Solley (Jamie Lee Curtis; Halloween, True Lies) a promiscuous hitch hiker, quickly realise there's more going on than shoddy glass installation and their quaint little land they call home hides a dark and bloody secret.
So begins John Carpenter's 1980 yarn The Fog, now with a glorious 4K restoration and an extra disc brimming with special features. Released less than two years after his phenomenal Halloween, expectations were understandably sky high for John Carpenter's follow-up. Within the first five minutes though, it's as clear as day that the two would be vastly different. Straying from a more human, believable story of a cold-blooded serial killer, Carpenter opts to tell a traditional ghost story rather than stalking familiar slasher ground.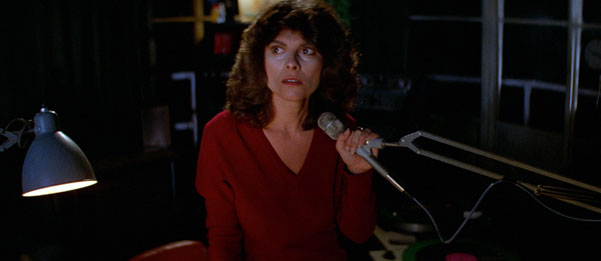 Admittedly, the story of The Fog is as silly as it sounds. A dense fog filled with sword-wielding pirates was never going to be a career pinnacle, but there's still a lot to admire about its production, especially its synth-driven score and sublime practical effects. Halloween may have the more memorable main theme, but for me The Fog's music is infinitely more effective as a moody, electric accompaniment as its drawn out notes seep in and out of the picture much like the titular cloud.
Having starred in Carpenter's smash-hit Halloween, Jamie Lee Curtis returned for The Fog in a lead role, but playing a character whose morals were polar opposite to Laurie Strode's. Maybe it was to differentiate her from that of the squeaky clean (apart from the smoking in the car, obviously) babysitter, but here Curtis' character hops into bed with the first guy who picks her up while hitch hiking – and with a fancy new haircut too. Frequent horror star Tom Atkins (who would later go on to steal the show as no-nonsense Detective Ray Cameron in the 1986 B-Movie homage Night of the Creeps) is the man in question here named Nick Castle (if you know, you know) and the pair make an adequate couple.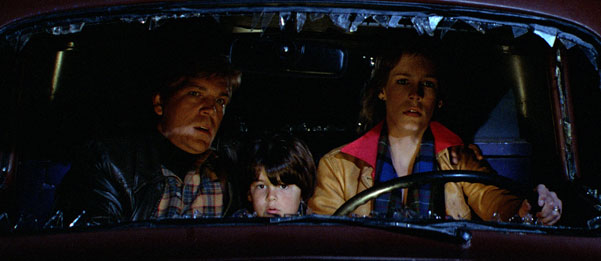 Adrienne Barbeau as radio host Stevie provides the film with one of the most memorable scenes in which she is helpless as her young son becomes engulfed by the fog. Curtis' mother Janet Leigh also stars as the town's Centennial Celebrations overseer, and the genetic duo have a few sweet moments together on screen. Hal Holbrook is a standout performer here as priest Father Malone, a man who knows what's going on long before everyone else does.
My main issue with The Fog though is not with the performances, all of which are perfectly fine, but it feels like there's too many characters crammed into the story. Carpenter and Debra Hill's script jumps around to so many different stories of trapped townsfolk, it's hard to feel any connections with any of them.
Being filmed in 1979 meant visual effects created with computers were largely unheard of, so Carpenter and his crew, essentially the same team that worked on Halloween, came up with imaginative and practical solutions to on-screen illusions; the fog, for example, required man-made creation and manipulation to create the desired result and the method they employed to depict it rolling over the sea into the Bay is nothing short of genius.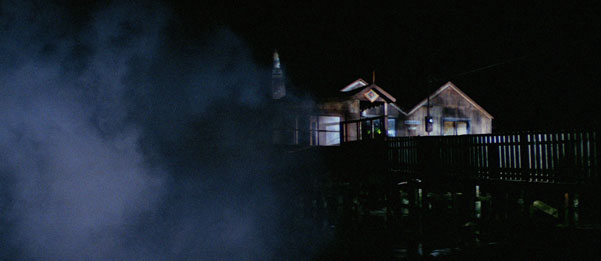 The making of The Fog, and indeed the approach taken to achieve the aforementioned shot, is chronicled in the brand new 45 minute documentary Retribution: Uncovering John Carpenter's THE FOG which breaks down various aspects of the production including the cast, the script, the effects and so on. Featuring interviews with key crew members such as Cinematographer Dean Cundey and production designer/editor Tommy Lee Wallace, it will no doubt give you a greater appreciation of the effort that went into making it, regardless of how you feel about its plot.
There's an intriguing little featurette called The Shape of The Thing to Come: John Carpenter Un-filmed, in which a John Carpenter biographer recounts the production woes of various projects that Carpenter was attached to. It's a fascinating if brief look at what could have been and potential career paths Carpenter could have taken if some of his films, now regarded as cult classics, were as popular upon release as they are today.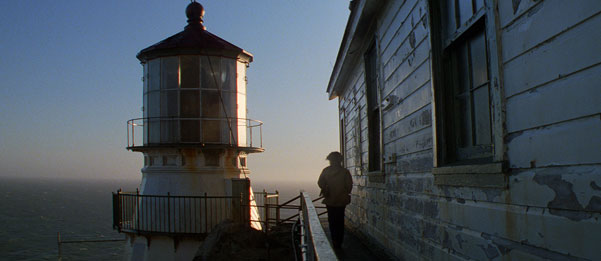 Other special features include short, previously released interviews with Carpenter from 2003 in which he basically goes over the same points made in the new making-of documentary, albeit with a little more blunt honesty towards the project at times. Optional audio commentary is provided by Carpenter and Debra Hill There's the usual fare of Theatrical Trailers, Stills, Outtakes and the like but the main selling point for the extras is undoubtedly Retribution. The Collectors Edition of The Fog release also includes a CD of the soundtrack, 5 art cards, the beautiful new poster, and a 48 page book.
Out of all the John Carpenter restorations (Escape from New York, Prince of Darkness and They Live), The Fog seems to have benefited the most. It's been claimed that The Fog hasn't had many theatrical re-runs due to faded, unwatchable prints and I can believe it. Thanks to this lovingly restored version, the blacks are darker to accentuate the white fog as it ominously glides through every nook and cranny and the daytime shots on the beach have the appearance of being film just last week. Antonio Bay has never looked clearer or sounded more crisp and with the colour grading getting the nod of approval from original Cinematographer Dean Cundey himself, you don't just have to take my word for it.
The Fog Collectors Edition is now available to pre-order from Amazon: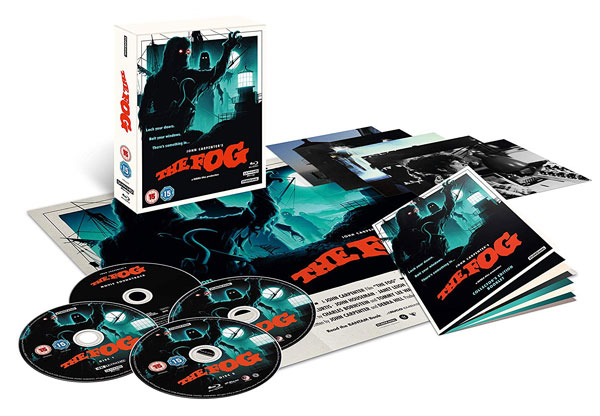 Collector's Edition Blu Ray Extras:
Retribution: Uncovering John Carpenter's THE FOG: A brand retrospective documentary produced by Ballyhoo Motion Pictures and featuring interviews with cinematographer Dean Cundey, production designer/editor Tommy Lee Wallace, photographer Kim Gottleib-Walker, make-up effects artist Steve Johnson, Carpenter biographer John Muir, music historian Daniel Schweiger, visual effects historian Justin Humphreys and assistant Larry Franco
The Shape of The Thing to Come: John Carpenter Un-filmed: A brand new featurette looking at the John Carpenter films that never were
Easter Egg – surprise!
Intro by John Carpenter – an interview with director John Carpenter originally recorded for a French DVD release in 2003
Scene Analysis by John Carpenter – Director John Carpenter analyses key scenes from The Fog, in an interview from 2003
Fear on Film: Inside the Fog (1980) – A vintage featurette which includes an interview with John Carpenter
The Fog: Storyboard to Film – original storyboards
Outtakes
TV Spots
Theatrical Trailers
Photo gallery incl. Behind the Scenes
Audio Commentary with writer/director John Carpenter and writer/director Debra Hill
Horror's Hallowed Grounds with Sean Clark – a fun tour of the film's locations hosted by Sean Clark
Audio commentary with actors Adrienne Barbeau, Tom Atkins and production designer Tommy Lee Wallace
We Liked
Eerily atmospheric tone
Sublime synth score by Carpenter
Genius practical effects
Old fashioned ghost story for an Autumn evening
We Didn't Like
Story is a little silly
Too many characters
Stakes are low
Forty years later, the supposed final showdown between Laurie Strode and Michael Myers is thirty minutes of a great redemption movie choked by an hour-long forgettable conventional slasher that lazily mimics the original.

With minimal blood or gore, Halloween is still one of the scariest films of all time thanks to its deliberate dread filled atmosphere and, of course, Michael Myers.