The Details
Release Date
25th February 2019 (UK Blu-Ray Release)
Synopsis
Robot teachers have been secretly placed in the schools where the students have run riot. The teachers do a good job of controlling the unruly youngsters, until they go too far and some students get suspicious.
Starring
Bradley Gregg, Traci Lind, Malcolm McDowell
Back in high school, I was terrified of getting into trouble. You could say I was a teachers pet, but none of the educators took enough of a shine to me for that to be true. I did get detention once, early into secondary school, and at the time I thought: "That's it. Cancel all my university plans. My record is blemished already so I may as well become a career criminal." I didn't, of course, but the punishment of being isolated in a room after school hours was enough to keep me on the straight and narrow.
If only the pupils in Mark Lester's 1990 sci-fi actioner Class of 1999 were as fearful of classroom custody as I was then the new headmaster of Seattle's John F. Kennedy High School wouldn't have had to resort to such extreme measures to keep them under control. Granted, the vision of 1999 that Lester paints is one of complete anarchy in and out of schools, where gang warfare in the city results in daily riots and pupils are transported into the learning establishment on a shuttle bus that resembles the reinforced vehicle from 2004's Dawn of the Dead remake. Feeling like he's completely out of options to regain authority in his school, Dr. Miles Langford (Malcolm McDowell) enlists the help of robotics company MegaTech to replace some human teachers with androids. There's the school coach Mr Bryles, History teacher Mr Hardin and Chemistry teacher Ms. Connors.
On their first day of integration, the robots react remarkably well to the unruly students. Scrolling through primitive commands a la Terminator, they decide which punishment is the most adequate for the disruption they are faced with. But it's not long before their responses are drastically inconsistent with what would normally be handed out – by which I mean they begin straight up killing students.
Cody (Bradley Gregg), a former delinquent who's fresh out of 'Juvie' and trying to break from the Blackheart gang, witnesses one of the killings but no one believes him. Can he convince the new principal that the robots are rebelling before they run uncontrollably amok?
I've got to admit, out of the three Vestron releases for February Class of 1999 sounded most appealing. I'd previously seen the satirical horror Parents and while The Unholy did grab my interest, the rampaging robots story of Class of 1999 was undoubtedly the most tantalising. Unfortunately, there's no where near the level of robot on pupil action I was expecting (although to be honest I was probably being a little too bloodthirsty), instead having far more gang-banging on show.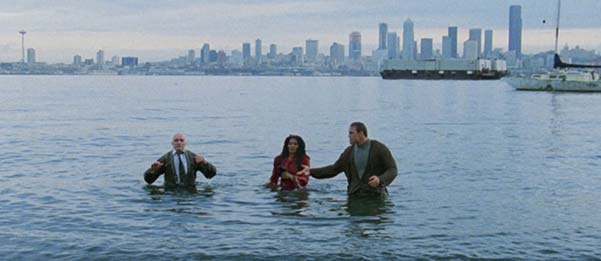 I've made it sound like smut now, but there's unquestionably more plot involving the warring factions that exist in the then-future Seattle than there is murderous faculty members. It starts so well too as we see the Teachinators (not their actual title) take their first class and the disorderly students hastily learn their new lecturers aren't messing around. From here though, the story takes a dive as it tries to build a meaningful world that is overrun with vicious gangs and the revolt of the Tutornators (also not their actual titles) takes a back seat for a disappointingly long time. In its place is a dull narrative thread of Cody trying to get out of the Blackhearts as well as battles between them and another clique known as The Razorheads. Absolutely none of the lead characters have any likeable characteristics, which makes it tough for us to care on the tragically few occasions where the Teach-1000's (again, not what they're called) administer capital punishment.
Malcolm McDowell's portrayal of a principal who is struggling to keep discipline of his pupils is genius casting given that he's arguably most well-known for playing an ultra-violent youth himself in the 1971 British crime classic A Clockwork Orange. There's a delicious irony to seeing him getting flustered and overwhelmed from being unable to contain the carnage, an irony that's not lost on McDowell himself – in an interview with screenwriter C. Courtney Joyner that's included as part of the Special Features, Joyner laughs about how McDowell made the comparison between Class of 1999 and A Clockwork Orange on set.
When the testosterone-fuelled gang fights are thankfully over, Class of 1999 delivers on its promise of malfunctioning machines in a gleefully explosion-filled finale. The special effects are fantastic too, with practical puppets and fully operating robots being used for maximum realism. It still looks as clunky as you'd expect a robot built in 1990 would look, but it's impossible not to be impressed with what Mark Lester and his crew achieved on such a small budget.
So while Class of 1999 doesn't quite graduate with top marks due to its unlikable characters and the scripts favouring of gangs over the advertised android teachers going berserk, it gets a solid grade for its handful of scenes which do live up to this assurance and a predictably fantastic turn from McDowell.
Class of 1999 is out from 25th February 2019 on UK Blu-Ray as part of Lionsgate's Vestron Collection. It is available to buy at Amazon –

https://amzn.to/2DXoCVH
Special Features
Audio Commentary with Producer/Director Mark L. Lester
School Safety – Interviews with Director/Producer Mark L. Lester and Co-Producer Eugene Mazzola
New Rules – An Interview with Screenwriter C. Courtney Joyner
Cyber-Teachers From Hell – Interviews with Special Effects Creators Eric Allard and Rick Stratton
Future of Discipline – An Interview with Director of Photography Mark Irwin
Theatrical Trailer
TV Spots
Still Gallery
Video Promo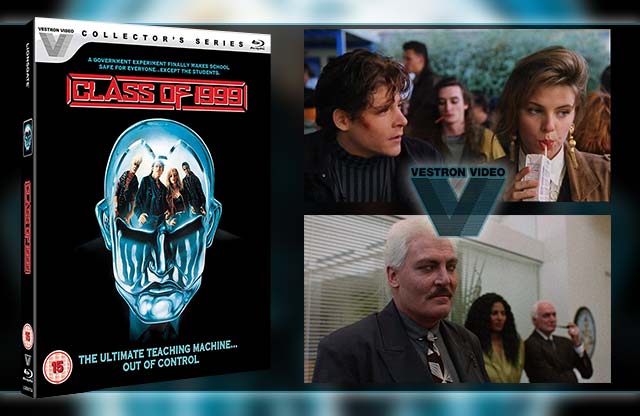 We Liked
Robots running amok as teachers on unruly students
Malcolm McDowell as the principal rather than the violent youth
Practical effects are impressive
We Didn't Like
...Not ENOUGH of the few robots running amok
Gang war narrative
With some killer tracks and dud creative decisions, American Satan ebbs and flows like the careers of countless rock bands who cruised the Sunset Strip in the 80s.