The Details
Release Date
18th February 2019 (UK DVD Release)
Synopsis
Outlaws follows the heir to the throne of a motorcycle club who has to betray his president to save his brother's life.
Starring
Ryan Corr, Abbey Lee, Simone Kessell
In Stephen McCallum's Australian crime thriller Outlaws, Knuck (Matt Nable), the President of a biker group known as The Copperheads, is on the final few days of a three year imprisonment. While inside, the VP of the organisation Paddo (Ryan Corr) has stepped up to run the show with the help of his girlfriend Katrina (Abbey Lee). But Knuck's partner Hayley (Simone Kessell) has been keeping a close eye on the pair, fearing their regime has all the makings of an uprising. As it happens, she's right to fret – Kat feels that the work they've put into the group while Knuck was away is worthy of being made gang leader.
Reporting to her boyfriend, Hayley suggests Knuck should put on a show of authority upon his return to remind the members who's boss. This violent display doesn't go down too well with those who had become accustomed to Paddo's more controlled methods of leadership, setting in motion a series of events that will inevitably culminate in a blood-filled civil war.
Wasting little time in exhibiting what's to come, Outlaws revs out of the gate with a merciless opening filled with murder, sex and a demonstration of the dire consequences of rule-breaking when involved with a biker gang. It very rarely lets up on its brutish nature, with violence usually being used as the solution to every problem. Not that I'm surprised: I wasn't expecting sit-down conversations and an amicable outcome from these boorish bikers.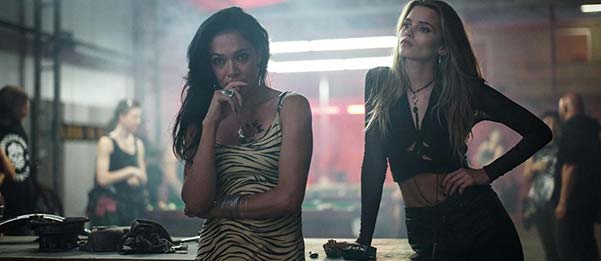 Performances from all are outstanding. Ryan Corr (Wolf Creek 2) shines as Paddo, the astute and forward thinking Vice President while on the other side of the track there's the intimidating figure of Knuck (Matt Nable, who also wrote the film) the heavily inked and muscle-bound President of the Copperheads. As the saying goes, behind every great man there's a great woman and that's certainly the case here. Abbey Lee (Mad Max: Fury Road, The Dark Tower) is terrifically treacherous as Paddo's vixen of a girlfriend Katrina whereas Simone Kessell (San Andreas) excels as the more to-the-point-of-a-blade Hayley as she stands firm as Knuck's eyes and ears while he's away. But it's Josh McConville as Paddo's brother Skink who steals the show. McConville is absolutely exceptional as he is torn between the two worlds of family and loyalty to the Copperheads, ultimately becoming a pivotal figure in the imminent tragedy that unfolds.
But for all the stellar work from the actors, Outlaws never quite knows which side of the fence it stands on in regards to its motorcycle member subject matter. It's a shame that Nable's script doesn't get stuck in and make a case for condoning or condemning the organisations, instead opting to straddle the kickstand-supported Harley at the back and neutrally observe while the thuggish bullies tear themselves apart. There's a distinct lack of substantial insight into the workings of the characters too, even though there's a wealth of untapped potential in revealing what makes their engines rev. Knuck is an especially frustrating case, as there are plenty of opportunities presented for us through his actions to either sympathise or despise him.
I would have liked to have seen some backstories as to why some of the lead members joined in the first place and it no doubt would've gone a long way in creating a standout protagonist; Skink is the one character that appears to be in the club through no choice of his own so it's tough to feel anything other than apathy towards these men who have put themselves in a treacherous position of being part of an outlaw gang which they knew the possibly fatal consequences of its membership.
Still, the tremendous performances of all involved and the brutal albeit surface-level look at the dangers of loyalty in a criminal enterprise makes Outlaws a worthwhile ride and if there's any justice should paint director Stephen McCallum as a wanted man for projects of a similar ilk.
We Liked
Outstanding performances
A modern take on an age-old tale
We Didn't Like
No insight into characters
Neutral stance on Outlaw motorcycle gangs

The Devils Playground is thoughtful debut film from one of Australia's finest directors. A semi-autobiographical tale of temptation and sexuality in a tightly repressed convent.

Old McDonald ain't seen anything like this on his farm before. Pacing and CGI issues aside, Boar is a bloody good time with some stellar practical effects work.