The Details
Release Date
15th March 2019 (UK)
Synopsis
A mother concerned about her young son's disturbing behavior thinks something supernatural may be affecting him.
Director
Nicholas McCarthy
Starring
Taylor Schilling, Brittany Allen, Colm Feore
In Nicholas McCarthy's The Prodigy, eight-year-old Miles Blume (Jackson Robert Scott, IT) is a exceptionally gifted child whose intelligence levels are more developed than his classmates or those of the same age. Miles' parents Sarah (Taylor Schilling; Orange is the New Black, The Lucky One) and John (Peter Mooney) are understandably proud of their boy, but when he begins to display disturbing and violent behavioural traits they wonder whether there's something more sinister lurking behind their son's brilliance.
There's barely an original idea to be found in The Prodigy as it proudly puts its many influences on show but McCarthy's execution is what sets it apart from the usual fare. His previous work, The Pact, was a nerve-shredding supernatural shocker and while The Prodigy doesn't quite match the quality of his debut there's definite flashes of brilliance to be found here. McCarthy's embrace of dark spaces and intuitive use of lighting elevate what would usually be a generic jump scare into an unpredictable and effective jolt. His timing of when to pull the trigger to terrify is consistently changed up, either elongating shots that force us to gaze into pitch black darkness for an unnatural length of time to test our ability not to look away, or on the opposite end of the spectrum spontaneously inserting electric shock-like surprises when you least expect them.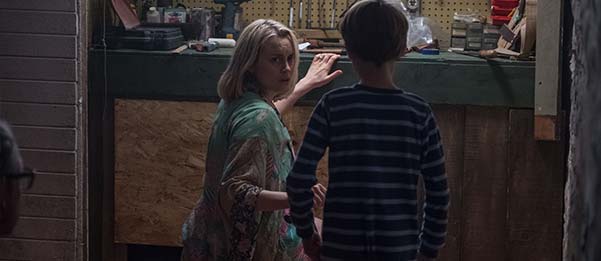 Performances and casting are solid too, with Taylor Schilling's first foray into horror being an overall successful one. Schilling convinces as the mother who wants the best for her son even when the frightening truth is outed and will go to the most extreme lengths to save him while Peter Mooney's character arc as the father in the dark to his son's affliction isn't fleshed out enough for us to sympathise with his implied troubled upbringing. Standout performances come from 10-year-old Jackson Robert Scott who most will remember as the yellow raincoat wearing Georgie Denbrough from 2017's IT remake. In what is essentially a dual role, Scott displays an uncannily fluent prowess in flipping back and forth from sweet innocent Miles to, well, a much more unsavoury character with absolute ease. He's undoubtedly a talent to keep multicoloured pupils on.
But for me the most memorable and arguably important performance comes from Colm Feore (Thor, Changeling) as psychologist Arthur Jacobson. On paper, the reveal, which comes a little too early for my liking and takes away a large part of the mystery very quickly, could be seen as preposterous and laughable. Feore's sincere turn and delivery of his explanation gives The Prodigy's story more credence than it probably deserves and his contribution to its success should not go unnoticed.
It's not until late into the third act where The Prodigy feels like it's really coming into its own with a barrage of expectation defying twists and story swerves that we don't really see often in this kind of film, but unfortunately it's over before it picks up any substantial steam. Still, if you enjoyed films in a similar vein such as The Omen, The Babadook and, of course, British chiller The Children, then Miles is a worthy classmate to these cinematic spawns of Satan.
We Liked
Standout performances from young Robert Scott and Colm Feore
Creative use of darkness, light and shadows
Excellent third act
We Didn't Like
No ideas of its own until it's too late