The Details
Item Reviewed
American Beauty
May 21, 2018
Release Date
September, 1999
Synopsis
A middle-aged man's life radically changes when he encounters both his daughter's attractive cheerleader friend and a teenage drug dealer who just moved in next door.
Starring
Kevin Spacey, Annette Bening, Thora Birch, Mena Suvari, Wes Bentley, Chris Cooper
American Beauty is a quirky movie. Let's be straight, it's not an art film. But you're gonna get plenty of weird dream/fantasy sequences, uncomfortable adult themes, odd music, and some disjointed editing. It lacks a musical number or cartoon interlude, so we can't call it totally mental, but be aware that it's not going to be 100% straightforward. As Quatto once suggested to Arnold Schwarzenegger in Total Recall, you're just gonna have to open your mind for this one.
We're introduced via voice-over to Kevin Spacey as Lester Burnham and his "pathetic, little life". He's a middle-aged office cubicle drone who, he declares calmly, will be dead by the end of the movie.
It's never made clear what sort of space the voice-over inhabits. Its presence at the beginning and the end of the movie is always accompanied by wide shots looking down at the ground. Is Lester God? Is he really dead? Is he in heaven? Who knows. It's not the sort of film to give us all the answers.
Anyway, it's not just his inane career in advertising that has transformed a once fun-loving young guy into such a morose and beaten dude. He's also trapped in a loveless marriage to Carolyn (Annette Benning). She's devolved into a prim and proper middle-class real estate agent, the type who'd cry bloody murder if you ever dropped a crumb on the carpet.
Couple that with a teenage daughter Jane (Thora Birch) who neither likes or respects him, and you're in for one totally unsatisfied Lester. Imprisoned within a thankless job and an unsatisfying home-life, Lester's only brief moment of happiness comes in jacking off in the shower of a morning.
Be warned people, this could be you. It's the typical suburban American middle-class lifestyle. The one people try to aspire to. But it seems like a nightmare, a prison cell. American Beauty is all about turning things on their head, about critiquing the status quo. It paints a picture of perfect Western life, and transposes frustrated, trapped characters into that environment.
The impetus for Lester to change comes in an unusual guise. Angela (Mena Suvari), is Jane's sexy best friend. She's a young, attractive, cheerleader type, and she knows how to use her emerging sexuality its maximum effect. Her presence in the Burnham household ignites something in old Lester. One moment he's staring at her inanely, the next he's calling her up to silently listen to her. He begins to fantasize about her in various ways (usually involving rose petals). Jane, of course, finds it disgusting whereas Angela almost sort of encourages it.
Like it's sniper-scope view on American culture, American Beauty also focuses on..er…beauty. Youth (or the return to youth) and the promise it holds is a theme repeated throughout. At one point, when he nearly penetrates Carolyn's icy cold shoulder, Lester recounts better times when they used to care less about serious things as teenagers. She quickly recoils when she realizes he's about to drop a beer on their couch.
In terms of neighbours, they're flanked on one side by a gay couple (both called Jim), and by new residents to the street, the Fitts family on the other. The patriarch is Colonel Frank Fitts (Chris Cooper), a Vietnam vet with dark secrets. His son, Ricky Fitts (West Bentley) is equally intriguing. Quiet, reserved, some label him weird, he projects the image of the perfect son. But he too harbours a curious history: time in a psycho ward for drug dealing, he now spends the money he earns from catering jobs on video equipment. His mission is to find the beauty in the mundane and to capture it on film.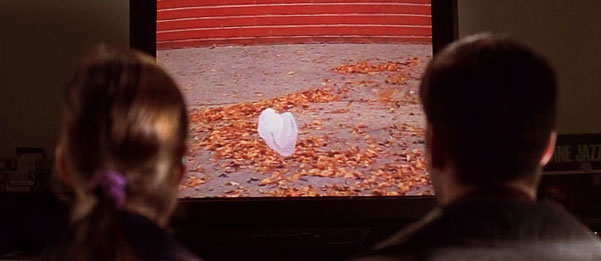 Similar to Angela, Ricky is a prime catalyst for change in the Burnham's. First, he has an unusual fixation on Jane. She becomes a prime inspiration for his filmmaking. Second, he's also secretly still dealing drugs, and Lester becomes one of his clients.
The combination of weed and physical desire reignite Lester's lust for life, and he starts to change radically. He blackmails his asshole boss for a year's pay, swapping a suit and tie for the apron of a local fast food joint. Inspired by memories of the best summer of his life, he wants a job with the least possible amount of responsibility.
He trades in his boring ass car for a classic red sports model and starts working out too. It's perceived as a sort of mid-life crisis by the rest of his family, but we know it's something special. He's experienced an awakening, and we're going to see this through with him until the end.
But it's also putting a bigger strain on his relationships. Jane has even less respect for him, especially as he's sort of responding to Angela and Carolyn is threatened by his newfound assertiveness. Deeply unsatisfied herself, she begins an affair with real estate king, Buddy Kane. He's strong, assertive, powerful, everything she thinks she wants to be herself.
There's a great moment (you probably saw it in the trailer) where Lester catches them both in a car at the drive-through. Great stuff.
Meanwhile, Jane starts seeing Ricky, and her own feelings of self-loathing start to erode. However, everything is spiralling to one final confrontation. Ricky's Dad suspects something is going on between Ricky and Lester (why are they always together?). Carolyn can't stand to have her perfect, beautiful American family disintegrate before her. And will Lester finally be in a position to take Angela? Well, she's sleeping over this coming weekend, so who knows….
Let's get the thorny issue out of the way first. It's difficult to assess, without bias, a historical piece of work featuring an alleged sexual predator in such a central role. You can (and I'm sure people already have) draw many parallels between Spacey and Lester in regards to repression and fixation. But you can't deny the existence of a film, and a great film at that, because of the actions of one man.
Filmmaking is a collaborative art-form. And to condemn the positive actions of many hundreds of other people is wrong. You think we've been hoodwinked for decades by this man? I'm sure those involved in American Beauty (and all his other movies) all feel a hundred times worse. Can you imagine having those feelings of pride and happiness replaced by guilt and regret? To be lauded so much, and to revel in that success, only to have it soured and tinged through no fault of your own is punishment for a crime they did not commit.
I'm trying my best not to sound like we have to forgive or accept him for his actions. Or that we should just shrug our shoulders and go "well that happened". Make no bones about it, we're always, always going to be aware of what Kevin Spacey is accused of, and we're going to feel this most keenly when watching movies he has starred in. What I'm suggesting is we watch these films impassively and judge them by the merit shown on screen.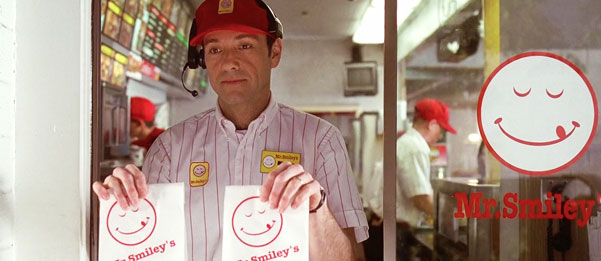 At the end of the day, American Beauty launched both Kevin Spacey and director Sam Mendes to Hollywood superstardom. The film claimed five Oscar wins (including best actor). Spacey's turn as the brow-beaten Lester is fantastic, as his transformation within the confines of the duration of the film. As any script guru or screenwriting manual will tell you, the idea of the story is for your main character to be changed by whatever happens in the story. And Lester changes radically, inspirationally. It's very much a film about shedding off a dead skin or persona and becoming a truer, happier you. Almost like a non-violent Fight Club.
As a form of entertainment, it's a movie that will likely divide the audience. I really enjoyed it, personally, especially tapping into the message and the emotion of the "floating bag" scene. Conversely, my old flatmate, Stew, loudly bemoaned this. "We're looking at a f*****g plastic bag". His theory that a great movie has to feature two things – tits and a body count (which American Beauty includes, ironically) will probably clue you into his cinematic proclivities.
There are a lot of narrative elements at work here. Repression, and how people either escape or are destroyed by it, is one such "core" of the movie. The ideals of American suburban life (and how shallow it is), is another. You've also got your typical teenage tropes about acceptance, conformity and of course beauty.
American Beauty is a fascinating movie. It certainly stands as a microcosm of a certain cultural time and place. You can see the effect it's had on the landscape of cinema and TV in all sorts of ways such as musical queues, dialogue (specifically the voice-over) and storytelling. It's unfair to cast it to scrap heap because of the heinous actions of one monster. Please keep that in mind when you sit down to give it a go.
We Liked
Fantastic performances bring to life brilliantly written characters.
Positive messages in regards to assertiveness, acceptance, happiness and redemption.
Unusual (at times) presentation and editing.
We Didn't Like
Difficult to view the film now without considering the deplorable actions of Spacey.