The Details
Release Date
7th August 2013 (UK)
Synopsis
Former TV personality turned Radio DJ Alan Partridge is thrust into a deadly siege at his radio station. With lives on the line, will Alan do the right thing or milk the situation for all it's worth?
Starring
Steve Coogan, Colm Meaney, Felicity Montagu, Simon Greenall, Sean Pertwee
If Colm Meaney didn't learn from Steven Seagal that it's a bad idea to grab a bunch of hostages in a siege the first time, he's certainly going to learn his lesson the second time from Alan Partridge. Meaney (Under Siege), everyone's favourite Irish ruffian and Starship Enterprise transporter controller, plays a disgruntled Pat Farrell. He's an aging disc jockey who has recently been terminated from his job at Radio Norwich after a takeover by a modern digital provider.
During the grand re-branding of the station, Farrell re-appears armed with a double-barrel shooter, intent on exacting revenge. It's down to former TV personality and fellow radio DJ Partridge (Steve Coogan, The Parole Officer, The Other Guys) to talk him down and bring everyone out alive.
But rewind: who the hell is Alan Partridge?
While it's highly unlikely you'd be watching this movie without some prior knowledge, let me fill you in just in case you were flicking over. A creation of the versatile comedian and impressionist Coogan, Alan Partridge began life on 90's radio as a spoof sports presenter. This quickly led to TV appearances alongside legendary anti-celebrity Chris Morris (director of hapless terrorist comedy Four Lions) on the bitingly satirical The Day Today.
At this stage in his genus, Partridge was a mere parody of inept radio and TV personalities. The character really took off in his own "prime-time chatshow", Knowing Me, Knowing You, where his narcissism, inflated sense of celebrity and conservative views really came to the fore. The series ended in mock fashion, with Alan accidentally shooting an annoying guest with an antique musket and getting into a brawl with the British Broadcasting Corporation's (BBC) chief commissioning editor, Tony Hayers (David Schneider, 28 Days Later).
Reappearing several years later flying solo in his own sitcom I'm Alan Partridge, our hero is living in a Travel Tavern (essentially a motel for US readers), ex-communicated from his wife, kids, and the BBC. Trying in vain to retain some semblance of his former life, Alan never seems to evolve, instead descending into further depths of depravity and self-loathing.
It's here where the character took off and also where I was first introduced to him. Pre-dating Ricky Gervais' The Office magnate, David Brent, Alan Partridge was one of the true originators of that cringe-inducing humour. The sort where the main character is so embarrassingly un–self aware, that you can't help but laugh at his inappropriate opinions and actions while simultaneously feeling deeply sorry for them.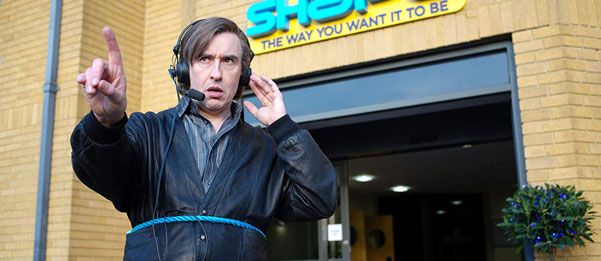 From turning up the funeral of his enemy in a Castrol GTX sports jacket, to getting a child kicked out of a country club for wearing jeans ("they got you on the old no denim rule? Nazis!"), to asking two Irish producers just how many people died in the Irish potato famine during lunch. His favourite Beatles album? Gotta be the 'Best of the Beatles' – although they're second only to Wings, the band they could have been. A fan of 70's and 80's electro-rock, his fashion style is squarely in the square category. Side parting, neck-tie, and blazer are all the accouterments of brand Partridge.
Like Brent, Partridge is opinionated, self-absorbed and thin-skinned. But they're not bad guys; as much as we may disagree with them, there's still a flame of decency that runs through them that makes them bearable, heck enough to make you root for them.
Alpha Papa picks up some ten years after the second series of I'm Alan Partridge. Gone is his static caravan, hopes of a TV deal and his Ukrainian (and mildly cretinous) girlfriend Sonia. But while his TV career may be dead and buried, the bad times are certainly over. Partridge has come to terms with his situation; delirious, bare-footed drives to Aberdeen or stints of gorging himself on Toblerone bars (not the small sized bars, medium-sized ones), are a thing of the past.
But it does make you question why now? Partridge went into hibernation for a long time, only being thawed out for the occasional UK charity drive of Comic Relief. Perhaps there was a bit of reticence from Coogan? Partridge certainly holds more fame (or infamy) and recognisability that his creator. Maybe Coogan wanted some distance. Star Trek's Leonard Nemoy famously once wrote a book called I Am Not Spock as a reaction to the constant comparisons to the green-blooded Vulcan he'd receive. His opinion would later cool on the matter, and he'd embrace those pointy-eared elements of his acting legacy in his follow-up book, I Am Spock. Maybe something similar happened to Steve Coogan.
Alpha Papa begins with Partridge initially championing the radio station's DJ's. They're standing together as one behind him. This all changes when he storms into a board meeting with new boss Jason Cresswell (Nigel Lindsay, who can also be seen in Morris' Four Lions) and finds them juggling both his and Pat Farrell's name up for the chop. After some career sabotage by Alan, Pat is sacked and Alan retains his slot.
Fast forward to the night of the siege. All Pat wants is his old show back and he's willing, he says, to kill to get it. Alan, having popped outside to shoo away an old, drunk (and mildly racist) flame, misses the initial assault. Re-entering the building he's quickly reunited with the facts and he manages to escape before Farrell can capture him too.
Bravely, he raises the alarm. Having done all that can be asked of any law-abiding Englishman, he goes to leave. But the police want something else from him. Pat, unknowing that it was Alan that sent him up the river, will only talk through him to the police. Effectively Alan is to act as their intermediary.
As they drive back to the scene, Alarm exclaims excitedly, "I've never been in a police car before". After a tactical briefing by weapons officer Stubbs (Sean Pertwee, Dog Soldiers), Alan is sent in to negotiate. And so begins the shenanigans.
Director Declan Lowney (Father Ted) spends the next hour or so interweaving various antics, observations, and gags. Partridge, ever one desperate for the limelight, begins to see this as an opportunity to re-launch his career. The adrenaline of the moment also enables him the courage to finally make the move on Angela, who he's been particular to for a while.
It's only his erstwhile PA Lynn (Felicity Montagu, Bridget Jones' Diary) that tries to keep him grounded. The devout Baptist and Benjamin Netanyahu fan chastises Alan for eschewing his ethics for fortune and glory. In a fit of rage, he sacks her.  It goes from bad to worse though when Pat figures out that it was Alan who sold him out. Now alone, without friends, police back-up or his long-suffering, eight-grand-a-year personal assistant to help him, will Alan Partridge survive?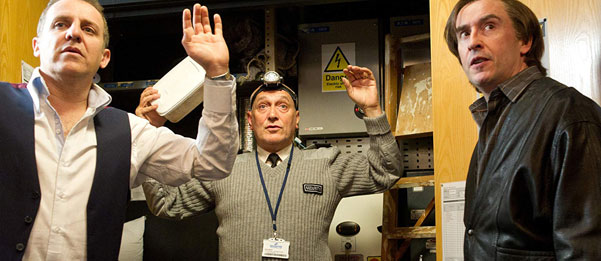 It's always difficult to bring a pre-existing TV personality into the movie world. You effectively have to re-introduce a previously well-known character to a new audience, without alienating the old hats. It's risky business and for every Police Squad to Naked Gun success, you'll also get a dozen Power Rangers, Lost in Space or A-Team blunders.
Both Coogan and writer Armando Iannucci (The Death of Stalin) had pondered doing an Alan Partridge movie before. The idea of Partridge in America was one that was doing the round on forums for years. Instead, they serve the character best by keeping it small and local.
Similar to Alan's thoughts that the siege could potentially reignite awareness of him on a grander more badass scale, Alpha Papa could equally be considered a semi-reboot of the character. And if not a reboot, certainly a rebranding. Alpha Papa's Alan Partridge is somehow younger, more fashionable, and ever-so-slightly less of a pain in the ass.
This softening could be related to them wanting the movie to have a greater overall appeal. After all, it's hard to market an awkward, middle-class has-been in a world of superheroes and sequels. Maybe it's because everyone involved is just that little older, a little more comfortable? I don't know. What I do know is that Alpha Papa never quite hits the same notes of I'm Alan Partridge. We're never reduced to the same level of laughter nor buckled over in cringe-induced anxiety.
That's not to say the film is bad. I enjoyed it immensely. It's funny, likable, and very British. The music is a mix of mild-synthetic orchestral drama and pure Partridge classics. Equally, the acting is solid, all the way from the core Partridge old timers, through to the new blood. There's nothing wrong at all with this movie. It certainly succeeds way more than the dire movie follow-up to The Office.
If I had to, I'd compare it to a mate who has been single for a long time who finally gets a girlfriend. Yeah, she may be a bit older, a bit more weathered around the edges – he's done better before – but we're happy he's finally back in the game. I'm glad Alan Partridge finally got his day in the sun, and the ending especially is one I was happy with.
What lies in store for our favourite radio presenter? Who knows. Films of this sort seldom get a sequel, but if this is the end of Partridge, he certainly ends on a high.
We Liked
Great to see a TV legend on the big screen
Top music
Some nice gags
We Didn't Like
The humour is perhaps watered down
Nothing teeth shatteringly cringe-worthy on show
Not enough security guard Michael