The Details
Release Date
2nd November 2018 (UK)
Synopsis
A young girl is transported into a magical world of gingerbread soldiers and an army of mice.
Director
Lasse Hallström, Joe Johnston
Starring
Mackenzie Foy, Keira Knightley, Morgan Freeman, Helen Mirren, Jayden Fowora-Knight
It's Christmas Eve in Victorian-era London but due to grieving for her late mother Marie, young Clara Stahlbaum (Mackenzie Foy; Interstellar, The Conjuring) isn't feeling the excitement. For her dying wish, Marie wanted her children to open a gift early. Clara receives a handcrafted egg-shaped box that contains a note which claims to hold all she ever needs inside. So of course, for something so important, it's only natural that the box would be locked. With no time to try and unlock it, the family head to a Christmas Eve ball hosted by her godfather Drosselmeyer (a blink and you'll miss it appearance by an eyepatched Morgan Freeman).
While there, the children are asked to follow string which leads them to their gifts. Clara's journey takes her to a forest in a parallel world of four realms. These realms are at war, with the fourth area being controlled by Mother Ginger, a giant, robotic, puppet-looking circus tent of a woman. With the help of a plucky nutcracker soldier  (Jayden Fowora-Knight) and the Sugarplum Fairy (Keira Knightley; Pirates of the Caribbean, Pride & Prejudice) Clara is tasked with ending the feud of the four realms and restore order to the magical world.
There's a few predictable plot turns along the way and the character arcs clearly aimed at under 10s who aren't so familiar with the tropes. They most certainly won't be new to long-time movie watchers, but there's a high chance that budding film fans just starting their cinematic journeys (or, more specifically, the films target audience) will find many twists to surprise.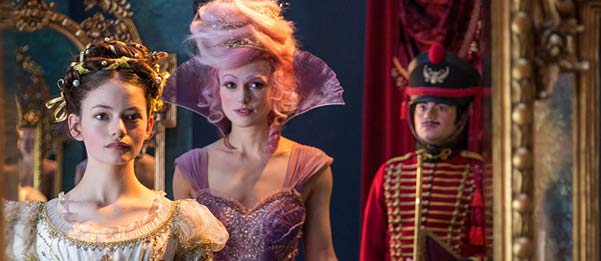 It's also refreshing to see a strong female role model too that isn't a damsel in distress. Clara often gets her hands dirty, leading the nutcracker soldiers into battle and confronting problems head on. Recent comments about Keira Knightley not allowing her daughters to watch Disney movies due to their representation of women were met with claims of hypocrisy given that she's starring in one, but The Nutcracker's lead is far from the conventional portrayal of women usually found in Disney movies.
If there's one reason for Knightley to recommend others to stay away from The Nutcracker though it would be due to her own performance. She's insufferable in her over the top, screeching turn as the Sugar Plum Fairy, while newcomer Jayden Fowora-Knight as the titular Nutcracker Captain Phillip delivers his lines as if trying (and failing) to read from an auto cue that's just enough out of sight for him to have to strain to read and recall. Helen Mirren is forseeably fantastic as the villainous Mother Ginger, while Mackenzie Foy shows promise as Clara but the script simply isn't strong enough for her to play to her own strengths.
The Nutcracker isn't terribly exciting for its first hour or so either as it builds its Narnia and Alice in Wonderland inspired World through lengthy conversations, relying on its gorgeous visuals to get by. Indeed, if nothing else, it's always a pleasure to look at. While it does feel frequently claustrophobic due to overloaded set design, it's a beautifully dazzling world and one of the rare occasions in which the 3D is exemplary and genuinely enhances the experience. James Newton Howard's angelic choir of a score adequately sets the scene, but its nothing you wouldn't hear on a Christmas advert for a supermarket.
Disney's live action output is noticeably less memorable than their animated work and unfortunately The Nutcracker & the Four Realms isn't going to break that streak. Less Faberge egg and more Kinder egg, The Nutcracker is a sickly sweet visual treat that is likely to be as easily forgotten about as the toy contained within.
We Liked
Beautiful visuals enhanced by 3D
Positive role model for girls in Mackenzie Foy's Clara
We Didn't Like
Keira Knightley's insufferable Sugar Plum Fairy
Plodding pace and lengthy dialogue to build the World
Too much going on in the set design