The Details
Release Date
8th October 2018 (UK DVD Release)
Synopsis
A pair of burglars stumble upon a woman being held captive in a home they intended to rob.
Starring
David Tennant, Robert Sheehan, Kerry Condon
Here's the thing about writing feature films; it's deceptively hard to sustain a narrative for 90 minutes. That's why writers engineer all kinds of sub plots, romantic interests, and obstacles to keep the pace up. Genre films in particular are merciless; they demand plot and motion. You can have an absolute dynamite premise, but if you don't know how to sustain it, you're going to be left with 30 minutes of the good stuff and another hour of filler.
Sadly that's what happens in Bad Samaritan, the second directorial outing by Geostorm auteur Dean Devlin. But coming off the back of that atrocious wannabe blockbuster, the most surprising thing about Bad Samaritan is how much damn promise it shows.
Robert Sheehan plays a charming, if slightly feckless, photographer called Sean, who runs a shady valet business with his friend Derrick. While his fat cat customers eat their expensive Italian food, he burglarises their homes. In the middle of robbing the house of a particularly obnoxious businessman called Cale Erendreich (Tennant), Sean finds a woman bloodied, beaten and chained to the floor. Will Sean risk jail time to save someone's life? And what will he do when Erendreich decides to head home?
It's a great concept for a thriller, inherently tense and with a compelling moral quandary at its core. Devlin employs a relatively unpretentious, no-frills mode of direction, letting the writing and charismatic performances do the heavy lifting. It's a clever script too, constantly finding new technological wrinkles to keep the stakes up.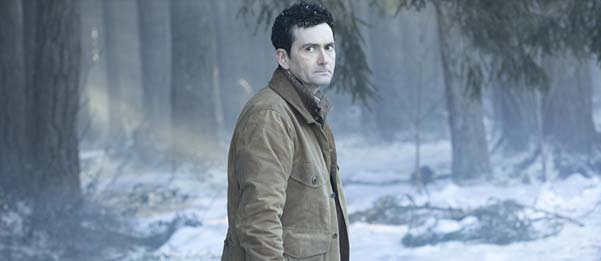 Eventually though, Sean makes the decision to flee the house, rather than be caught by the authorities or Erendreich himself. It's here that the film grinds to a halt, and you start to suspect that Brandon Boyce's script was produced mainly on the strength of its opening 30 pages.
In an attempt to stretch the film to feature length, Boyce and Devlin create an uninspiring game of cat-and-mouse that shows none of the wit or tension previously displayed. Once Erendreich realizes that he's been discovered, he tries to discredit and screw with Sean in a variety of ways, mostly uninspired. It doesn't help that most of his evil scheming is carried out from a computer, forcing Tennant to interact with technology more than he does with people.
Meanwhile Sean bounces from one form of law enforcement to another, but is told he is a crazy man with no proof, as law enforcement is wont to do in these films. Meanwhile, he attempts to dodge Edendreich's attempts at retribution. God bless Sheehan, who displays all of his trademark vulnerability and fury, but it's not enough to make these scenes anything more than boxes needing to be ticked.
What makes this section so unpleasant is that his girlfriend and Hispanic mate get the brunt of Erendreich vindictive crusade, only to be totally forgotten about once their punishment has suitably driven our hero.
Technically, things go from bad to worse, but it all feels so tacked on and inorganic, a frantic attempt by Devlin and Boyce to create stakes that they haven't really earned. The film somewhat regains its footing in the closing 20 minutes, as Sheehan finally confronts Erendreich, and Tennant is finally given some dialogue worthy of his status as the Best Doctor of All Time. But it's too little, too late and by the time the credits roll, you'll be hard pressed to remember the thrills of that opening 30 minutes.
At one point in the film, Sean says that he feels like he's still trapped in Erendreich's house. Sadly, so is a good movie.
We Liked
Tense, well made opening act
Compelling performances all round
The infinite amount of flip phones Tennant throws out his car window after using once
We Didn't Like
The film doesn't know how to sustain itself beyond its premise
Dull middle stretch
Tennant is largely wasted

Criminal activity aside, Nativity 2 doesn't mess with the formula that made the first so successful, albeit with a slightly less likeable lead in Tennant. Still, it's lighthearted fun for the very young.