The Details
Release Date
12th November 2018 (UK VOD Release)
Synopsis
A couple spend a weekend at a vacation rental home in the Italian countryside in an attempt to repair their relationship, but soon become victims of the homeowner's sinister plans.
Starring
Aaron Paul, Emily Ratajkowski, Riccardo Scamarcio
Truly abominable films don't necessarily have atrocious acting, terrible camerawork or moronic dialogue. After all, any of those qualities can be entertaining, or at least fascinating, when done in excess. No, to be an honest-to-god terrible film, you just need to be as boring as Welcome Home.
Welcome Home is a bad, baaaaad movie, a dull thriller whose attempts at being sexy are either vanilla or mildly gross. Most erotic thrillers end up in the overblown realm of camp, but Welcome Home doesn't even have the decency to be truly ridiculous.
The film follows Bryan (Paul) and Cassie (Ratajkowski), an American couple who take a week-long vacation in the Italian countryside, in order to save their relationship. Amid the shaky truces and bubbling resentment, they begin a tentative friendship with their handsome neighbor Federico, played by John Wick 2's big bad, Ricardo Scamarcio. But behind his stunning looks and altruistic behaviour, is Federico really as kind as he seems?
That's obviously what the filmmakers want you to ask yourself. Sadly, no one seems to have noticed that Federico is the most transparently evil character since Darth Vader stepped over rebel corpses back in 1977. Scamarcio's piercing glare and deep, sensual voice were used to great effect in John Wick 2, but here he radiates an absurd amount of malice. His eyes are never less than violating; his lips never fixed in anything less than a cruel smirk. It's a performance that seems to parody Americans' perception of foreigners. It's also one of the few genuinely entertaining parts of the film.
Paul and Ratajkowski don't fare much better, but they're crippled by the material rather than a desire to play a Simpsons character. The spectre of Cassie's infidelity hangs heavily over the couple, and the two have trust issues long before Scamarcio's dastardly Italian starts to play mind games, but it's oh so shallow and one note.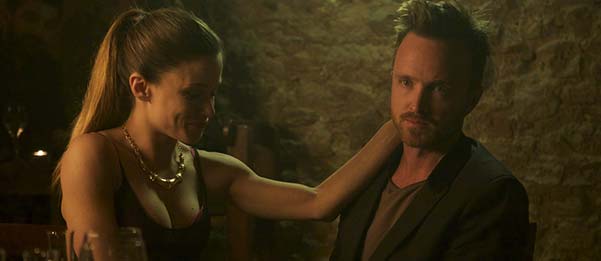 Paul has two speeds; shouting or brooding, and neither the script nor director George Ratliff encourages him to do anything else. Compared to Scamarcio and Paul, Ratajkowski is refreshingly natural, but she's asked to do very little beyond the broadest strokes of terror and sadness.
Buried somewhere within the identikit script is a sliver of an idea about infidelity, and the ways in which it poisons our relationships, but it's explored in the most juvenile manner. The bug-eyed performances and the shrieking music immediately inform you that everyone is on the verge of going nuts. There's no nuance or compelling arcs, instead you just wait for these people to start snapping at each other.
This might all be forgivable if the thriller elements of the film weren't so painfully paint-by-numbers. The two eventually realise that Federico is – gasp! – evil incarnate, and that they're being watched and manipulated. This leads to a series of chases, fisty-cuffs and stabbings right out of the 'My First Home Invasion Movie' manual.
The film's attempts to add some sexuality to this clustercuss wildly miss the mark too. Paul is drugged and raped by two women, whilst Ratajkowski is blindfolded and gets it on with someone she falsely believes is her boyfriend. This is all seen as part of the thrilling sexcapades, rather than something distressing and gross.
It's hard to find anything of merit in Welcome Home, and even harder to imagine what drew anyone to this project in the first place. Presumably the cast were attracted to the film because it let them pay some taxes whilst holidaying in Italy for a couple of weeks. One hopes that is that case. After all, surely someone should get some enjoyment out of this film.
Welcome Home will be available of VOD Platforms from 12th November 2018. 
We Liked
Scamarcio's hilariously malevolent performance
Also his indieboi fringe, which is simply to die for
We Didn't Like
Everything else